SHRM Essentials® of Human Resources
Quick Course Facts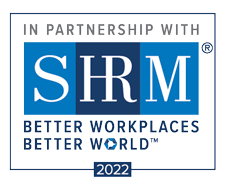 Course Description
If you're new to human resources (HR), if you're a small business owner, or if HR is one of your many responsibilities, the newly updated SHRM Essentials® of Human Resources course is for you!
We cover a range of HR issues in a condensed, easy-to-understand format. You'll gain practical skills to handle relevant HR challenges, so you can help your company avoid potentially costly lawsuits.
Topics include:
HR management
Employment law
Recruitment and selection
Compensation and benefits
Performance management
Tuition includes a printed workbook and 18-month access to SHRM Online Learning Resource Center.
Most companies pay for this course through tuition assistance or professional budgets. Ask your employer if you qualify.
Course You Will Take
HRPO-1000 Understanding HR Function—SHRM
Check course availability
Under Term, select a Continuing Education (CE) Term.

Example: CE Qtr 3 2021 Mar-May

Under Academic Level, choose Continuing Education.
Select Search.
Use the Filter Results menu to help you narrow your search:

Under Availability, choose Open Sections Only to find classes that aren't full.
Under Subject, choose a subject to further filter the results.
How to Apply
Get started: Apply & register for class
Contact
Northwest Campus
Erma C. Johnson Hadley Northwest Center of Excellence for Aviation, Transportation & Logistics (CEATL)
Northwest Alliance Workforce Programs
Call 817-515-7707
Updated January 14, 2022