Honoring the Fallen
By Kendra Prince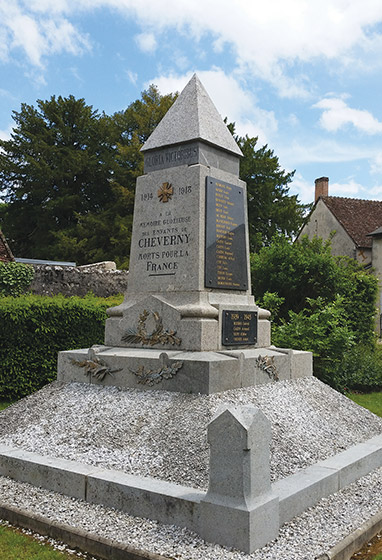 Memorials are everywhere, according to Laura Wood, professor of history and government at Tarrant County College's Northwest Campus. Passionate about remembering those who have gone before, Wood specializes in military history. Her fascination with the genre began with World War II and spread to numerous other conflicts. "Military history is a common thread with huge impacts on how the world was developed," she said.
Wood, a 2013 winner of the Appleman Professional Development Award, used her award and funds from the TCC Faculty Academy to pay for her trip to France to be a guest lecturer for St. Edwards University in May 2014.
The primary St. Edwards instructor, Mitylene Myhr, was teaching a Summer course for the university at their campus in Angers. Myhr wanted Wood to enlighten her students about World War I, its impact and how it is commemorated. "I invited Laura to visit my class because it was her (war memorial) database that inspired the project I created for my students studying in France," said Myhr. "I wanted to take advantage of the many war memorials students encounter when traveling in Europe, help them make sense of them and allow them to contribute to Laura's database."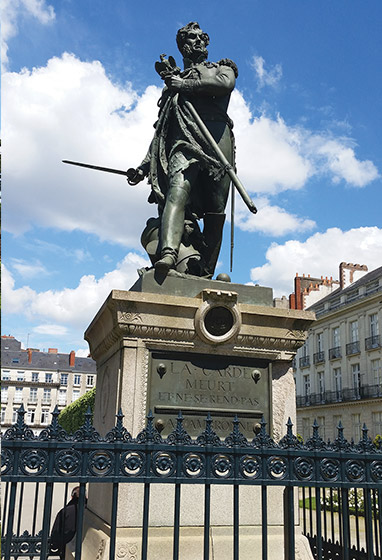 Myhr's students became fascinated with the memorials they began to encounter around Angers and other locations. "Laura's expertise in the study of memorials was enormously helpful. She provided resources, a presentation on their history and how to interpret them," said Myhr. Students researched a war memorial and wrote essays that placed the memorial in a broader context in terms of architectural style and symbolism. "Each student commented that it was inspiring to have Laura visit, which made them more enthusiastic about pursuing their research."
Wood's war memorial database developed after her students created a war memorial of their own at the Northwest Campus. In 2004, Wood noticed her students seemed oblivious to important current events, such as the wars in Afghanistan and Iraq. She would ask her classes, "How many people do you think died in Afghanistan or Iraq today?" To increase awareness, she charged the students participating in that year's Cornerstone Honors Program's annual program with designing, funding and building a memorial (pictured right, with Wood) on the Northwest Campus for those who died in the conflicts in Afghanistan and Iraq.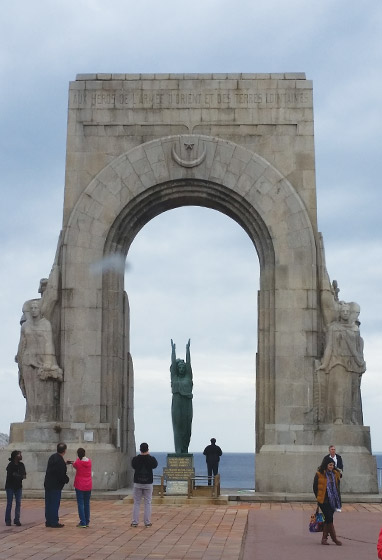 Students threw themselves into funding the project, raising more than $6,000 in just over two months through donations, a yard sale and working at Sonic. Students also sought donations of materials needed from suppliers. "Their efforts were tremendous and stunning," said Wood. Although the memorial was not complete, the memorial was dedicated on Veteran's Day, November 11, 2004, and has continued to grow. At last count, there were 2,600 more names to add. Wood acts as director for the memorial, which is the first of its kind on a United States college campus.
The work of her students on the memorial inspired Wood to take note of commemorations wherever she visited, noticing similarities as well differences. While students continued to add names to the Northwest memorial, Wood made assignments for them to research and write about various monuments around the world. That led to Wood's desire to create an interactive platform by which she could continue to teach her students and enable them to view their world in new ways.
In the Summer of 2010, Wood was awarded a National Endowment for the Humanities Teaching Development Fellowship, which allowed her to create and integrate her war memorial database into her teaching. The site, War Memorial Headquarters, is extensive and covers war memorials around the world for numerous periods: Ancient, Medieval, 1500-1700, 1700-1900, 20th Century and 21st Century. Wood hopes to use the database to connect students across nations by using memorials around the world and across time.
What is next for Wood and her students? "Landscapes of Memory," a travel course she is developing with TCC Criminal Justice/Sociology Professor Jason Clark Miller. It will focus on war memorials and use of Wood's database. To prepare for the longer trip, Wood has been taking students on short, local field trips to get a feel for how things will go. She asks students what catches their eye about the memorials. "Memorials use images to elicit emotions from those who attend," said Wood. She and Miller hope to start with a course on the Civil War and tour memorials in the South in the summer of 2015 and in 2016 visit the sites of World War I on the Western Front in Europe.
A review from one of Laura's students taken from an anonymous survey about using the memorial database in class:
"I absolutely loved the database. The photos of the different memorials helped me more than anything. Reading the details about who they were built for and why was so helpful in the assignments but after the assignment, I went back and read more. I intend to read even more about the memorials once this semester is over. The effort put into gathering all the information on these is astounding. This database was an amazing idea. I told one of my WWII veteran policyholders about it. He loves it and said, 'The person who set all this up did a great thing.' I think so too and love the idea that people can contribute to it as time goes by."