Your Adventure Awaits
Students Study Abroad in Paris, Italy and Salzburg
By Sara Rogers
In Paris
Students of the Northwest Campus Dance Program visited Paris in Spring 2014. Amy Sleigh (pictured below, at far left) and Lacreacia Sanders, associate professors of dance at Northwest Campus, led eight TCC dance students on the European adventure. In addition to visiting the Eiffel Tower, Louvre, Arc de Triomphe, Palais Garnier opera house and Palace of Versailles, students took dance classes at Studio Harmonic and attended a ballet at Opéra de la Bastille.
Sleigh said the educational aspect of dance trips abroad is to immerse students in the language, art, food, history, architecture and dance of other cultures. The students attended dance classes, professional dance performances and festivals, and performed in and around historical landmarks throughout Paris.
"Our goal is to provide an opportunity for students to shape themselves as dancers and artists, as well as global learners and leaders."

Amy Sleigh
Sleigh believes the travel aspect alone teaches important cultural values and broadens the scope through which students view the world. The trip encourages collaboration among TCC students both before and during the trip.
For example, the Northwest Dance Club organized Rise and Shine, a spring talent show to raise funds for students planning to study abroad in Paris. The students formed relationships with dance students and teachers from other colleges, as well as professional dancers and choreographers who were part of their journey in planning this trip.
TCC's dance study abroad trips are an annual event. The vision for traveling abroad began years ago and was implemented in 2012, launching the first dance trip to Ireland in May 2013.
The next trip is scheduled for June 2015 to visit Germany, Italy and Switzerland. The dance department is collaborating with the Northeast Campus World Language Program so students will be able to travel for dance, German language or personal enrichment.
"I enjoy the preparation of engaging students to travel... finding dance venues and classes abroad. I love to read student's applications of why they want to travel, what they have to offer the group and their personal goals," Sleigh said. "Most of all, I enjoy watching the students immersed in the culture of the cities we visit, watching them dance, chatter and take in their new surroundings. These are the moments they savor and share, and it is a wonderful way to see their dreams flourish."

"Dance is the same in all languages."
— Katie Nichol, TCC Student

"The Paris experience was once in a lifetime. I took a class with YouTube sensation Yanis Marshall. Turns out they were rehearsing a piece for Britain's Got Talent. We saw it online a few weeks later and it was extremely humbling to learn the choreography and witness their rehearsal. He taught in French most of the time, but would often sum up in English for us. It was remarkable to see where Louis XIV, who founded the first ballet school, once lived at the Château de Versailles. I honestly believed the trip changed me and helped me grow as a person and a dancer."
"This great city inspired me."
— Rebecca Kanney, TCC Student

"Experiencing other cultures opens your eyes to the world and makes you appreciate everything around you. I finally met my pen pal (pictured left, with Kanney, right) in Paris! We met on Facebook on a language exchange group when I started learning French. We met at a local restaurant near Notre Dame and had a great time with my dance group! I have the travel bug now, so will be attending the next dance trip to Germany, Italy and Switzerland! I highly recommend it."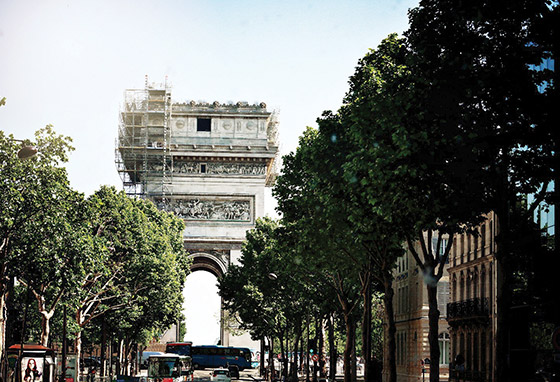 "I still think about Paris most days."
— Dai'Taja Gladney, TCC Student

"When traveling abroad with TCC you are immersed in new cultures. You can read about these places, sure, but experiencing the adventure first-hand is so much greater. Money may be an issue for some, but I wouldn't make that an excuse. I work in fast food and I saved up; I would much rather spend money on something that will create memories and a widened perspective of the world! I am also saving to attend the next dance trip in Summer 2015."
---
In Italy
In May 2012, Sherry Sipho, department chair and instructor of Culinary, Dietetics and Hospitality, took 11 culinary students from Tarrant County College's Southeast Campus to explore Italy's culture and cuisine. The group visited Rome, Florence, Reggio Emilio, Parma, Modena, Mila, Ferrara and Venice.
Sipho believes it is important for all culinary students to familiarize themselves with different cultures and cooking schools. During their stay in Italy, the group dined at neighborhood restaurants, experiencing conversation over authentic Italian cuisine. They also prepared authentic dishes of their own at popular cooking schools throughout Italy.
At A Tavala Con lo Chef, the first private professional culinary school in Rome, students learned to prepare classic dishes such as pizzatelli, gnocchi alla pesto and veal saltimbocca. "Pizzatelli is small deep fried dough topped with mozzarella and tomato paste; gnocchi are dumplings made from potatoes, flour and eggs; and saltimbocca is veal fried with bacon. Veal is a popular choice of meat in Italian dishes."
"In a time when daily news may focus on the events occurring around the globe, yet impacts us here at home, and a competitor for a job may be on another continent, it becomes incumbent upon educational institutions to provide every opportunity for students to have access to global and international exposure through study abroad and in-course infusion to build global citizenship. TCC has worked in overdrive to develop opportunities for students to learn to be global citizens in every aspect of their college experience. We would like for every student to have the opportunity for global experience and work to that end."

Sheryl Harris, District Executive Director of Program Development/International Initiatives
During a separate cooking lesson from Chef Renato at La Cremeria (pictured below, left), students prepared antipasti, chicken capaletti and veal spezzatino. "Capaletti is a type of pasta, and spezzatino is a stew with artichokes and peas. All of the dishes were delicious," Sipho said.
The group took several architectural and historical tours, one of which was in Rome. Stops included the Trevi Fountain, Spanish Steps, Sistine Chapel and Saint Peter's Basilica. In Florence, they were treated to a food tasting, which included stops at Florence Central Market, Procacci's traditional finger-sandwich shop, Robiglio's regional pastries, and Perche no!'s artisan crafted gelato.
The tastings did not end there. In the city of Parma, famous for its prosciutto (ham), cheese, architecture, and music, the group visited the Museum of Prosciutto di Parma. Students also visited the olive oil plant in Brisighella, with a stop in Cervia for lunch and a trip to the Salt Museum.
While venturing to the old town of Reggio Emilia, a city in northern Italy, the TCC group received an official welcome by Reggio Emilia Deputy Mayor Juna Sassi. They also took part in a cooking class at Reggio Children/International Center and toured the Parmigiano Reggiano factory and history museum. "Receiving an official welcome by the mayor was quite a treat for both myself and the students. It was a very special memory for us all!" Sipho said.
The culinary department is working on the process of planning another trip, but one is not scheduled at this time. View other upcoming study abroad opportunities.
---
In Salzburg
Under the direction of Sheryl Harris, TCC took 20 students to the Salzburg Global Seminar in May 2014 to participate in the Global Citizenship: Ethics and Engagement program. The seminar was held at the Schloss Leopoldskron, the renowned filming location for The Sound of Music.
Students who attended were enrolled in Professor Peter Hacker's World Civilizations II course and Professor Shewanda Riley's English course (Hacker and Riley are pictured right, alongside Christopher Douglas, formerly with the Men of Color Mentoring Program).
The students attended daily lectures and field trips, completed group projects in collaboration with students from other colleges and made presentations on global citizenship topics. There were days of instruction and exams on the TCC Northeast Campus both before and after the actual trip dates. "We held classes at TCC before the trip as a way to prepare them for the discussions on global citizenship that they would participate in while at the Salzburg Global Seminar," Riley said.
During the 10 days they were there, the group heard from international experts on history, sociology, music and pop culture. In addition, they learned about European and Austrian culture and history through classical music concerts and trips to Salzburg's Old Town, Fortress Hohensalzburg and the Dachau Concentration Camp in Germany.
"To say that the experience was intense is an understatement, but intense in a wonderful and enriching way," said Hacker. "Each and every student benefited enormously from the trip and can characterize it as life-changing." Hacker is a fellow of the Salzburg Seminar, having completed the faculty program in 2009. This was the first time he instructed and traveled with students. Many of the students had never previously had the opportunity to travel more than a few miles outside of their zip codes.
"As I watched the students begin to comprehend the interconnectedness of the world and their place in it, I can honestly say they made this year's Salzburg Seminar the most rewarding experience of my 27-year teaching career."

Peter Hacker
"It is great seeing the students develop into critically engaged global citizens," Riley said. "Seeing their confidence increase as they participate in intellectual and stimulating conversations with other like-minded student scholars."
All TCC students can apply to attend this trip. The ones selected showed outstanding academic scholarship, campus engagement and a commitment to global citizenship. The next annual trip is tentatively scheduled for May 2015.
"My favorite part of Salzburg was being in the presence of highly educated individuals from different backgrounds who came together to discuss the issues affecting humanity. It gave me a sense of belonging and led me to believe that no matter one's origin, we are all interconnected in this 'world house' we live in. I saw the trip as a reward for my endeavors; therefore, it serves as a positive reinforcement to work even harder."

Stanley Chibueze, TCC Student
"I encourage all students to study abroad and experience different cultures. The weather was crisp, the atmosphere was breathtaking and the architecture was unlike anything I have seen in Texas. I even climbed to one of the peaks of the Alps. This trip helped me transcend my thoughts of having no connection to the world outside my own. I've learned there is no barrier that can stop us from becoming acquainted with any citizen of the world. We are all global citizens!"

Jonathan Kigigha, TCC Student