Cooking Away the Cold
Southeast Campus Culinary Arts Recipes & Tips
Sam Adams Pot Roast
Ingredients
4 lbs. beef roast
8 oz. yellow onion, rough chopped
4 oz. carrot, rough chopped
4 oz. celery, rough chopped
4 cloves garlic, smashed
1 bottle Sam Adams beer
1 sprig fresh thyme
2 bay leaves
1 sprig fresh rosemary
1 tsp. whole cloves
kosher salt, as needed
ground black pepper, as needed
all-purpose flour, to coat meat, as needed
3 tbsp. all-purpose flour, reserved
brown (beef) stock, as needed
3 tbsp. bacon fat
Method
Preheat oven to 250°
Heat Dutch oven over medium-high heat.
Rub outside of beef with salt and pepper and roll in flour.
Add bacon fat to Dutch oven. When the fat is hot, sear the beef on all sides.
When the beef is fully browned, remove from pan and add chopped vegetables.
Cook vegetables until just browned and then add reserved flour.
Stir flour in with vegetables and fat and cook until slightly browned or to form a roux.
When the roux is lightly browned, return the meat to the pan and pour in beer.
Add brown stock until about halfway up the meat and all vegetables are covered.
Place all herbs into the pot and cover, place in the oven and cook for four hours or until fork tender.
When the meat is fully cooked, remove from Dutch oven and strain the cooking liquid.
Reduce the cooking liquid until thick and serve over sliced pot roast.
Tips From the Chef
It is not necessary to peel the carrots or cut them nicely, as long as they are about the same size before you cook them. You will be discarding them when you are finished.
When cutting the meat, always cut against the grain to prevent stringy meat.
Don't let your garlic get over-browned or it will develop a bitter taste.
If your sauce does not thicken, you can add a slurry of corn starch and cold water to thicken it. Do not add the cornstarch directly to the hot liquid, as it will cause lumps!
---
Herb Roasted Root vegetables
Ingredients
1 lb. carrots, peeled and sliced
1 lb. parsnips, peeled and sliced
1 lb. turnips, peeled and large diced
1 lb. baby red potatoes, washed and cut
in quarters
1 sprig fresh thyme, chopped
1 sprig fresh rosemary, chopped
2 tsp. kosher salt
1 tsp. ground black pepper
1 tsp. garlic granules
1/4 tsp. smoked paprika
1 tsp. canola oil
pan release spray, as needed
Method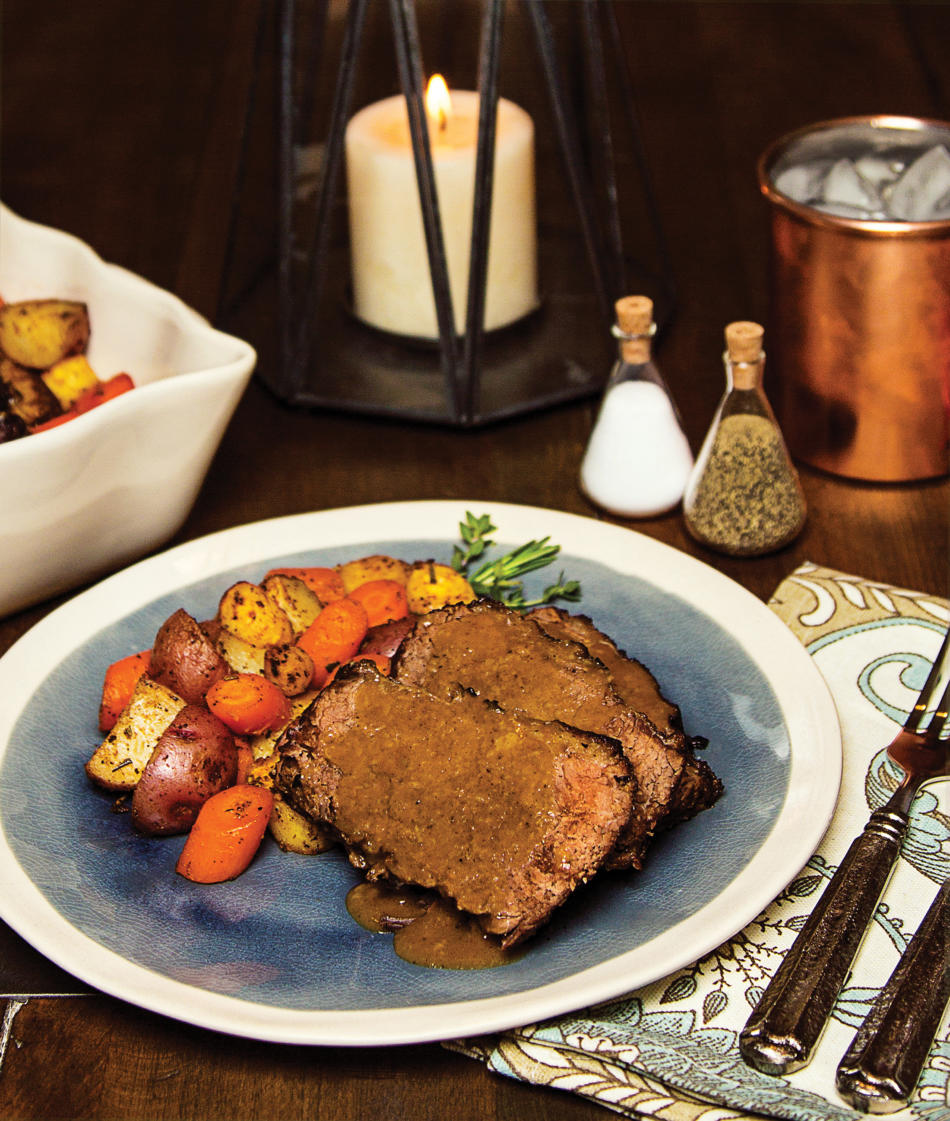 Preheat oven to 425°.
Place all chopped vegetables with oil, spices and chopped herbs into bowl and toss well.
Spray half-sheet pan with pan release spray and place vegetables on the pan.
Cook all items until fully cooked and slightly browned on the edges.
Remove from oven and serve with Sam Adams Pot Roast.
Tips From the Chef
If your oven has a roasting setting, use that. It uses a top heat as opposed to a bottom heat, which brings better color to your vegetables.
Be sure to cut all of your vegetables the same size so they will all cook to the same point at the same time.
When removing leaves from fresh rosemary and thyme, grip the tender ends of the herb and pull the leaves off by loosely pinching the stem between your fingers and running them back up the stems.
Save your thyme stems and your vegetable peels for your stockpots!
©