The New Virtual Reality
TCC Student Development Services teams find new ways to reach students in a remote environment
Creative agility enabled Tarrant County College's Student Development Services (SDS) teams, known for enhancing hands-on student experiences beyond the classroom, to remain viable for students although they lost the ability to reach out and touch them.
Those working closely with students, whether in student activities, student engagement, student life or specific student programs and services, are accustomed to continuously "rubbing elbows" with students as they plan and deliver critical services to support the student experience. That intimate environment was abruptly challenged when COVID-19 safety protocols dictated that face-to-face interactions come to a halt.
"We had to become flexible in how we help students feel connected and engaged. We had to learn fast," said Michael DuPont, SDS vice president at TCC Southeast. "We had to learn the new virtual format and systems. We (also) had to learn our students needs with regard to moving to a virtual campus format (since) not all students had immediate virtual access."
SDS teams throughout the College quickly rose to the occasion.
"One of the first things we did was create a Blackboard page for our offices. This became a good way to engage with our students and keep them updated on our events/programs," said Ana L. Contreras, coordinator of student activities for TCC South. "We continued our programming, but all online. We had to be creative in how we facilitated our events."
At TCC Trinity River, the evolution to serve its students in the new environment also included Blackboard. They created a homepage that included images, links, resources and videos to connect with students, said Julie Amon, SDS vice president for TCC Trinity River.
"TR Career Services was pretty innovative with our Bitmoji Classroom…a different way to remind students of our services. We had 72 visitors. We plan to keep the classroom available and updated after we return to campus," Amon said. "Virtual events provide us the ability to work as One College publicizing one event to all students across the District such as transfer fairs and information sessions, health fairs and veterans' week," she said.
Making the transition to Blackboard and other platforms had its twists and turns. "Adjusting to the virtual platform required trial and error," said Yolanda Sifuentes, coordinator of special projects for the Family Empowerment Center at TCC South. "It was challenging to fix errors virtually."
It also was daunting to garner participation in various student-centered events when traditional ways to reach them were no longer feasible.
"The most challenging aspect of the transition (was) not being able to see the students and for them not to see us. They can't pass by our event and decide to walk in the room. They can't hear the live music, smell the food, nor see the crowds," said Rachael McCloskey, coordinator of student activities at TCC Northwest. "Often, so many of our students would come into an event because they walked by and wanted to check it out. In the digital world, it's tough to re-create that type of marketing. We can't put out flyers and posters all over their computer screens and we can't pump in smells and sounds of events into student homes."
TCC Northeast Peer Leader Megan Bordow agreed. "The lack of face-to-face—being able to have that bond makes it more comfortable and relaxed when explaining things and helping students—you just don't get over the internet."
Because she and her peers were able to joke about technical difficulties, they could help and support each other through the struggles ranging from technical difficulties to life's problems.
The online environment also was expanded to include providing for the health needs of the TCC community. "Students can self-schedule online for an appointment with a nurse. We provide a spectrum of services that includes education (answers to questions, health education and wellness topics), referrals to the community or to TCC resources. Nurse consultations, a one-on-one appointment with a Registered Nurse employed by TCC Health Services, (are available)," said Crystal Martz, coordinator of health care services at TCC Northeast. "We also offer those same services to faculty and staff."
Several health programs were designed after evaluating what programming would be impactful through a digital platform, said Tina C. Ingram, coordinator of Health Care Services at TCC South. Programs have included Suicide Prevention and Education event in October, a video series on Breast Cancer Awareness and the first TCC Virtual Health Fair with 20 community partners presenting about 10 health and 11 wellness topics, Ingram said.
Health Care Services staff also began to update their skills to provide better service. "All Health Services coordinators and 80 percent of the full-time nurses across the District began Health Coach Certification Training with an estimated completion date of April 2021," Ingram said.
Although challenges emerged, resilient staff members throughout the College were able to continue some pre-pandemic programs, such as the successful TOROTalks: Healing Through Conversation and the Arts platform launched at TCC South in February 2020.
"(It is) an intentional and consistent platform that provides a safe space where students, faculty, staff and the community can discuss the impact that the narratives and conditions created by systems of inequity," said Stephanie Hill, former SDS vice president at TCC South. "TOROTalks provides an opportunity to acknowledge resulting barriers and divides that must be engaged, discussed and healed through understanding, reflection and renewal, while affirming the inherent value of all people."
Students helped to plan and implement the program, often serving as panelists, Hill said. Since TOROTalks also can serve as a responsive platform, a two-part series was sponsored in summer 2020 on "The Urgency of Now: Privilege, Oppression and Black Lives in America!"
The Trio Program at TCC South also was able to remain in touch with its community of students by continuing to use its pre-pandemic resource, REMIND. "This tool allows our staff to communicate with our students and parents as well as send out announcements," said Mandy Hernandez, Trio coordinator at TCC South. "As we prepare for our return to in-person sessions, our program will continue to use these tools. (In addition), it is our goal to incorporate all that we have learned in the virtual setting into an in-person program."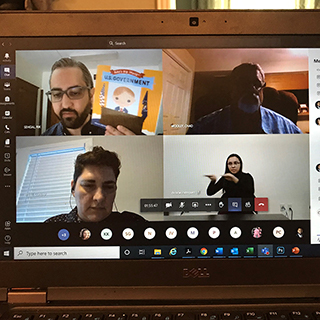 Created to welcome students to the physical campus, navigators were established at TCC Northwest to help students achieve success by connecting them to the classes and services they sought. "We thought the most welcoming way to greet our students was with smiling faces, rather than static signage," McCloskey said. "We also offered free snacks and water to students. We know sometimes students may be rushed and forget to eat breakfast or need a boost later in the day. Offering simple snacks is another way to make them feel at home and ready for success!"
The SDS goal of making students feel welcome remains the same, but in this digital age it is achieved by engaging students in other ways.
"We have increased our video-making skills, added live chat sessions and created more virtual ways students can interact with us and with each other," McCloskey said. "We put several hours into making our myTCC page more helpful and fun for our students. Prior to COVID, our Blackboard/myTCC page was not used as frequently. We (now have) found ways (for it) to help our students (remain) connected to our campus."
Several staff said one benefit of the digital realm is that it has allowed them to create an "on-demand" video library consisting of training, events and other programming for viewing at the student's convenience.
"We have embraced our ability to record workshops and provide orientation in an asynchronous format. Our students' schedules are more hectic than ever with the pandemic being in full swing, so it has been important to provide our resources in a format that they can utilize no matter what their work, home and school schedule looks like," said Matthew Taylor, SDS director for TCC Connect.
McCloskey spoke of the professional benefits of acquiring the new skills to maneuver in the virtual world.
We look at events as opportunities for us to learn. In this virtual environment, we have been doing a lot of learning. This environment has also challenged our creativity," she said. "We are constantly having new ideas about how to keep our programming fresh for our students. Thinking way outside our usual box has helped us to create more engaging content for our students. We also have revealed hidden talents for video making, social media and problem-solving.

Rachael McCloskey
Coordinator of Student Activities, TCC Northwest
The ability to provide quality programs and services quickly in the new shelter-in-place environment was and continues to be feasible because of the staff's attitude. Sifuentes said the emergence in the digital word required their team to adopt the new 3 R's—Readjust, Replace and Recover. "Readjust your mind and your delivery to fit the student needs. Replace what doesn't work with what works best. Recover from what you have lost and work on building something new," she said.
Meeting the needs of students is not the only concern of SDS teams. They also wanted to do the same for each other, according to Cara Walker, student activities coordinator at TCC Northeast. "The main challenge has been to facilitate the same kind of camaraderie that we had face-to-face," Walker said.
While it stretched them to quickly make the changes necessary to implement new tools and continue serving their students, several SDS teams plan to continue taking advantage of the benefits of their newfound resources.
"Video conferencing (via Teams) helps us squeeze more into our day. Previously, it would be normal to schedule physical meetings at campuses around the District," said Pete Fiannaca, SDS director at TCC Northeast. "Travel time would essentially be wasted time. With remote meetings becoming the norm, travel time may become a thing of the past."
Several teams have indicated that they also will continue to use online platforms to keep students abreast of happenings after campuses reopen.
"SDS has embraced this virtual work environment. We know that moving forward a portion of our virtual programming will continue for all students," Amon said.
To connect with College life, check out student activities.