Getting Inside Information
Seven interviews, seven job offers. TCC graduates are in high demand for many health care jobs
As her May 2021 graduation from TCC Trinity River's Radiologic Technology program grew closer, Rachel Seidel went into big-time job-hunting mode. Jobs had been scarce when she left the military years before, so she was determined to send out as many applications as necessary.
"I applied to seven places," she said. "I thought I might get a couple of callbacks, but every one of them called back, and I thought, 'OK, I need to stop applying.'"
The seven callbacks quickly became seven interviews and then seven job offers. "There was a lot to think about," she said. "Commute, salary, benefits, working hours."
She chose Texas Health Resources Harris Methodist Hospital. The salary was much higher than she had anticipated when she entered the program, and THR even threw in a signing bonus.
Seidel's story reflects both the quality of TCC's health science programs and the current shortage of trained technicians. "With the ever-evolving state of health care, the current job market is flourishing with opportunities for TCC students," said Brandon Hernandez, dean of health sciences. "The job market in the DFW area is vibrant, and our students will have several opportunities to put their skills to work quickly."
Seidel chose one of TCC's imaging programs which train students to take images that provide physicians information about the insides of patients' bodies without surgical cuts. Here's a rundown on each program.
Radiologic Technology
"Rad Tech" (commonly known as X-ray) is the granddaddy of imaging programs, with the technology dating from the discovery of X-rays in 1895. A year later, they were being used by physicians worldwide. TCC began offering Rad Tech training in 1970; for almost 50 years, it was the College's only imaging program.
"Rad Tech is kind of a first step, and for some people it's their only step and they can have a fulfilling career with it," program coordinator Brian Spence said. "Or they can go into other imaging areas. There are just a million different pathways."

Rad Tech is a good example of how increasingly popular TCC's imaging programs are. Normally, Spence said, 70 to 80 people apply for one of 24 spots, but last year's applicant pool was 110.
Not only is the competition fierce for admission, but the requirements are equally daunting. Applicants must have a grade point average of at least 2.5 to apply, make a C or better on the notoriously difficult Anatomy and Physiology courses and score a minimum of 70 on the Health Education Systems Inc. (HESI) exam.
Graduate salaries are excellent—just ask Seidel—but there are other attractions. "If somebody loves helping people and likes the idea of working with cutting-edge technology, the program can be attractive to them," Spence said. "It's kind of combination of art, science and medicine."
Sonography
The first photograph of people born after 1980 is likely to be a sonogram proudly posted on their parents' refrigerator door. "But we're more than OB-GYN—much more," said Jackie Bennett, who oversees TCC's sonography program. "We can evaluate organs in the abdomen, the pelvis, the vessels in the neck, head, arms and legs."
Even so, she said, at least half of prospective students think sonography is only about moms-to-be and their babies. "When I worked at another institution," Bennett recalled, "a student came in and said that all she wanted was to become an OB-GYN sonographer. She ended up quitting because she didn't realize you have to learn all of it." Of course, that breadth of knowledge ensures students have maximum professional opportunities.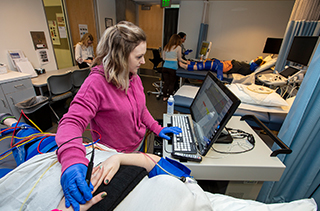 Sonograms may function somewhat like X-rays, but the technology is far different, employing sound waves instead of radiation. These waves are created externally and bounced off internal tissues or organs in much the same manner as the sonar used by ships to detect what's under the water ahead of them. The echoes form a picture of the body tissues on a computer screen.
There are two pathways into TCC's sonography program, which began in 2017. Most students start by taking the required prerequisite courses, with a GPA of at least 2.5, and the HESI exam. Others who already hold licenses in radiography, radiation therapy or nuclear medicine, however, may skip the prerequisites and take only the courses required for a Certificate of Completion rather than the Associate of Applied Science.
As with Rad Tech, far more potential students apply than can be accepted. "Previously, we had about 50 applicants for each cohort of 12 students," Bennett said, "but this last one during the pandemic was 100."
Graduates command good salaries and even sign-on bonuses, she said, and "if you love patient care and you love technology, you won't be bored."
Nuclear Medicine
"Nuke Med" is sometimes referred to as "inside-out radiography" because the radioactive material is placed inside the body, and the resulting photon emissions are picked up by external sensing equipment. One such piece of hardware is the gamma camera, named for the gamma rays emitted by the patient. TCC recently purchased a gamma camera with delivery expected during the spring or summer of 2022.
The gamma camera was a big purchase in many ways. Not only did it cost just south of $300,000, but the equipment weighs almost nine tons. "They decided that maybe nine tons on the fifth floor wouldn't be a real good idea," said program director Tonya Pigulski, "so we decided to put it on the first floor."
The camera can record an image, much like an X-ray, but can also take multiple images that can be compiled by a computer to create three-dimensional data. Multiple images can also show function, such as if a heart is pumping enough blood.
Nuclear medicine can also heal in addition to providing images. Through a process known as theranostics, one radioactive drug may be delivered intravenously to diagnose a condition such as a tumor and then, if appropriate, a second radioactive dose can be situated to deliver treatment.
Only 15 students can be accepted in each fall semester, and Pigulski cautions applicants to thoroughly investigate nuclear medicine before seeking admission. "I tell them not to choose it just to choose it, but make sure they'll love it," she said. "It's a fantastic field, but what's even more fascinating to me is that you can get your certification in five semesters at a community college for under $5,000 and you're coming out as a brand-new graduate making about $30 per hour."
Computed Tomography
Once known as Computed Axial Tomography, or CAT—the acronym that spawned endless jokes involving felines—CT combines multiple X-ray tubes in what resembles a large donut. As patients lie on a gantry and glide slowly though the center hole, the tubes take a series of images or "slices" that are then compiled by computer into a three-dimensional cross section. A neurosurgeon can then, for example, examine the brain layer by layer to detect anomalies.
"CT's fast. It's the modality of choice in trauma medicine," said instructor Dina Sterling. "You can get a head CT done in a matter of minutes depending on the speed of your scanner and how many slices are made. On the other hand, MRI (see description below) is a very long process."
CT is a secondary imaging program in that one must already be licensed in an area such as Rad Tech or Nuke Med. The 16 semester hours are completed in a single semester. Many students opt to tack CT onto their Rad Tech program. They are, if in good standing going into their second year, allowed to take extra courses in CT and then finish up the CT certification in the summer.
Salaries are in the $75,000 per year range, but Sterling said her students also are attracted by the speed and excitement of working in an emergency room or other high-pressure setting.
Magnetic Resonance Imaging Technology
MRI employs a completely different technology than its counterparts, this time using the patient's own magnetic field. "It's like what sonography is, sending waves toward the body and the waves echo back to us," said instructor Razan Valle. "We all have little baby magnets inside our body because some of our atoms have a charge that creates a magnetic field. We can align those small magnets into a larger field that we can then manipulate to get an image."
MRI is another secondary program whose students must already be licensed in another modality. With that in mind, Valle has structured the program with the working technician in mind. "We offer our classes on weeknights and weekend mornings," she said. "The clinical rotations are set based on each student's hours of availability. We also offer our courses blended or hybrid, so they don't have to come to campus every week."
As with all the imaging programs, technology is advancing at a whirlwind pace. "They're always finding new uses," Valle said. "Through spectography, we can measure various levels of minerals and potassium in the body and in the brain specifically. Microscopy is being able to do pretty much what a microscope does, so we're able to look at tissue at a very cellular level."
Demand is such that the median salary has risen from $65,000 in 2012 to $74,000 in 2020. While TCC now requires MRI students to be licensed in another field, that may change. The demand for technicians is so great that employers are increasingly open to hiring people with only MRI certification. "So, there are talks within TCC of expanding into an associate degree program," Valle said.
Vascular Interventional Radiography (VIR)
"You name it, we can fix it," said instructor Denise Glenn. Hyperbole? Sure, but VIR can be used in many parts of the body to perform a variety of procedures including lazing a clot and sucking it out, stopping a bleed, stenting a blockage or inserting drainage tubes.
"What we do," Glenn explained, "is fix everything through a tiny hole in the groin, radial artery or other access points. We do chemoembolizations, too, where we can target a tumor and put in a chemo agent to kill it. It's like a blend of surgical technology and radiology."
Students accepted into the VIR program must already have a degree or certificate in radiologic technology. Graduates of the 23-semester-hour course of study receive Advanced Technical Certificates.
"It's not for everyone," Glenn said. "It can be overwhelming because you've spent a year and a half learning about bones (for X-ray studies) and all of a sudden, I'm going to start throwing the whole cardiovascular system at you."
Glenn graduated from TCC's Rad Tech program in 1992 and spent 10 years as an X-ray technician before discovering interventional radiography. "It's the most awesome job ever," she said. "We are saving lives. I'm standing next to a physician and what I'm doing is actively helping someone's life being saved.
"But you get to a point where you really want to give back and it's time to help these younger ones. Maybe one day when I need some help [as a patient], one of my former students might walk in and I'll think, 'OK, good. You know what you're doing.'"
Despite their advanced technology, high salaries and fulfilling work offered in imaging fields, getting the word out on TCC's imaging programs to prospective students can be challenging. The pandemic, however, provided some unexpected assistance.
"We do tend to be underplayed in the health care realm," said Sterling. "Television has a lot to do with it. It tends to highlight the doctor and the nurse and then everyone forgets there is actually a team of health care professionals. I watch some of these TV shows and I see X-rays hanging upside down. Is nobody even showing them how to hang X-rays correctly?"
"Unfortunately, our profession is still not as well-known in high school advising," said Stephanie Holden, the assistant dean to whom the imaging programs report. "So, oftentimes it's boots on the ground." The pandemic also provided some unexpected attention on imaging programs. "Perhaps the only positive of COVID was that it highlighted some other health professions besides doctors and nurses," Spence reflected.
Seidel, meanwhile, is loving her new job, intense though it might be. "It's a fast-paced area in which to work," she said. "I work in an emergency room in a very busy hospital and expect a constant flow. You're never bored. You don't get to sit down much. You expect to be constantly seeing people, but it's very rewarding.
"I'm grateful to TCC for preparing me for this field and for making sure that I learned everything I needed to learn. It's intense, but it's intense for a reason, and they will not let you fail. I'm so grateful."
Visit TCC's imaging programs for more information.