Finishing Strong
Four TCC Graduates Qualify for Prestigious National Scholarships
Thanks to hard work and excellence in their studies, four recent Tarrant County College graduates will launch the next phase of their academic careers with national scholarships in hand. Each of them plans to channel their education into making significant contributions in culture, economics, health care or social issues.
"These accomplishments are a testament to the fact that with hard work nothing is impossible for our students; always reach for your dreams, they are only as far from you as you allow them to be," said Southeast Campus President Bill Coppola. Three Southe Campus students merited scholarships from Phi Theta Kappa (PTK), the official honor society for two-year colleges.
Students Karen Meacham and Jhoalmo Sibrian were chosen from a group of 1,500 community college students nominated by their schools for the All-USA Community College Academic Team. Twenty recipients received $2,500 scholarships based on their academic achievement and community service.
In addition to being part of the All-USA Community College Academic Team, Karen Meacham is one of two TCC students to win the prestigious Jack Kent Cooke Undergraduate Transfer Scholarship. Ninety students are selected nationwide to receive a scholarship up to $40,000 per year, which goes toward tuition, living expenses, books and required fees for the final two to three years necessary to complete a bachelor's degree.
Meacham was notified she had won the award by being summoned to the Southeast Campus under the guise of meeting people as an All-USA winner. When she arrived, she found a conference room filled with balloons and many people who have been with her during her journey through TCC. President Coppola's announcement that Meacham had won the award left her "completely astonished."
Personal health issues prompted Meacham to study dietetics. "After a fruitless search for a specialized dietician, I determined that I should attend college to pursue a career in dietetics so I could help others like myself. I was delighted to discover a dietetic technician program only 10 minutes from home (at TCC)," she said.
Meacham plans to transfer to Texas Woman's University this fall. Once she completes her bachelor's degree, she will test to become a registered dietician, then work on graduate studies in nutrition and public health. She would like to work with people who have food allergies, perhaps consulting with patients and the food industry, writing books, conducting research on special diet use and advocating for accurate labeling of manufactured foods.
Originally from El Salvador, Jhoalmo Sibrian was selected as the New Century Scholar for the state of Texas. Sponsored by The Coca-Cola Foundation, Coca-Cola Scholars Foundation, PTK and the American Association of Community Colleges, the $2,000 scholarship is based on grades, leadership, activities and how students extend their intellectual talents beyond the classroom.
Sibrian says he feels "honored, privileged, grateful and fully blessed" by the awards. "The support from professors, faculty and my chapter of Phi Theta Kappa helped me to believe I could achieve this honor," he said. "After my time at TCC, not only did I find great mentors, but I found a great family too."
Sibrian's major is Business with a concentration in International Studies. He plans to continue his studies with a master's degree in International Business. After that, he would like to become a Foreign Service officer with the U.S. State Department. He wants to work with programs that promote cultural affairs, combat human trafficking and protect and support women's rights.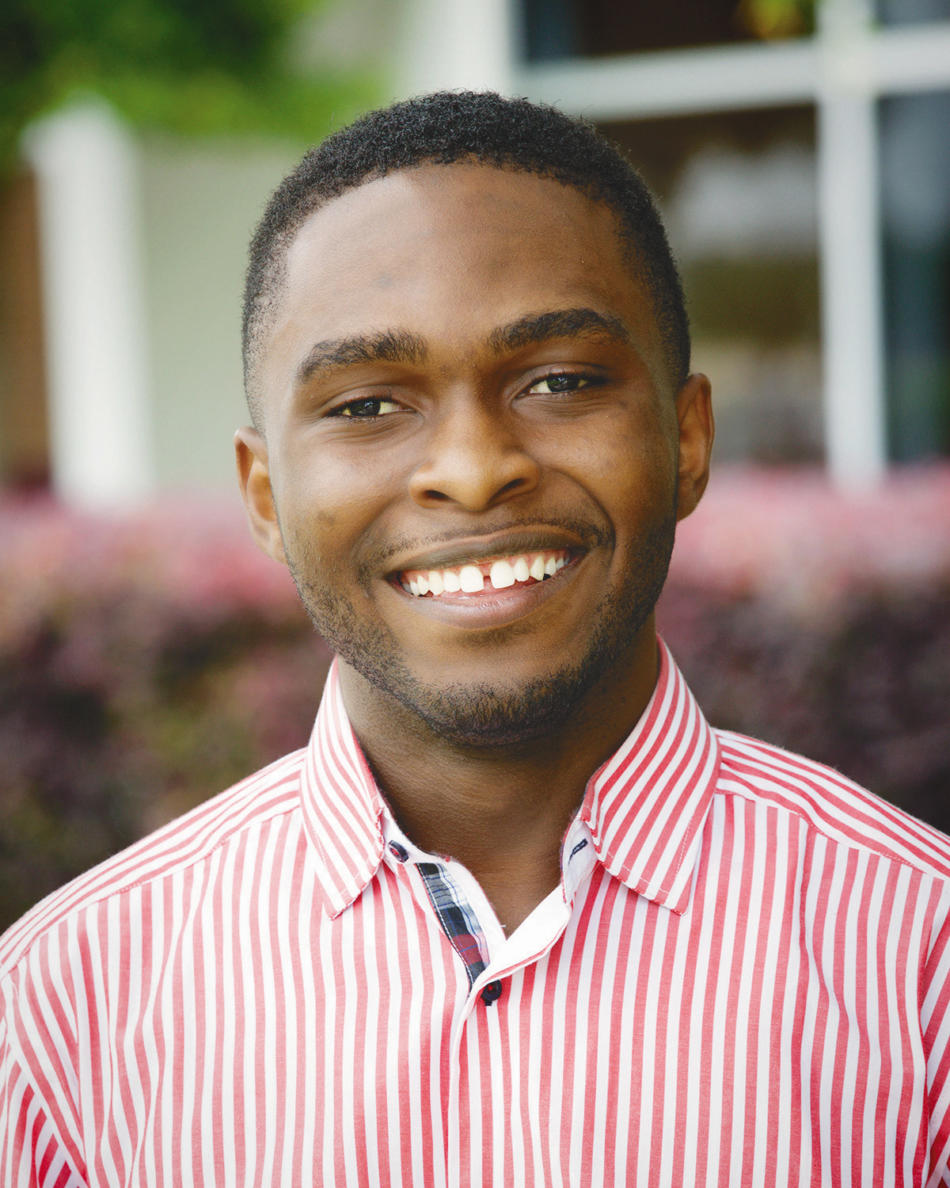 Pelkins Ajanoh, a native of Cameroon, is one of 15 students nationally to be selected for the Guistwhite Scholarship, the second-highest scholarship offered by PTK. Recipients of the $5,000 award are chosen based on their academic achievement, leadership accomplishment and engagement in PTK programs.
"I greatly appreciate the opportunity TCC offers its students to achieve their dreams," said Ajanoh, who wants to pursue a career in mechanical engineering and plans to transfer to The University of Texas at Arlington. "I intend to fabricate biomechanical structures for amputees and injured persons. That has been my passion since childhood." Ajanoh decided to pursue this path after seeing an interview with an MIT mechanical engineering graduate student from Sierra Leone, who wanted to research bionics to help those who lost limbs in the civil war. "I felt a deep conviction to study mechanical engineering and use it to restore happy lives to physically injured persons," he said.
The second TCC student to win the Jack Kent Cooke Undergraduate Transfer Scholarship is Ismael Castaneda, who attended the Northwest Campus. His family moved to Texas from California for the stable economy and educational opportunities. The first-generation college student followed in the footsteps of his sister, Candy, who is an alumni of TCC.
Although he was accepted into Texas Christian University and University of California Davis, Castaneda chose to attend Tarrant County College for its affordability. He made the most of his time here. "(He) stood out as an exceptional student who prepared for and attended class, had a job and engaged fully in opportunities available for NW Campus students," said Northwest Campus President Elva LeBlanc. "He was an Honors Cornerstone Student, member of Phi Theta Kappa and invited to give presentations at national conferences such as the Leadership Conference at Harvard University." Additionally, prior to graduation, Castaneda participated in TCC's Men of Color Mentoring Program.
An economics and nonprofit management major, Castaneda is committed to pursuing graduate studies after completing his bachelor's degree. He wants to develop a national, nonprofit, educational mentorship organization. "I hope to make sure underrepresented students come out of the shadows and become the next leaders of our country," he said.
TCC also is committed to leadership development. "Student success is more than just pretty words on a page to us," said Coppola. "We see it, breathe it and live it daily as we work to mold the future leaders of tomorrow."