From Passion to Profession
TCC alumnus Kevin Douglas knew he would be an actor long before he ever drew a paycheck for it.
"Acting became my career goal in eighth grade. I enjoyed making people laugh," Douglas recalled. "I looked up to Eddie Murphy. His older stuff is great. Comedy is my favorite thing in the world."
His high school theater teacher recommended Douglas (pictured below, on right) attend TCC so he could study under Pert Durapau, then director of the Northwest Campus' Theatre, now chair of the Department of Speech and Drama and director of theatre at the Southeast Campus. Douglas enrolled in 1994.
"I developed a lot of acting techniques from Pert's teaching," said Douglas. "Plus, she required us to learn all aspects of a production, whether it was building sets, stage managing, directing, sound design or creating costumes. That gives you respect for all that goes into a performance."
With Durapau's support, Douglas went on to earn a Bachelor of Fine Arts from DePaul University. He joined Chicago's Lookingglass Theatre Company in 2008 as an artistic associate; five years later he became a member of the group's acclaimed mainstay ensemble. ("The move was definitely well-deserved," wrote Michigan Avenue Magazine in 2013. "Douglas put on show-stopping performances in plays such as Mr. Rickey Calls a Meeting and The Great Fire last season, and many others in seasons past.")
Douglas also is a playwright and sketch comedian who has performed in events such as the HBO U.S. Comedy Arts Festival and the NBC Sketch Comedy Showdown. He has been nominated for multiple Black Theatre Alliance Awards.
So what made Douglas successful in a profession that is notoriously challenging? He traces a lot of his accomplishments to what he learned at TCC.' "Pert taught us how to be selfless, how to be a team player, how to handle different personalities and how to get the job done no matter what obstacles are thrown at you," Douglas reflected.
TCC offers a pathway for performing artists of all kinds to turn their passions into a profession. Career-track drama, dance and music programs are taught at the Northeast, Northwest, South and Southeast campuses. The College provides high-tech theaters and studios for rehearsals and performances. Additionally, faculty members are highly respected in their fields and often have decades of professional experience.
Students can accumulate credits that are transferable to most universities and earn an associate of arts.
Instructors across disciplines have a uniform recommendation for those who want to make a career out of the performing arts: Educate yourself.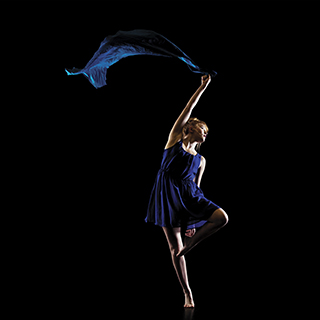 "We advise students to gain as much education as possible," said Linda Quinn, chair of the Communication Arts Department at the Northeast Campus and the founder of TCC's dance program. "Education allows students to make a good living while waiting for their big opportunities, and regardless of when these opportunities occur, education helps artists better understand their crafts. Also, it opens a variety of career pathways in the arts. 'Big opportunities' aren't limited to performance."
Indeed, not all performing arts professionals are on stage. Some work behind the scenes in technical roles; others teach or support the arts through marketing, advocacy or fundraising. TCC faculty and other experts recommend taking diverse classes to be prepared for whatever career prospects arise. That includes different art forms as well as other fields.
"I would suggest studying business," said Marla Fleischmann Owen, business development manager for the Arts Council of Fort Worth.
"To be in the performing arts world is like owning your own business. You need to have an understanding of how business works, how you can support yourself and your organization and what resources are available to you."

Marla Fleischmann Owen
Just as in any other profession, networking and getting a foot in the door are critical.
"Do as much as you can in the industry while you are in school," recommended Dione Kennedy, president and CEO of Performing Arts Fort Worth and Bass Performance Hall. "I know most students are working their way through college and very busy, but it's important to get involved in whatever way you can."
Even if your ultimate goal is to have your name on the marquee, volunteering or taking part-time work in other aspects of a performing arts organization has major benefits.
"The box office is great experience," noted Kennedy. "You learn so much—how a business operates, dealing with patrons. I started in the box office and ended up as the CEO."
TCC's programs strive to provide a variety of professional-level experiences for students. This spring, for instance, the Northeast Campus' Movers Unlimited Dance Touring Company traveled to Chicago to take classes with the prestigious Hubbard Street dancers. In addition to standard coursework and concerts, the Music Program offers regular workshops and master classes, along with private lessons with skilled musicians and special opportunities to showcase students' abilities.
"Our music students support TCC's musicals, dance performances, festivals, graduations and award ceremonies," explained Karen Parsons, department chair at Northeast Campus. "They love projects that matter and collaborating with other disciplines. I believe today's music students have far more job prospects than in the past."
And it is not necessary to go to Chicago, New York or Los Angeles to have a rewarding career in the arts. According to the Arts Council of Fort Worth, the city's nonprofit arts sector generates $84 million in economic activity and supports more than 3,000 full-time jobs. The Texas Workforce Commission projects that between 2012 and 2022, employment of musicians and singers in Tarrant County will increase 19 percent; the expected increase for dancers is 22 percent. Still, depending on a student's specific aspirations, a performing arts career will likely require a patchwork approach.
"There are opportunities for performing arts in the Metroplex, but it is difficult to find one position or company that can support an entire career," explained Fleischmann Owen. "Most of the performing arts professionals I know hold many jobs that support each other, like a lighting designer and lighting supplier who also is a production assistant and technician, or a performer who also teaches."
Lindy Benton-Muller, director of theatre for the South Campus, gives students similar career advice.
"Find or create a job that gives you the income, support and flexibility to be able to follow your dreams," she emphasized.
Everyone agrees that career success is a combination of talent, luck and perseverance.
"Making a living in the performing arts is challenging. There were plenty of times that I could have given up. But I'm glad I didn't."

Kevin Douglas
Even if graduates go on to unrelated careers, their experiences in the performing arts change their lives for the better.
"I believe our students would acknowledge that we perform in some way every day, and that their arts classes provided them insights into humanity," said Pert Durapau, Douglas' TCC mentor. "Especially as technology and impersonal connectedness become more prevalent, it is imperative to keep the performing arts alive."