Filling the Void
Training Highly Skilled Workers in High-Demand Jobs
When Albert Woolum walked into the Tarrant County College Opportunity Center to visit his brother, he had no idea he was embarking on a life-changing experience.
Impressed by the computer numerically controlled (CNC) equipment, Woolum—who was job hunting after being laid off as a supply clerk—realized for the first time that he could earn a profitable living with his hands.
"The last time I had been around machinery was in high school shop class with my brother. It wasn't even on my radar," said Woolum, also a former math teacher and businessman. "It's nice to have an academic skill, but it's also good to have a hands-on skill."
Woolum discovered his status as a military veteran qualified him to learn to operate the sophisticated equipment at no personal cost, so he enrolled.
Woolum interviewed eight weeks later for his first job as a CNC operator. His interview was on the Friday he graduated from the intensive course. He started working the following Monday. That was two years ago.
"The very fact the Walmart Foundation paid for it was extremely helpful," he said. "There is no way that I could have afforded it."
Woolum, now 65, is just one of the thousands of people who benefit from TCC's ability to leverage its course curriculum to meet the training needs of local businesses in Tarrant County. The CNC course that equipped Woolum with the skills to operate the complex equipment was originally designed to fill the void of highly skilled workers needed to operate the sophisticated equipment that form metal parts. TCC not only met the business need, but also created a pathway for their community partners to guide the unemployed and underemployed toward careers in high-demand jobs with impressive salaries. The development of the curriculum for that one course would yield another benefit later when it helped to establish TCC as an integral element in attracting new industry to North Texas.
Changing Lives One Check at a Time
Each time someone like Woolum navigates his or her way through a TCC skills training program, it strengthens the economic base of Tarrant County. Just imagine the difference it makes for a family when the breadwinner goes from bringing home no money, or the minimum wage, to $15 per hour ($31,200 a year), slightly higher than twice the federal minimum wage of $7.25.
This infusion to the economy can total a little more than $1 million annually when the entry level salaries are calculated for the other 34 veterans who also were trained as part of special veteran initiatives such as the Walmart Foundation Vocational Acceleration Grants Program.
The economic surge of the participants in just this one class has the potential to hit nearly $2 million per year. It only takes half of the course graduates to maintain their entry-level salary, while one-fourth of the class advances to the mid-range salary of $29.41 per hour or $61,172.80 a year and the remaining one-fourth eventually advances to top wages of $53.33 or $110,926.40 per year.
These results are all possible because TCC's strong reputation as a quality provider of skills training put the College at the top of the list when the Walmart Foundation sought a partner in the Dallas-Fort Worth area.
"We are a provider of choice to do things like skills upgrades and we provide workplace solutions," said TCC Chancellor Eugene Giovannini. "We are in position to be a comprehensive workforce solutions provider from assessing, recruiting, hiring and onboarding, to continuing education."
The CNC training course is just one of the short-term training programs TCC offers. Courses in Composite Manufacturing, Computer Repair Technician, Hydraulics and Pneumatics and Forklift Safety also are available. "Earning a certification in any of these areas can make a difference when job hunting, but a graduate who earns more than one certificate is even more marketable," said Jennifer Hawkins, director of Corporate Solutions and Economic Development.
Just a fork lifter certificate can make a difference in the entry level wage for someone entering the workforce. If that certificate is combined with an Occupational Safety and Health Administration certificate, in three short days, the job seeker qualifies to earn as much as $5 more an hour.

Jennifer Hawkins
Changing the economic landscape, one paycheck at a time, adds up quickly and enables TCC to contribute nearly $1.7 billion annually to Tarrant County's coffers.
Multi-purposing Training and the Multiplier Effect
The Fort Worth and Tarrant County economic bases benefit daily because TCC flexed its ability to take existing curriculum and modify it, resulting in a rapid response to the market's urgent training need. For example, TCC's participation and preparedness helped Fort Worth leaders convince GE Manufacturing Solutions that Fort Worth was the best place to open another plant in 2012.
The agility of Hawkins and her team further strengthened TCC's reputation as the go-to place for employers needing to train or upskill their people so they reach optimal productivity quickly. When GE needed CNC training, the timing could not have been better for TCC. Hawkins' team had just delivered training financed by a $441,660 Texas Comptroller's Office grant in partnership with the TCC Foundation and The Women's Center to train its clients.
Approximately 80 percent of the programs' graduates found jobs immediately. And the successes do not end there. In the last three years, TCC's Corporate Solutions and Economic Development staff has trained nearly 860 students who were brought to them by community groups, according to Hawkins. These Tarrant County residents are clients of partners such as Workforce Solutions for Tarrant County, the Women's Center, Cenikor Foundation, ACH Child and Family Services and Ladder Alliance.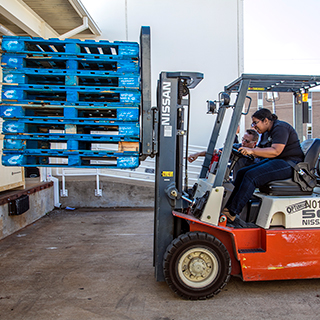 Now, an even greater number of Tarrant County residents can access the training. Hawkins' team further optimized the course by including it in open enrollment. Initially available to existing business partners in fall 2016, the CNC course now is included in TCC's online Community & Industry Education catalog. Besides CNC, manufacturing courses will include welding and forklift operator. Training to enhance office skills also is available in three levels of Microsoft Excel—Basic, Intermediate and Advanced. Tuition ranges from $200 and $450 for the courses that require from six to 18 hours for completion.
No matter where in Tarrant County they live, students may take the open enrollment courses, but Hawkins said they should be of particular benefit to those who live near the Opportunity Center in the Stop Six area of southeast Fort Worth.
"People who may be trying to find their way may not have as many options to take classes," Hawkins said. "We are sitting right here in the middle of this community. If they have transportation issues, it is not a problem to come here."
Opened in its current location in 2000 as the Fort Worth Opportunity Center, the Center began as a result of TCC's partnership with key groups including the Stop Six community, the City of Fort Worth, Hillwood Development Corp. and Bell Helicopter.
"Recognizing the neighborhood's unemployment rate of 14 percent, more than 10 percent above the county average, the partners together established the center's mission to enhance the skills of the unemployed, underemployed and dislocated workers," according to "The TCC Opportunity Center Overview."
Major renovations to the facility in 2008 enabled the Center to offer not only the CNC training courses, but classes in Logistics, Management, Computer Skills and Advanced Composites that prepared graduates for jobs in the competitive fields of aerospace industry, construction, warehouses and business offices. That same year, the College took over the Center's operation, changing the name to the Tarrant County College Opportunity Center (TCCOC).
These programs became part of Hawkins' department as it evolved from offering training focused on leadership and management for mid-level managers at its original location at TCC's Northwest Campus, to providing technical training in response to the needs of local businesses.
Gwen Morrison, TCC's longest-serving board member, was on the board when the College gained sole responsibility for the facility, which is located in District 6 that she serves. She has long been a proponent of the potential impact the Center could have on its neighboring community.
"When the TCC Board of Trustees was offered the transfer of ownership for the Opportunity Center, I immediately knew that it could have a positive impact on the community. The TCCOC has wonderful staff that is open to the community. Strategic relationships have developed with elected and appointed officials through our open door policy," Morrison said.
Health Care Training Provides Paths to Economic Mobility
The impact TCC has on the economic impact of the Tarrant County workforce is not limited to its work at the Opportunity Center. Veterans are among those targeted to benefit as the College is poised to expand its offerings in the health care industry, a major contributor to the area's economy.
"We also have a credential and career pathway for veterans. We're creating a pathway for medics and others in the military with medical skills so their training can count in a registered nurse program," said Ben Rand, TCC's associate vice chancellor of Economic and Workforce Development. "Of course, we will test those skills before they enter the program. But once they are in, they can become a registered nurse in one year, as opposed to two."
Rand said TCC is in the process of implementing a coding camp to meet the ever-growing demand for medical coders.
Chancellor Eugene Giovannini also cites the importance of health care to the region's economic success. "One of the greatest areas of opportunity is certainly in the health care industry. We will continue to meet that need and expand to meet that need where the industry dictates," he said.
Health care lends itself to the development of career pathways that become even more lucrative as students acquire more credentials. According to Health Care Professions Dean Joseph Cameron, these enhanced credentials provide strong economic benefits for individuals and institutions alike.
"In the health care industry today, qualifications are measured by the number of credentials a health care professional has in any given field or area of specialty. This could advance job security and lead to other competitive advantages," Cameron said. "Increasing a health care employee's number of credentials increases their professionalism and the quality of patient care – a strong economic benefit for the employer."
Students are able to advance as they study related courses. As students "stack" credentials, they increase their ability to qualify for jobs that can pay them top salaries in competitive careers.
"Upon graduation, our radiography graduates soon will have the option to continue their education by earning post-primary certificates related to medical imaging," said Troy Moran, director of Allied Health Care. "Added to their primary Associate of Applied Science (AAS) in radiography, these pathways can lead to higher wages and better employment opportunities, which in turn increases their contributions to the local and state economy."
Moran said the basic AAS degree could result in salaries of $40,000 to $65,000 per year. When students stack their credentials by taking additional courses, these salaries can be augmented from five percent to 25 percent, Moran said, explaining that potential salary increases would be dependent on the occupational demand, location, size and need of the hospital, clinic or community.
Throughout its 50-year history, TCC has focused on meeting the needs of Tarrant County. It's all about what Rand describes as "being nimble and deeply entwined with the needs and direction of a region."
As Tarrant County continues to be responsive to business and its community partners by enhancing what courses it offers where, Board Member Morrison said she is dedicated to the College availing itself to its diverse citizenry.
"Through all of our learning platforms, it is imperative for TCC to offer every resident of Tarrant County an opportunity to engage in successful learning experiences," Morrison said.
Student success should know no age limits. As the community college—the people's college—it is our responsibility to take our learning opportunities where the learning is needed.

Gwen Morrison