Hidden Gems in Healthcare
Chi Purkey's day starts early. As part of the neurology and cardiac team at a Fort Worth hospital, she arrives before 6 a.m. to begin surgery preparations. Purkey (pictured above) scrubs in, mentally reviewing the steps for the procedure ahead, and greets the patient on the table. However, Purkey isn't a surgeon or a nurse. She earned her place in the operating room with a certificate in surgical technology from Tarrant County College.
Surgical technologists help surgeons, anesthesiologists and nurses care for patients in the OR. It is a critical role and one of the lesser-known opportunities in the healthcare industry.
"It's the best-kept medical job secret," smiled Purkey. "I found out about it when I had my little girl. I knew I needed a life change, and the first step was a good job with benefits. My aunt, who works in the medical field, suggested I look into surgical technology. There are few career fields that require a relatively short period of training and pay so well."
In fact, healthcare offers numerous ways to serve patients, both frontline and behind-the-scenes, that many people don't consider—and often those careers require an associate degree or certificate, allowing students to enter the workforce quickly and affordably. Because these fields generally pay well, students can rapidly realize a return on their investment. But make no mistake: this is not a career path for someone just chasing the dollar.
"It is about people caring for people," said Troy Moran, director of the Department of Health Services at Trinity River East Campus. "We stress this at every chance we get."
Purkey agreed, saying, "I wanted a job that I knew would truly help patients' quality of life. I walk away each day knowing what I did counted towards that."
Surgical Technology
Like Purkey, surgical technologists gather instruments, equipment and supplies needed for each procedure. During surgery, they maintain the sterile field, pass instruments to the surgeon and assist as needed. "Yes, I've had my hands in a patient, holding back the intestines so the surgeon can work," Purkey noted. Surgical technologists also decontaminate instruments after the procedure. TCC offers an 11-month certificate program, with an even more extensive associate degree program in the works. Students learn in a state-of-the-art campus laboratory that provides a replica of an operating room and complete a professional readiness course before honing their skills through clinical rotations.
"Our surgical technology students have the most comprehensive training in Tarrant County," said Cindy Mask, program director for Surgical Technology.
That training benefits the College's graduates when it comes time to sit for the national certification exam; TCC students' first-attempt pass rates near and often exceed 90 percent. Their job prospects also are strong.
Job outlook is at an all-time high. I receive calls and emails from headhunters across the country. If a graduate wants a job, it is out there.

Cindy Mask
According to TCC's Career Coach Program, there are nearly 3,000 surgical technologists employed in the North Texas area, and that number is expected to grow by almost 10 percent in the next four years. The median wage is about $23 per hour, while a top surgical technologist can earn almost $30 an hour.
Diagnostic Medical Sonography
Diagnostic medical sonography uses sound waves to create reflected echoes that form an image. While many people associate sonograms with obstetrics, sonography is a broad field with specialties in areas such as the abdomen, blood vessels, brain, muscles and heart, among others. Sonographers maintain and operate sonography equipment; obtain, record and process sonographic data; and, provide direct patient care.
TCC offers an Associate of Applied Science in sonography through a new 22-month, five-semester, full-time program. Students learn from lecture, lab and clinical experiences that feature the latest ultrasound technology, such as picture archiving and communication systems (PACS). They complete the curriculum prepared for credentialing exams.
"The program is academically intense," said Jackie Bennett, program director for Diagnostic Medical Sonography. "We teach abdomen, OB/GYN and vascular."
Most other sonography programs teach vascular at the introductory level. The TCC program provides more in-depth instruction, achieving competencies that are required to apply for accreditation in vascular concentration.

Jackie Bennett
Plans call for the program to add courses for additional and advanced skills to enhance opportunities for registered sonographers and new graduates.
There are more than 1,200 diagnostic medical sonographers in the North Texas area—and that number is expected to increase by more than 17 percent in the next four years. The median wage is about $34 per hour; experienced sonographers can earn more than $47 per hour.
Respiratory Care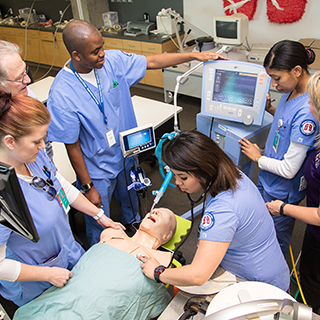 Respiratory care professionals treat patients—from newborns to the elderly—with compromised cardiopulmonary systems. Respiratory therapists work in hospitals, clinics and long-term care facilities as well as provide in-home care. Their duties include operating sophisticated breathing equipment and providing treatments for conditions such as asthma, pneumonia, cystic fibrosis and post-surgical complications.
TCC offers a 21-month program leading to an Associate of Applied Science in Respiratory Care. Students benefit from lecture, laboratory and clinical experiences that give them a solid, baseline understanding of respiratory conditions and prepare them for technology that is revolutionizing the field.
"Advances in technology make it possible to help patients get well in ways that were impossible years ago," said John Hiser, program director for Respiratory Care.
Upon completion of the program, respiratory therapy students are eligible to apply for state licensure. TCC's pass rate for the Certified Respiratory Therapist exam exceeds 90 percent. Students also can take a National Board for Respiratory Care exam for specialty credentials, including in neonatal/pediatrics, adult critical care and sleep disorders. The median wage is $28 an hour; a top respiratory therapist may make $37 an hour. The North Texas area employs more than 3,200 respiratory therapists, with that number expected to grow by more than 10 percent in the next four years.
The demand for respiratory therapists has never been higher. The Baby Boomer generation will increase the number of older people, who tend to suffer the most from respiratory conditions and who often have respiratory complications.

John Hiser
"The DFW area and all of Texas will experience increased retirements and aging of its citizens, driving up the need for additional hospitals—which in turn drives the need for more well-qualified, educated individuals to take care of 'us,'" said Moran.
That is fine with Purkey, "Yes, I come home worn out every single day," she acknowledged, "but I come home with pride."