Conquering All Obstacles
Graduate Proves Success Is Within Reach
What led me to TCC? I got tired of living paycheck to paycheck. I just felt there was something more for me than being at home. Even though my eyesight was getting worse, I felt I could do something. My wife was pushing me, too. She was a big part of that. And it was about overcoming the past. I had past struggles with alcohol, and I wanted to get an education so I could help others in the same situation.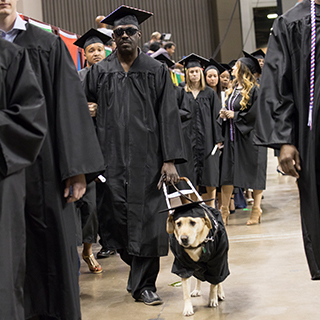 My eyesight did present challenges. It's a degenerative disease. I could see just fine during the day when I was younger; now it's like looking through a straw while you're walking through the fog. My dog, Slater, was a big help. He learned to navigate the campus. He knew where to find offices, the testing center and the library—wherever I needed to go, he took me right to the door.
As far as my classes went, math was tough. Not being able to see what you're doing is a struggle. There's really no technology that can help you with that kind of thing. It was hard to keep up with the class. Then I went to the Student Accessibility Resources (SAR) office.
SAR are good people. They put the student first. They care about your needs. SAR was able to get me manipulatives that let me actually feel the problem, hold it in my hand so I could put it in my mind. That made a big difference. And my tutor, Mike Wright, was a godsend. Mike knew how to break things down and use different analogies to help me understand the math.
I want other students who are struggling with a handicap to know they are capable. There are resources to help us succeed. You don't have to have a pity party. You can do it. There may be certain limitations, but you can succeed. When I crossed the stage at graduation, it felt like I'd finally finished something in my life. Going through addiction doesn't allow you to complete things. But I accomplished something I'd wanted to do for a long time. I finished that chapter and became the first in my family to graduate from college.
With my degree, I want to become an addiction counselor and tie it into the ministry. Being a man of faith was really important in overcoming challenges. Next, I'll do my counseling internship. There's still a lot I have to do to become a counselor, but I'm staying focused on my goal. I'm making small goals along the way, goals I know I'm capable of reaching. Eventually, the small goals will take me to the end.