Campus Presidents' Favorite Dishes
TCC South President Peter Jordan Shares His Favorite Dishes
Recipes and tips from Katrina Warner, Instructor of Culinary Arts
Bajan Shrimp Curry
Serves 8
Ingredients
3 lbs. large shrimp, peeled, deveined
6 celery stalks, washed, trimmed, diced
1 large sweet onion, diced
2 bell peppers, red, orange or yellow, seeded, diced
2 tsp. chopped garlic
2 sticks or 8 oz. of unsalted butter
28 oz. canned tomato puree or sauce
3 tbsp. yellow or red curry powder
1 tsp. dried thyme
1 tsp. dried marjoram
1 tbsp. Worcestershire sauce
1 tbsp. bottled steak sauce (A1 or other)
3 tbsp. sugar
2 tsp. ground black pepper
¼ cup lemon juice
½ cup raisins (optional)
Peanuts or slivered almonds for garnish
Method
Heat seven-quart pot on medium heat on stove. Add butter until melted and hot.
Sauté celery and onion until soft, but do not brown (about 15 minutes).
Add peppers and sauté until soft, but do not brown (10 minutes).
Add garlic and sauté five minutes.
Add tomato paste or sauce – rinse can with about ¼ cup water and pour into pot.
Add curry, thyme, marjoram, Worcestershire sauce, steak sauce, sugar, pepper, lemon juice, raisins and simmer for 25 to 30 minutes.
Add shrimp to sauce, mixing thoroughly, bring back to a simmer for about 10 to 15 minutes – be careful to not overcook shrimp as they will get tough.
Serve with nuts sprinkled on top as garnish on each portion.
My wife introduced me to Bajan Shrimp Curry, but it was my mother who trained my appetite for coconut sweet bread.
Barbados Coconut Sweet Bread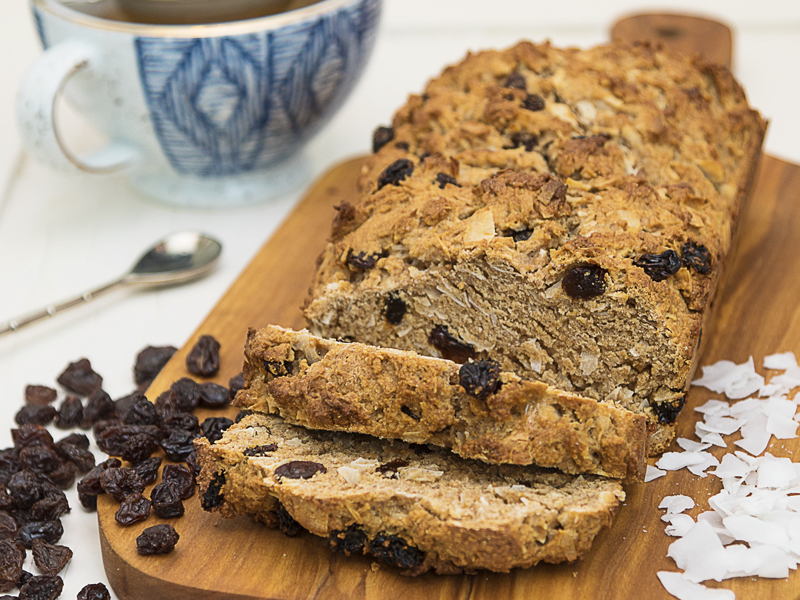 Makes two loaves
Ingredients
2 cups fresh coconut, grated (can use dried, unsweetened coconut chips – rehydrate in hot water until soft, drain and grind in food processor)
4 oz. melted butter
4 cups flour (can do 2 cups white and 2 cups whole wheat to add fiber)
1 tbsp. baking powder
1 tsp. salt
¾ cup + 2 tbsp. coconut sugar (or other sugar – white, brown, etc.)
1 cup raisins
1 large egg, beaten
12 ounces evaporated milk
1 tsp. almond extract
1 tsp. vanilla extract
Method
Preheat oven to 350°. Spray two loaf pans with Pam spray.
In a bowl, mix flour, baking powder and salt.
In another bowl, mix coconut, ¾ cup sugar, raisins, egg, milk, extracts and melted butter. Mix well until a creamy paste.
Add the paste to the bowl with the flour, mix until a stiff dough forms. If using a stand mixer, use the paddle attachment.
Divide the mixture between loaf pans.
Bring ¼ cup water to a boil and add 2 tbsp. sugar. Mix until dissolved and brush over both loaves.
Bake in the center of the oven for 1 hour – turning halfway after 30 minutes.
To check doneness, insert a toothpick into center. If it comes out clean, they are done.
TCC Southeast President Bill Coppola Shares His Favorite Dishes
Recipes and tips from Katrina Warner and Alison Hodges, Instructors of Culinary Arts
I have wonderful memories of my mother making her homemade marinara sauce all day, then layers of eggplant parmesan with fresh mozzarella cheese for Sunday dinner. It is best as leftovers heated up and placed on crusty Italian bread. We didn't have air conditioning so with the windows open I could smell the sauce as I was coming home.
Eggplant Parmesan with Pomodoro Sauce
Serves 4–6
1 medium to large eggplant, sliced into ¼- or ½-inch rounds (peeled or not – your choice).
Lay slices out on a sheet pan and liberally salt – allow to sit about 20 minutes or until brown liquid beads appear.
Turn to other side and do the same. Rinse all salt off well and pat dry with paper towels until ready to bread.
Sauce Ingredients
(Can be made ahead of time or while eggplant is sitting with salt)
1 large onion, sweet or yellow, diced
½ cup vegetable oil
1 tbsp. garlic, minced
½ cup red wine (optional)
28 oz. can whole, peeled plum tomatoes
28 oz. can crushed tomatoes
1 tsp. sugar
1 tsp. salt
1 tsp. ground, black pepper
20 fresh basil leaves, cut into thin strips
Sauce Method
Heat large two-quart pan/pot, add oil, after hot, add onion, cook on medium heat and stir until translucent no browning – called sweating.
Add garlic to onions and cook for 5 minutes for garlic to soften.
Add wine, bring to a boil while stirring about 1 minute.
Add tomatoes. Break apart whole tomatoes with wooden spoon or rubber spatula.
Add sugar, salt, pepper and simmer for about 30 minutes.
Take sauce off heat and add basil leaves. Adjust seasonings as necessary.
Serve with basil sprinkled on top as garnish on each portion.
Eggplant Ingredients
(Can be made ahead of time or while eggplant is sitting with salt)
9 x 11 glass pan
1 ½ cups shredded parmesan (not grated)
1 lb. fresh mozzarella block – slice ¼-inch rounds
1 cup flour
2 large eggs, beaten with 2 tbsp. milk or water
2 cups Italian seasoned breadcrumbs
4 to 5 cups oil for frying (choose "light tasting" or "extra-light" – do not use extra or virgin).
Eggplant Method
Dip washed and dried eggplant slice in flour, ensuring both sides are coated, pat off excess flour.
Drop floured eggplant into egg wash and allow excess to drain off.
Press eggplant into breadcrumbs, coating both sides and pressing gently. Layout on pan and refrigerate for 20-30 minutes to help breading adhere to eggplant before frying.
Fill skillet with oil ½-inch deep – heat until 350° For when breadcrumbs are dropped in, they sizzle.
Fry each side of the eggplant until golden brown, turning only once. Drain on paper towels. Turn the heat down if oil begins to smoke or bits on bottom of pan begin to burn.
Assembly
Pre-heat oven to 325°.
Spread thin layer of sauce on bottom of pan.
Cover sauce with thin layer of shredded parmesan.
Arrange slices of fried eggplant.
Cover eggplant slices with thin layer of shredded parmesan.
Spoon sauce and then 1 slice of mozzarella cheese on each slice of eggplant.
Bake, uncovered, until cheese melts and sauce starts to bubble – approximately 20 to 30 minutes.
New York Cheesecake
Pull cream cheese from refrigerator approximately two hours before use. Baking times are a guideline. All ovens are different; start checking 10 minutes early. Center will still have a jiggle to it. If a thermometer is inserted into cake approximately one inch from the center, it should read 150–155°F.
Ingredients
2 lbs. cream cheese, softened
3 tbsp. cornstarch
1 ¼ c. sugar
3 large eggs
1 tsp. vanilla
2 tsp. lemon zest (optional)
2 c. sour cream
1 c. heavy cream
Parchment paper
Method
Preheat oven to 350°F.
Beat cream cheese in mixer on low with paddle attachment until smooth and lump free.
Cream sugar and cornstarch. Scrape down sides of bowl and paddle.
Add eggs, one at a time.
Add vanilla and lemon zest. Scrape down sides again.
Add sour cream and cream with mixer on low speed.
Spray sides of cake pan and line bottom with parchment round.
Press graham cracker crust (recipe below) on bottom of pan and pre-bake five to eight minutes at 350°F. Reduce temperature according to which method used to bake cheesecake (with water bath or without.)
Pour in batter.
No water bath: Bake at 300°F 50 min. to 1 hour.
Water bath: Bake at 325°F 1 hour, 15 min.
Graham Cracker Crust
4 oz. graham cracker crumbs
¼ c. sugar
2 oz. butter, melted
Mix together until completely incorporated.