Amber Austin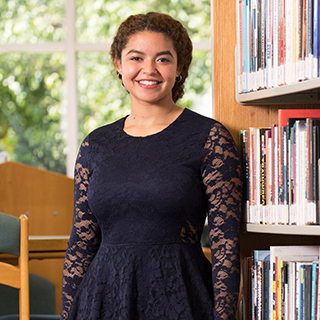 I am 19 years old, a graduate from Tarrant County College and a junior at Southern Methodist University. Majoring in marketing in the Cox School of Business, I intend to pursue a career in event management.
I was homeschooled from third grade through high school. During my junior year of high school, I began visiting universities and found several that struck my interest. My parents, however, struggled with the size of the universities I had chosen and steered me toward TCC. They felt a high school graduate of a class of one was not ready for New York University, its large classes and on-campus housing, nor the challenge of discovering how to balance school and social life. I felt community college was only for people who could not get into a university. Fortunately, in time, I found I was wrong. I met students from many different backgrounds, some of whom helped me understand the true reasons for attending community college.
During my second semester, I had to complete a service learning project for one of my classes. My professors made it easy for me because they "voluntold" me to join the Democracy Commitment. Joining the Democracy Commitment introduced me to other clubs and organizations.
As I became more involved with clubs at TCC, I discovered that there was no club to help students in every aspect of their lives. Thus, the creation of Imagine. Our goal was to assist students with everything from homework to relationships to leaning how to dance. We also wanted to create a safe space for student expression.
My efforts to help as many people as possible led me to join seven more clubs and become president of Imagine.
That fall I realized that my career goal of being a doctor was not personal enough for me, so I changed my major from biology to marketing. It inspired me to become a student government liaison and apply to be the student intern for the Democracy Commitment.
I was selected as the only community college intern in the nation who earned the opportunity to plan the 2017 Civic Learning and Democratic Engagement meeting in Baltimore. Every day was hectic – planning a student symposium, attending one to five meetings daily and classes, completing homework assignments, maintaining my GPA and managing my clubs, all while working at being a good president and keeping my sanity. Through it all, I learned time management and how to run an organization efficiently.
As a result, I came out of my final semester at TCC with two student awards and tons of life lessons – one being that you do not know what something has to offer until you dive in.
I am not the same person I was two years ago when I started at TCC. I am no longer afraid to pursue my passions, nor am I hesitant to be a lifeline for anyone. I loved my experience at TCC, the people I met helped me grow as a person and find what makes me happy. I hope every person who walks through the doors of TCC has an empowering experience.
Miriyana Villa
Life has a tendency to surprise us with curveballs and detours. I am no exception. At the young age of fifteen, my high-school sweetheart and I found out we were expecting our first child. Soon after the unanticipated news, we became husband and wife. Fourteen years later, we are the proud parents to six children.
In order to inspire our children and secure their future, we have committed ourselves to continuous improvement. That is why I am currently pursuing a degree in Business Administration at TCC. Through hard work and determination, I am part of the honor society, Phi Theta Kappa.
So why did I chose TCC? I wanted a school that would support my dreams, and would help me achieve my goals in a realistic manner. TCC has weekend and evening classes that accommodate a busy schedule. The counselors and professors go above-and-beyond to ensure students will excel.
Though it is a daily challenge to manage a household of eight all while attending classes, it has been especially difficult when I've had sick children at home. On one occasion, my then four-year-old son had to be hospitalized for three days. This meant I had to nurture a very ill child, endure the stressful and restless hospital environment, soothe four awfully worried siblings, and with little to no sleep, somehow find a few hours to work on a 2,400-word project and study for an upcoming exam.
Not only was I given a short extension to complete my assignments, but my professors graciously made time to meet with me to ensure I was current with class lectures and coursework. Thankfully, I've been blessed with great instructors whom have helped me persevere through such trying times.
Many people ask how my husband and I deal with everything that is going on with our big family. We set God ahead of us. A strong foundation of faith allows us to stick to what is right and true. I have a wonderful husband; he makes me strong when I am weak and we complement each other in so many ways. At times, I might feel like giving up, but my husband reminds me that we are in this together, and in fact, we can do all things through Christ who strengthens us.
With my husband's support, I am able to focus on finishing my degree in order to establish a career with an income that that will ensure our family's needs are fulfilled. Ideally, I look forward to owning my very own Mexican Food Restaurant in the near future.
I want students to know that working hard does pay off. When I won an academic scholarship from Telemundo 39, it was nothing short of a blessing. The many sleepless nights doing coursework all while caring for my children and a home, were being recognized. This was a tremendous acknowledgment. It attests to the sacrifices and determination that sustain me.
Always keep in mind that your choices are stepping stones towards your future. Though the road to success may at times be wearying, it is the fruit of your triumph over the travail, which makes your victory that much sweeter. And whatever you do, don't give up! Even by taking tiny steps, in the long-run, your accomplishments may become monumental.