Campus or Museum?
A Look Into the Trinity River Art Collection
Tahita Fulkerson, founding president of Trinity River Campus, remembers well the first group of high school students who toured the facility. "One little girl got off the bus, walked in, looked up and said, 'It's a museum.'"
No, it's a corporate headquarters turned community college campus, but the error is understandable. After all, what other campus greets visitors with a vision of twinkling, multicolored lights wafting along a series of delicate disks before swooping up to crisscross the ceiling of the story above?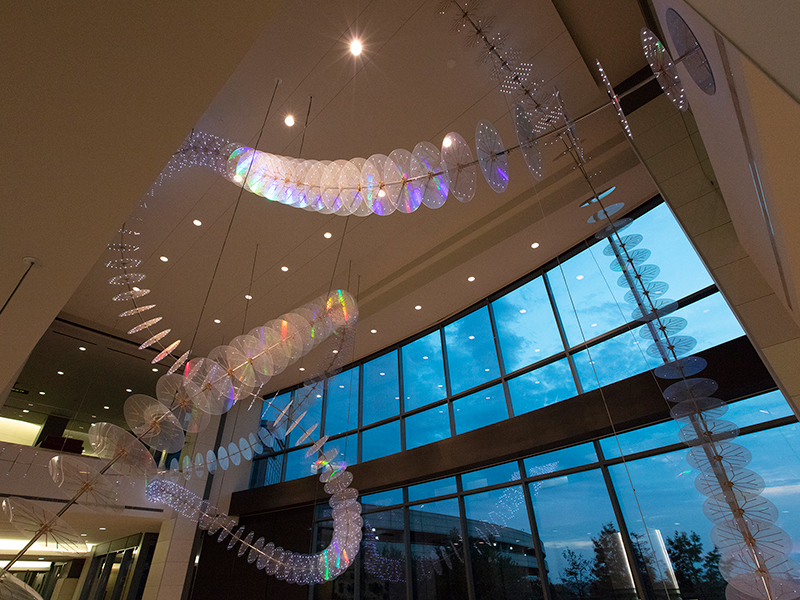 Where else can one be confronted in a staircase by a 10-foot, DNA-like spiral of small panels with green LED numbers blinking randomly and hypnotically? And what better setting for lunch than under a ceiling hung with dozens of electrical components – diodes and transistors – each about five feet long?
These works, Gossamer Galaxy by Michael Hayden, Counter Spiral by Tatsuo Miyajima and Extravagance of Electronics by Kristina Lucas are centerpieces in Trinity River's art collection growing out of TCC's purchase of the Radio Shack complex in 2008.
Prior to the sale, Fulkerson took some tours of the property, but her eyes were on possible conversion to a campus, not art. She didn't realize that TCC would buy not only the buildings, but everything in them, including the art. She also wasn't aware that an informal agreement would stipulate that Radio Shack would retain pieces specifically Radio Shack-themed. "Had I known, I probably would have asked someone to record every single thing on those walls," she said.
As soon as TCC took possession, Fulkerson assembled an evaluation team of art faculty and staff from across the College including Devon Nowlin from TCC Southeast. Nowlin, now on the staff of the Amon Carter Museum of American Art, knew immediately the collection was something special when she saw Counter Spiral. "That was a sign to me that, 'Oh, this is serious,'" she said. "He (Miyajima) had been featured in an exhibition at the Modern that was very memorable."
Not all of the more than 70 works, mostly scattered around the Trinity building, are so serious in tone or monumental in scope. Some, like the one with toy vehicles affixed to a rectangular surface like insects in a collection, seem intended to elicit laughter rather than deep introspection.
Nina Petty, TCC's vice chancellor for facilities, was a Radio Shack employee when the complex was being built. The collection and its quality, she said, grew out of the company's determination to create "a learning and growing environment." She worked closely with architects and artists to place the art, especially the larger objects, in such a way as to impart that vision to employees as they entered from the parking garage. "It was to be the active energizer and driver of business strategy," she said. "It was about creating a culture. Every day you'd look at that artwork and be inspired by some great artist."
Extravagance of Electronics, she recalled, was dubbed "Mother" by Radio Shack employees because the electrical gizmos represented the company's foundation, the basis of much of what it made and sold. Later, she viewed the work through other eyes, this time as the person whose team was responsible for cleaning all those high-flying pieces.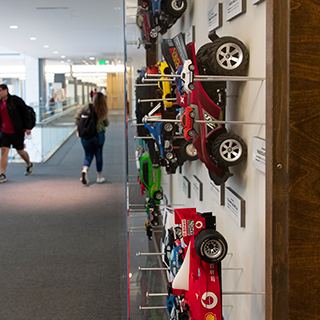 Maintenance is an ongoing challenge. One of the best-loved and most valuable works, Wooden Mirror, consists of 936 wooden pixels manipulated by a camera and computer to form a portrait of the viewer. It was mounted on a wall near the campus bookstore, but now lies in storage because, Fulkerson said, "the students couldn't keep their hands off it," and some of the pixels were damaged. Similarly, the whimsical Hamster Super Lair lost several components before acquiring a glass case, and some of Gossamer Galaxy's disks don't light up.
Another question has been uncertainty as to the exact extent of the collection. Scott Robinson, art historian, TR academic dean and the principal person tasked with caring for the collection, said, "It was never clear what art belonged to whom when Radio Shack was still here."
Some pieces were recovered, thanks to the work of Ray Smalley and his campus maintenance team, who had access to the entire complex and would occasionally find gems stuck away in closets or even designated as trash. "We found a piece one day in a dumpster," Smalley said. "That particular piece was worth about $5,000, I believe."
Now that Radio Shack is no longer a tenant, Robinson can work on completing the first two phases of his three-part plan for the collection. "We've spent the last seven years, first, trying to find and identify everything," he said, "and, second, trying to stabilize and protect the pieces that are in danger."
It's more than appreciation of the art that fuels Robinson's concern. "After I had an appraisal done, I realized, 'Oh my gosh, this is an asset and, just like a building, needs maintenance."
The collection is, indeed, an asset. And a large one. An evaluation done in 2008 placed the total value at $1.12 million. Another, in 2012, came up with a value of $1.75 million. Today, the replacement value, Robinson said, is well north of $2 million. "Gossamer Galaxy is priced at $465,000, Extravagance of Electronics at $275,000 and Counter Spiral at $148,820.
But the art, said Robinson, should not only be protected – it should be shared. That's Phase Three of his plan.
My hope is to get the collection to where it's ready for the public. It would be something we could promote, to let people know that if you come downtown to view the Sid Richardson collection walk a couple of blocks and here's a great corporate collection.

Scott Robinson
Academic Dean, Art Historian
However, getting the collection to that point, he said, requires considerable expense for restoration. Repairing Wooden Mirror would be costly. Gossamer Galaxy requires annual cleaning at a cost of $3,000.
Then there's the question of staffing. Robinson and Arts Department Chair Irene Thrower have only so much time to give aside from their regular duties. Robinson and Fulkerson had discussed the possibility of a full-time position to oversee art works, not only at Trinity River, but also at other TCC campuses. "And that's kind of where we are," Robinson said.
But the collection, even if a bit faded from its former glory, continues to impress visitors and serve as a valuable educational tool for Trinity River Campus. "We've used the collection in a number of ways," said Angel Fernandez of the art faculty. "My art appreciation students have put together presentations and given guided tours of the collection much like is done at the Kimbell or the Modern. And I have many of my advanced students draw works from the collection."
Fernandez, who helped arrange the loan of some pieces, including Richard Bagget's The White Light of the Gradient, a gigantic metal sculpture resembling a cocklebur, is as awed as his students by the works and their creators. "It's a point of pride for me to talk about the caliber of artists in this collection," he said. "Miyajima (Counter Spiral) is world renowned. Tim Prentice (2 Stage Curtain Wall, a delicate metal on the fourth floor near the police office) is amazing. Daniel Rozin (Wooden Mirror) is in every art class text I look at. It's a pretty surreal gift our campus has."
Not all students, however, are as enthusiastic. David Dominguez is ambivalent. The May graduate said he got a lift from seeing Gossamer Galaxy each morning, but thinks much of the collection is "weird and outdated." He's particularly critical of the three large cartoonish panels in the Action Room, Trinity River's principal area for large events. "It kills me going in there for a formal event and seeing that anime artwork," he said. "Those are hideous."
But Jacklynn Green, a new employee in the campus Idea Store who was accompanying Dominguez around the campus hunting available wall space for displays, was more philosophical. While she agrees that the collection is outdated, she nevertheless thinks it appropriate from a historical standpoint. "Students coming in may not know that this used to be Radio Shack's headquarters and what Radio Shack was," she said. "It's nice to have them learn about what now is a piece of history."
Meanwhile, the collection continues to serve its original purposes – to inspire, embolden, encourage and challenge – all of them fundamental to the missions of a corporation, or a museum … or a college.