Non-Traditional High School
Creating Options for Students While Bolstering the State Economy
When Tarrant County College graduated its first students from three additional nontraditional high schools last spring, the College reached a milestone, producing results from partnerships that now also benefit students in the Arlington, Colleyville-Grapevine and Everman school districts.
These students embraced a new educational option as eighth graders. Although few grasped exactly how their lives would change, they knew life would be different. The extent of that difference was not apparent until their first semester began.
Now, even after experiencing the rarity of earning associate degrees from TCC before receiving their high school diplomas, most still remain unaware of the impact the experience will have on their lives now that they are poised to increase their collective lifetime earning power by as much as $72 million.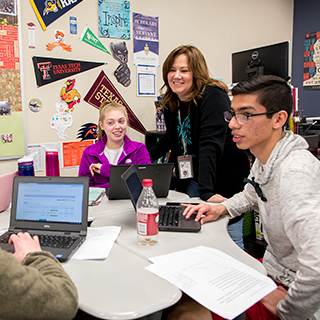 The success of these nearly 300 students in a rigorous academic environment – previously unattainable for most of them – not only clears the path for their improved individual economic future, but also positions the state of Texas to gain an additional $6.2 billion – the equivalent of an increase of $245,000 in lifetime earnings for the more than 25,200 early college high school (ECHS) graduates statewide. This projection is according to Educate Texas in its 2015 report, "ECHS Data Story: Preparing College and Career Ready Students Since 2005." Educate Texas introduced the Early College High School model to the state of Texas in 2003 with the Texas Education Agency and with the support of a multi-million dollar grant from The Bill and Melinda Gates Foundation.
Although early college high schools have taken root in Texas during the past decade, one of the pillars of the initiative – Middle College High Schools – dates back to the 1970s, according to Kelty Garbee, deputy director of programs at Educate Texas.
Their purpose was to "locate a high school on a college campus," Garbee said. "Historically, the idea was built on the concept that just being on the college campus would be motivating and would give students exposure to college culture and to college knowledge."
Incorporating that concept with findings about "college and career readiness," a term coined in the early 2000s by researcher David Conley, professor and director of the Center for Educational Policy Research at University of Oregon, served as the formula the Gates Foundation used to create the early college high school initiative.
"The idea is when you're in high school, you can build support structures and gradually release students into college culture. If your family or parents went to college, those are things that are generally taught or are built into the culture of your education," Garbee said. "If your parents didn't go to college, these are things you won't necessarily know. Early college high schools purposefully teach students these skills and offer them the opportunity to earn college credit in high school."
While early college high school graduates will reap financial benefits from their intense education at a young age, Educate Texas reports other benefits. "ECHS programs increasingly graduate more college-ready students than the state average." In 2010, 64 percent of the state's traditional students were college ready in math compared to 75 percent of the early college high school graduates. Four years later, the traditional student math readiness rate was 67 percent compared to 80 percent of the early college high school graduates.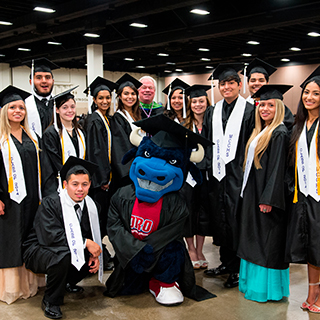 "ECHS students graduate high school at a higher rate than the state average" at 95 percent compared to 88 percent of traditional high school graduates in 2014. Additionally, "ECHS graduates enroll in college at a higher rate than the state average" at 65 percent compared to 53 percent, according to the 2015 Educate Texas report.
The early college high school experience makes it possible for a broader component of the state's population to benefit from the intensive educational opportunity. Educate Texas further reports that "ECHS students are more diverse than the rest of the state," with 88 percent from historically underrepresented ethnicities, 78 percent are Hispanic, 56 percent are at-risk and 76 percent are economically disadvantaged.
Benefits of higher education do not stop there.
"College education is associated with healthier lifestyle, reducing health care costs. Adults with higher levels of education are more active citizens than others and are more involved in their children's lives," according to the College Board Trends in Higher Education Series "Education Pays 2016: The Benefits of Higher Education for Individuals and Society."
Grapevine-Colleyville Superintendent Robin Ryan reflected on the significant role that early college high schools play in school districts during the district's fall 2018 convocation service in August.
"In 2014, we opened Collegiate Academy at TCC. A few weeks ago, we hosted our first graduation. As a group, 46 of our students earned an associate degree prior to receiving their high school diploma. An additional 12 students will graduate this summer with their associate degree," Ryan said.
The thing I love most about the early college high school model is that many of these students are first-generation college attendees. Without our partnership with TCC, these students would not have had the opportunity to attend college at all.

Robin Ryan,
Grapevine-Colleyville Superintendent
Everman Superintendent Curtis Amos, who witnessed the first 25 Everman Joe C. Bean High School students graduate in May with their associate degrees prior to earning their high school diplomas, also noted the beneficial impact the early college high school experience had on his students.
Taking college courses helped many of the students to develop a strong work ethic, understand time management and the importance of studying more to gain an advantage.

Curtis Amos
Everman Superintendent
"The students are more mature and have two years of college credit that sets them apart from others," Amos said, adding, "This was a very proud day for me because I knew as educators, we had impacted their lives in a meaningful way and prepared them to make positive contributions
in society."
Fort Worth ISD, one of the first districts to partner with TCC to expose students to the early college high school program, now has three early college high schools on campuses throughout Tarrant County. "This year, we have moved our entire Texas Academy of Biomedical Sciences (TABS) to the Trinity River Campus. Consolidating the entire student population will benefit all grades in exposure to the culture of expectation," said FWISD Superintendent Kent P. Scribner. "Early college high schools are proving to be a focal point of launching our students to meaningful lives in higher education, successful careers and vital community leadership.
"Earlier exposure to the rigors of AP and dual credit courses have set our students on the path to understanding that higher education requires a more demanding expectation. The benchmarks provided in the Texas Education Agency ECHS Blueprint opens much wider opportunities for traditionally underrepresented subpopulations of students to hurdle barriers that might otherwise block their advancement," Scribner said.
Students in Tarrant County have had the opportunity to overcome some of their barriers by enrolling in an early college high school since 2011. That's when Marine Creek Collegiate High School (MCCHS) opened its doors on TCC Northwest with about 100 students.
It was one of the concepts that TCC Executive Vice Chancellor and Provost Elva LeBlanc championed when she was recruited to return to TCC in 2006 as president of Northwest Campus. Returning to TCC allowed LeBlanc, a TCC graduate and former dean of instruction, to continue her life's work of "reaching out to populations that perhaps could easily get lost or who didn't perceive themselves as individuals who could attend college or didn't see themselves as college material."
Her professional commitment grows from her personal experience.
"We were taught by our parents that the way to get out of poverty, which I have lived, was through education. That was the road to the American dream," LeBlanc said. "We did not take education for granted. We saw it as a privilege."
MCCHS has since been joined by seven other early college high schools on each of TCC's five physical campuses. The growth is in keeping with what the state has experienced, going from four early college high schools in 2004-2005 to more than 150 statewide in the 2015-2016 school year, with most located in South Texas.
Of the four early college high school models, TCC currently implements two – the standalone and a school within school. In Arlington, the Tarrant County College.
Southeast/Arlington ISD Collegiate High School, located on TCC's Southeast Campus, is an example of a standalone site while the new Mansfield Early College High School at Timberview is an example of a school within school.
Beginning in fall 2019, some Arlington students will be able to take advantage of another early college high school model in the northern section of the city, dedicated to career and technology education (CTE). It will provide students the opportunity to earn certificates in nursing, hospitality/hotel management and business.
Regardless of the model from which TCC's early college high school students successfully graduate, when they start jobs or launch viable careers, their contributions to the economy will help to increase the value of the public money invested in their alma mater, Tarrant County College.
For every $1 of public money invested in TCC, taxpayers receive cumulative value of $4.10 over the course of the students' working lives. The average annual rate of return is 11.4 percent, a solid investment that compares favorably with other long-term investments in both the private and public sectors.

Analysis of the Return on Investment and Economic Impact of Education: The Economic Value of Tarrant County College District,
November 2016
As TCC works with its partners to provide more Tarrant County students access to the early college high school model, future ECHS graduates not only improve the economic plight for themselves and their families, these industrious students also will help raise the economic well-being of their communities, cities, county and their state for years to come.