TCC Trinity River President Sean Madison Shares His Favorite Dishes
With recipes from Katrina Warner and Alison Hodges, instructors of culinary arts
Salmon Croquettes
"Salmon croquettes are a family tradition. My grandmother was from New Orleans, and she moved to West Palm Beach, Fla. in the 1940s. With that move, she brought her children, her love of music and her love of Creole cooking. On special occasions, she would convene family and friends for breakfast. One of her favorite breakfast dishes was salmon croquettes, and I had the distinct pleasure of watching and learning to make them. My grandmother passed in September 2016, but I continue to remember her lasting impact on me in so many ways. When I cook salmon croquettes, that process conjures up so many fond memories," said Madison.
Ingredients
1 lb. salmon filet, boneless, skinless
1 lemon, juiced
1 tbsp. salt
1 bay leaf
3 c. water
2 eggs, beaten
¼ c. bread crumbs
¼ c. sweet onion, diced
2 tbsp. cornmeal
Salt and pepper, to taste
Oil for frying (avocado, vegetable, etc.)
Method
In a pan, heat water, lemon juice, salt and bay leaf to 180°F. Add salmon filet and poach until opaque, about five to 10 minutes.
Remove, allow to cool and flake with a fork.
Heat skillet, add enough oil to coat bottom and heat.
Mix salmon with remaining ingredients in a bowl – add salt and pepper and cook off a small amount in a pan to taste and adjust as needed.
Portion mixture into four large or six smaller patties. Place patties in pan and cook until brown, flip to other side and cook until brown, remove from pan.
Drain on paper towels.
Serve with lemon slices and tartar sauce, if desired.
Whiskey Carrot Cake
"Now, my grandmother did not bake carrot cakes. She liked to 'pie,' as she would jokingly say. Her good friend, Mrs. Laura B., held the title for the best carrot cake in town, and I would conveniently show up at her front door when I discovered that she baked a carrot cake. Last year, I was attending an event for the March of Dimes – Fort Worth, and was presented with the opportunity to taste a whiskey carrot cake, which reminded me of Mrs. Laura B.'s carrot cake. Mrs. Laura B. passed earlier this year, but I remember her, too, when I have the opportunity to delight in a slice of whiskey carrot cake. I'm not a baker, but I know how to scout out the perfect slice," said Madison.
Preheat oven to 350°F
Dry Ingredients
2 c. all-purpose flour
2 tsp. baking powder
1 ½ tsp. baking soda
½ tsp. salt
2 ½ tsp. cinnamon
¼ tsp. nutmeg
1 c. sugar
¾ c. roughly chopped pecans, toasted
Wet Ingredients
2 tsp. vanilla
½ c. vegetable oil
⅔ cup plain nonfat yogurt or applesauce
4 eggs
2 c. shredded carrots; wring out excess
liquid in clean dishcloth or cheesecloth
1 8 oz. can crushed pineapple, drained
¼ c. whiskey
Method
Spray a 13 x 9 x 2-inch pan or two 9-inch rounds with cooking spray.
Mix together all dry ingredients.
Separately mix together all wet ingredients until thoroughly well blended.
Add wet ingredients to the dry and mix just until flour has been absorbed.
Pour batter into pan and bake at 350° for 35 to 40 minutes for a 13 x 9 x 2-inch pan or 25 to 30 minutes for two 9-inch rounds. Cook until a toothpick inserted into center of cake comes out clean.
Cool completely before icing cake.
Whiskey Cream Cheese Icing
This recipe makes a thin glaze of frosting for the cake.
For a thicker frosting (as pictured, right), make a double batch.
Ingredients
2 tbsp. butter, softened
2 oz. cream cheese, softened
8 oz. powdered sugar
1 tbsp. whiskey
Method
Blend together the softened butter and cream cheese on low speed.
Mix in the powdered sugar.
Add whiskey.
If desired, top with extra chopped pecans
TCC Connect Campus President Carlos Morales Shares His Favorite Dishes
With recipes from Katrina Warner, instructor of culinary arts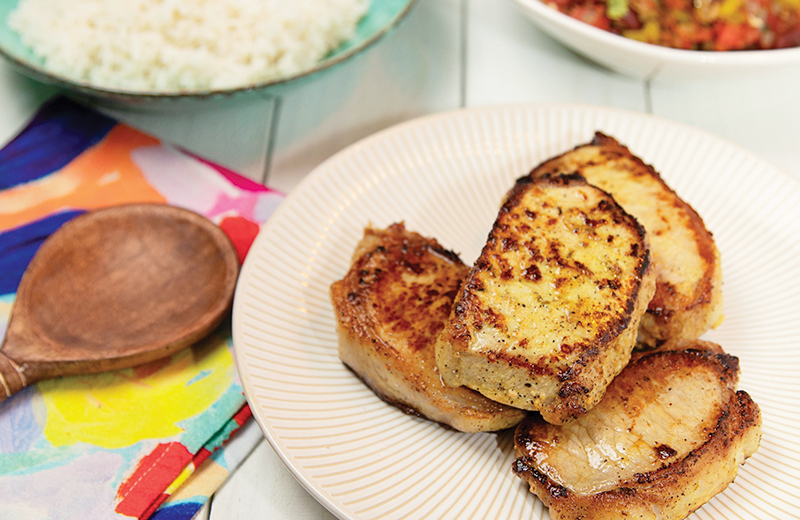 "This is the main dish I grew up with while living on a Caribbean island — very nutritious and high-protein/high-energy meal that has been a local custom for more than a century. The rice and beans date back to the Pre-Colonial Era and were introduced by Spanish explorers in 1493. When I was a teenager riding bicycles during the summer, my mother prepared this dish as the fuel that kept my friends and me going for the entire day," said Morales.
Chuletas de Puerco Fritas
(Fried Pork Chops)
Makes 4 servings
Ingredients
4 boneless, center-cut pork chops
¼ c. oil (avocado, olive or vegetable)
2 tbsp. white wine vinegar
1 tbsp. minced garlic
1 tbsp. adobo all-purpose seasoning
¼ tsp. dried oregano
Salt and pepper, to taste
Oil for frying
Method
In a plastic, gallon-size bag, mix oil, vinegar, garlic and seasonings. Add pork chops, seal bag and toss to coat. Allow chops to marinate from two to 12 hours in the refrigerator. Pull 30 minutes before frying to bring to room temperature.
Heat skillet, add oil, then add pork chops. Fry for five minutes or until golden brown. Turn and fry on other side. Remove and serve.
Arroz Blanco
(White Rice)
Ingredients
1 c. white rice, uncooked
2 c. water
Salt, to taste
Method
Bring water to a boil. Add rice and stir.
Bring back to a boil, turn down to a simmer and cover.
Simmer for 20 minutes until liquid is absorbed.
Remove from heat, fluff with fork and season with salt.
Frijoles Rojos
(Red Beans)
Ingredients
1 can small red beans, rinsed, drained
2 tbsp. oil (avocado or vegetable)
1 onion, minced
3 green onions, minced
1 tbsp. chopped garlic
1 red bell pepper, minced
1 green bell pepper, minced
1 c. canned diced tomatoes
½ tsp. achiote powder
1 tbsp. ground cumin
½ c. finely chopped cilantro
Salt and pepper, to taste
Method
Heat pan on stove, add oil to heat. Add onion, green onion, garlic and peppers – sauté until soft.
Add tomatoes, achiote and cumin, simmer for 20 minutes.
Add beans and cilantro to mixture. Heat and serve over white rice.
Tembleque* de Coco
(*meaning jiggly or wiggly)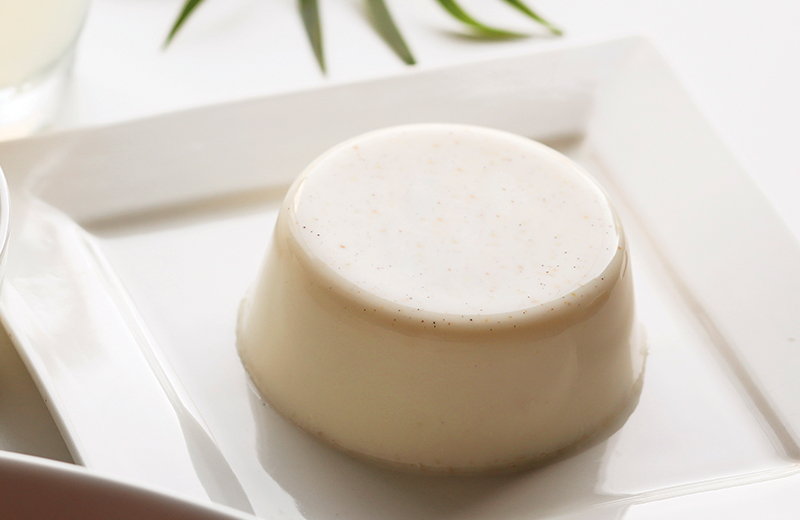 "Tembleque is made out of coconut, which was plentiful around the Caribbean islands. While it is mostly associated with the Christmas holiday, every time I see it outside of the season I automatically gravitate to it no matter what else is around," said Morales.
Makes 4 servings
Ingredients
4 c. coconut milk
½ c. cornstarch
⅔ c. sugar
½ tsp. salt
1 cinnamon stick
ground cinnamon, for garnish
Method
In a saucepan stir together cornstarch, coconut milk, sugar, salt and cinnamon stick.
Cook at medium-high heat, stirring constantly. As it thickens, lower heat until mixture comes to a boil.
Once it boils, remove cinnamon stick and pour immediately into eight 6 oz. custard cups.
Cool and then cover and refrigerate for at least two hours, preferably overnight.
Carefully separate tembleque from cup using a knife. Cover cup with plate and turn over to unmold.
Sprinkle with cinnamon to garnish.