A Connection of the Heart
TCC Dancers Generously Give Their Time and Talents to Help Others
Tarrant County College Northeast Professor of Dance Kihyoung Choi is a master of technique. A former dancer with the Korean National Ballet who went on to earn her doctorate at Texas Woman's University, Choi expertly instructs her students in ballet, modern dance and traditional Korean dance. But the most important lesson she imparts to her students is that of serving others.
"It's a way for them to be a better human being," said Choi. "While doing community service, they become a family and learn how to help one another."
That attitude pervades the culture of TCC Northeast's dance program and dance programs across the District. Students and faculty generously give their resources, time and talents to assist a variety of organizations and people — even though many of the dancers have experienced hardship themselves.
We have many students who have financial problems and family problems, but that's all the more reason to help others. They know what it feels like to be in that situation.

Kihyoung Choi, Professor of Dance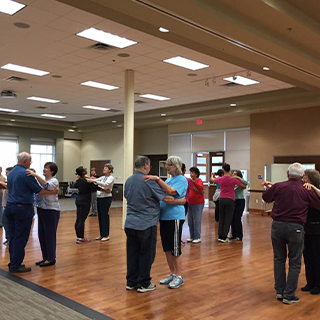 Over the past eight years, TCC Northeast dancers have raised more than $10,000 for local organizations, including the TCC Northeast Food Pantry and the Tarrant Area Food Bank, as well as for national groups, such as Broadway Cares and Dancers Responding to AIDS. They also volunteer, both at home and while performing on the road.
"It's a bonding experience for us while doing something for other people," said Krista Carson, who recently joined her fellow dancers to cook meals for families at the Ronald McDonald House of Fort Worth. "You can better their lives, and it enriches ours too."
Choi has seen her students grow through service.
"It has become their nature," she said. "When they see people in need, they ask if we can do something for them."
Dancer Taylor Hayes saw a need in the homeless community. Her family began collecting personal care items for those individuals, and Hayes wanted to reach more people. She turned to TCC Northeast dancers for help.
"It's just what they do," said Hayes. "When I came here, I learned that this is a place where selfless acts come naturally."
Students and faculty also serve the community through dance.
"Art, especially dance, is not something you do for yourself. It's about connecting with others," said Choi. "So we want to share dance with the people around us."
That includes senior citizens at the Hurst Senior Activities Center, where TCC Northeast students have taught ballroom dance. The lesson was very personal to Choi.
"I'm from Korea, where we have a culture that focuses on our elders," she said. "They are someone's mom and dad. That will be us someday. We respect the elderly. To see them move and enjoy themselves was so rewarding."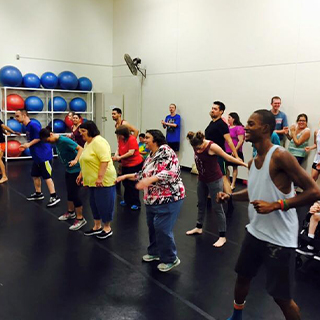 TCC Northeast's dance program also performs intensive outreach to people who have special needs.
"We always believe that dance is for everybody," said Choi. "Even if someone has a disability or special needs, we have to reach out to those people. When they are enjoying dance, a disability doesn't matter."
The dance program has a longstanding partnership with Come Read With Me, a learning and therapeutic center in Euless for adults with intellectual and developmental disabilities. Dancer Shamila Issa had the opportunity to teach Come Read With Me participants.
"I think they realized there is a space for them in the dance world," said Issa. "It's not just for professional dancers. They felt acceptance and joy and passion, and I learned so much from that."
Gillian Edwards, executive director of Come Read With Me, says the experience is extremely beneficial to her students.
Dance is another way for students to express themselves. Their communication skills are sometimes challenged and dance is an outlet for them. Sometimes they have behavioral problems. Music and movement help with those issues. It's a release.

Gillian Edwards, Executive Director of Come Read With Me
TCC Northeast dancers also work with the campus' STEPS (Skills, Training & Enrichment for Promoting Success) program for special needs adults. Dancers bring STEPS participants into the studio and incorporate them into the dance program's spring formal dance concerts every year.
"They get to express themselves through movement and laughter and fun," said Jerry Zumwalt, TCC Northeast vice president for Community & Industry Education, which oversees the STEPS program. "Whatever the students' circumstances, the dancers work with them to come up with a routine they can perform. It's inspiring because STEPS students come with no inhibitions. They do a pure kind of dance, and the audience always responds."
Choi's dancers get as much out of the experience as the audience and STEPS participants.
When they're dancing, it's touching and moves everybody. The pleasure they feel on stage is priceless. When we see them dancing and learning with that much joy, it reminds us why we dance.

Kihyoung Choi, Professor of Dance
Linda Quinn, dean of communication, arts and entertainment at TCC Northeast, says service learning is an important part of any student's education.
"When we give students a chance to engage with the community, they begin to understand that each person can make a positive difference in some way," said Quinn, who originated many outreach initiatives when she was TCC Northeast's dance program coordinator. "Everyone's contribution is valuable and important."
Not only does service learning benefit others, it also deepens a student's understanding of his or her field of study.
"I think anytime you're engaged in your community and working for positive change, you'll be more passionate about what you're trying to do, whether it's dance or something else," said Quinn. "Service learning changes students profoundly. It's true in dance, all the arts and other areas."
The focus on service will continue and grow among TCC dancers. The TCC Northeast Dance program's newest full-time faculty hire, Hyun Jung Chang, is a program alumna whose work with Choi ingrained in her a desire to help others.
"This is where I learned the truth about the purpose of being alive," said Chang. "I originally came here just for dance. But at TCC, I learned that movement is secondary. Dance is really a tool to connect the hearts of people."
For information on how to support the TCC Northeast dance program's campus and community outreach, contact Choi at kihyoung.choi@tccd.edu.
Service Across the District
Dancers throughout the TCC District take part in charitable endeavors and service learning. Efforts and benefiting organizations include:
TCC Northwest
High School Dance Days
Homes for Our Troops
Habitat for Humanity
St. Jude's Children's Research Hospital
Dance program scholarships
Contact Lacreacia Sanders at lacreacia.sanders@tccd.edu.
TCC Southeast
High School Dance Day
Walk to End Alzheimer's
Arlington Life Shelter dinner
TCC Southeast Food Bank
Dance program scholarships
Contact Brandy Niccolai-Belfi at b.niccolai-belfi@tccd.edu.
TCC South
Ronald McDonald House of Fort Worth
Contact Kiera Amison at kiera.amison@tccd.edu.