Some Capes Are Invisible
TCC Prepares Career and Technical Education Students to Become Everyday Heroes
For many hospital patients, respiratory therapists are the first point of treatment. Some patients are too ill to know who is keeping them breathing, yet these medical professionals play a critical role in positive patient outcomes.
"Everybody knows the doctors and the nurses, but a lot of the other fields seem to get lost," said Donald Holt, associate professor, registered respiratory therapist and now director of TCC's Respiratory Care program. "The professionals in those other fields, such as respiratory therapists, have skills that are just as specialized as those you might see wearing scrubs and white coats."
Respiratory therapists (RTs) are healthcare practitioners trained in cardiopulmonary medicine who access, treat and care for patients with breathing disorders and, according to Holt, are on hand for nearly every trauma situation in a hospital environment. Patients struggling with emphysema, asthma, cystic fibrosis, pneumonia and premature lungs benefit from the treatments RTs provide through counseling, breathing exercises and treatments and, in some cases, making the first diagnosis of a breathing problem, according to the American Association for Respiratory Care.
With the projected number of registered RTs edging near 16,000 by 2026 and with a median income of $59,000 in Texas alone, an RT can expect to make an important difference while making a good living. TCC's highly selective program accepts only 28 applicants each fall and spring application period.
Tarrant County College's Respiratory Care program is a competitive, selective admission program requiring a minimum 2.5 GPA in anatomy, physiology and microbiology to be considered for admission.
Considering the future job prospects for trained RTs, Ana Granada-Garza recognized that this career choice would prove a sound one. "I knew that I wanted to do something more in the medical field when I worked as a unit secretary at a dialysis center. My patients always had trouble breathing and I remember hooking them up to oxygen when they would get there for treatment. I heard about Tarrant County College and their respiratory care program, so I decided to apply and was lucky enough to get in!"
For Granada-Garza, seeing the difference she can make is motivating her to continue her studies. "I want to move on to do my bachelor degree in respiratory care after I'm done with my associate degree. I hope that someday I get a chance to be an asthma educator to help patients better manage their condition."
With regional increases in respiratory allergies and asthma cases, North Texas is at times not a "breathe-friendly" zone. The North Central Texas Council of Governments and its partners, along with the Environmental Protection Agency's (EPA) National Ambient Air Quality Standards, are working to reduce the area's air pollution Currently, North Texas is a ground-level ozone level nonattainment zone, meaning the area doesn't meet the health air standards for human and environmental health. Considering the state of the area's ground-level ozone and the population's expected continued growth, the projected employment of RTs in Texas by 2026 of 15,940 should be on target considering an estimated population growth of 28.3 percent.
"I'm proud of this program and that I've had the chance to be part of its growth over several years," said Holt. "I have asthma. I had it really bad as a child and I went to the ER several times and got treatments. Later on in life, when considering this field as a career, I had forgotten, but my mom reminded me that I knew what a respiratory therapist was because I'd received treatments when I was a kid. I guess I just assumed it was from a nurse or a doctor — someone in a white coat. So, I kind of fell into it myself not even knowing that I had already experienced care from a respiratory therapist."
---
Similarly, the new director of TCC's Long Term Care Administration program, Regina Franklin-Basye, is no stranger to the program she now directs. As a former member of the TCC's Long Term Care Administration advisory council, she is passionate about the LTCA program's foundation and hopeful for its future. She brings to the program more than a decade's worth of direct administration experience that, combined with her previous work as an ordained member of the clergy, allows her to give her students a unique perspective.
According to Franklin-Bayse, serving as a long-term care professional means having "oversight of all of the departments and aspects of the long term care environment to help improve the quality of life and the care and dignity for the patients and the residents served. The administrator is the one who helps everyone they supervise and manage to become their best selves and to empower staff to help the administrator deliver the best care."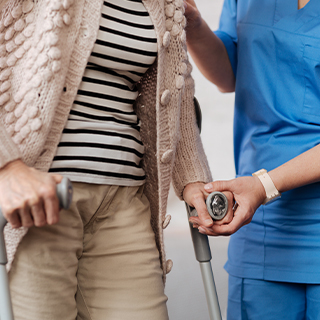 Recent TCC graduate Marva Weaver sought long term care administration as a career change because of her passion for elder care. Many of Weaver's friends are older and her natural tendency to care for them led her to enroll in TCC's LTCA program. Having completed the LTCA certification in December 2017, passing her licensure exam and completing an internship, Weaver believes she is ready to tackle the challenges her new career will hold. "I see this as my life's mission," she said.
Given the aging of the population, with approximately 77 million Americans reaching the age of 65 or older by 2030, career growth for long-term care professionals is significant, with an estimated new 29,000 manager positions in Texas alone by 2026. Today's average median income for experienced administrators in Texas nears the $96,000 mark and nationally, it hovers around $98,000. These salaries are expected to increase.
An area employer of many TCC graduates of the LTCA program over time is Nexion Health, an operator of 39 skilled nursing and rehabilitation facilities where Meera Riner is the chief operating officer. Riner can name at least 10 TCC students who have become employees at Nexion facilities in various roles. Riner points to the reassuring state of mind she feels when seeing that a potential candidate has a TCC background, particularly as several TCC graduates have become Administrators of the Year at her facilities. "TCC students are innovators and thought leaders. Their educational base is consistent and that allows them to hit the ground running in environments that are forever evolving and growing," she said.
If one is eager to work and willing to put in the necessary time and effort — like recent graduate Marva Weaver — there is no reason not to consider TCC for LTCA certification. "My hope is that our students will become so knowledgeable that they do everything they can to make sure that they help improve people's quality of life. For individuals in long-term skilled nursing centers, this is probably their final stop — the final stay for most of the people in our care," said Franklin-Basye.
According to the January 9, 2018 issue of The Atlantic, "It was long obvious that health-care jobs would slowly take up more and more of the economy. But in the last quarter, for the first time in history, health care has surpassed manufacturing and retail, the most significant job engines of the 20th century, to become the largest source of jobs in the U.S."
---
As the North Texas region continues to grow, so do the needs for legal services. TCC's Paralegal Studies program began in the 1980-1981 academic year, when a needs assessment revealed there were no programs in Tarrant County to train legal support professionals beyond the legal secretary role. Lawyers determined they needed people who understood terminology, who understood how to do research and who could draft documents to support the work they were doing at the courthouse.
"Part of your job as a practicing paralegal is to make the lawyer's job easy, and that includes when you're not sure you know the best way of asking that crucial question," said Karen Silverberg, professor and coordinator of Paralegal Studies. "That's a skill that every instructor needs to teach every student." According to Silverberg, critical listening and thinking skills, plus having the courage to say, "Sorry, I don't understand," are invaluable tools in succeeding as a practicing paralegal. "I teach all the introductory level classes, but I've chosen instructors who are actively practicing law on a daily basis to teach the specialty courses and are up to date on what's happening at the courthouse today," said Silverberg.
In addition to the classes Silverberg teaches, students take legal writing and courses in civil litigation matters and begin learning to draft petitions, answers and discovery requests. Additionally, they take specialty classes in wills, trusts and probate, family law and torts, which include all negligence cases as well as intentional wrongs, which result in harm. "Our students do tort pleadings and write wills. One of the things I'm most proud of is that no student leaves this program without a will," said Silverberg.
If the student already has a will, they get to bring a friend to class to meet with the professor. The student and the friend or family member go through the process of listening and taking notes, then the student drafts a will. The students participate in the execution of the will by bringing a notary and witnessing each other's wills. Once the wills are completed, approved by the practicing attorney teaching the class, notarized and executed, they are fully legal and compliant with the law. Moreover, since this is a class assignment, the student, friend or family member has a particularly important free and legal document.
Paralegal Studies graduate, Keith Whetstone, who now serves as public information officer and paralegal for TCC, recalls seeing a flyer for the program on a bulletin board early in his attendance at the College. "I saw that flyer and it sort of clicked for me. There was just something about the law. TCC has an excellent paralegal program. Students are taught exactly what they need to know in order to be good paralegals as well as how to listen and think," he said. "This is a career that allows you to do good things for people. It's not all easy, but I think it pays off."
Whetstone's affirmation of TCC's Paralegal Studies program's worth, shown in his decision to work for TCC, echoes Silverberg's mission in the classroom. "What I love about my job is that I get to make a positive difference in people's lives on a daily basis," said Silverberg.
---
Like these featured career fields that play critical roles in people's lives, child development professionals cultivate the ground in which children's continued educational success can grow. These individuals are responsible for creating settings to actively stimulate, educate and foster a child's natural curiosity and learning behaviors.
Program coordinator and assistant professor of Child Development, Lisa Self, teaches many of the program's foundational courses. "In addition to teaching new students, it's my responsibility to recruit and retain students into our program along with coordinating aspects of course offerings and scheduling. With the level of interaction I have with our students, I really feel a sense responsibility toward them. It's my goal to get to know the students and help them to finish the program. Consequently, we meet with them regularly to make sure that they are getting advised and we make sure to offer classes to meet their needs. Many of our students work full-time and many work full-time in childcare," said Self. "Therefore, we really work hard to work with their schedules and to offer classes and at times when they can be able to finish the program in a reasonable amount of time."
Associate professor and director of TCC's and Children's Center on TCC Northeast, Travis Davis, works with a mix of students in various stages of their pursuit of certificates or degree. "We have a really great group of students working in the Children's Center. It's a very hands-on environment and the children are receiving excellent care," said Davis, who oversees all of the student involvement.
The department is known for working in tandem with the students so that those seeking the AAS degree in Child Care, which is a 60-hour degree, can complete the program. "We have three certificates that we offer as well and pretty much every student that finishes has both of degree and at least one certificate," said Davis.
Two of the students in Davis' mix are Lizzie Cramer and Kristan Briggs, both of whom are on course to graduate in May 2019 with the AAS in Child Development.
Cramer loves what she's doing at TCC. "I have always had a passion for working with young children. My goal moving forward is to finish getting my bachelor's degree from East Tennessee State University after getting married this summer and moving to Tennessee. I see myself working with young children for several years, specifically the four and five year olds," she said.
For Cramer, the most rewarding part of her work has been the direct interaction with the children while working at the Children's Center. "I am completing my internship at TCC's Children's Center and my experience has been wonderful. My mentor teacher, Ms. Michelle, is so incredible and is always there to guide me and answer my questions. I have definitely stepped out of my comfort zone by taking lead of the class," said Cramer. "I can see all my hard work paying off and it's the best feeling in the world." Cramer will graduate in May 2019 with an associate degree in Early Childhood Development. "I will also receive certificates for After School Provider and Preschool Childcare Provider," said Cramer.
Another of the program's students graduating in May 2019 is Kristan Briggs who, as a new Texan from Colorado, found TCC the right place to jump into classes for a degree in a career she always knew was a passion. "My goal is to help young children grow and learn. I love giving them new experiences and things to explore," said Briggs.
"I was working at a child care center, but had to quit because they couldn't work around my classes. I then started working part time at the children's center on campus. Because of the experience I was gaining, I recently was hired as a lead caregiver for a school district in the Fort Worth area. This is what I have wanted to do for years. Being a part of this program helped me get hired and I am so happy I got the job. I see myself growing as a lead caregiver because of this program," said Briggs.
Whether a seldom-seen paralegal, a blurred face in the rush of day-care drop offs, the medical professional bringing the breath of life or one working to ensure the best care in a long term care setting, individuals who to work in these mostly behind-the-scenes careers can expect a combined increase in employment of more than 100 percent by 2026.
In addition to the degree and certificate in programs featured here, TCC offers a range of opportunities to gain the education and experience needed to enter the workforce quickly.