Service and Success
Conrad Heede Assumes Role of TCC District Board President
Conrad Heede has led a life distinguished by service and success. From his years as a biochemist and hematologist in the U.S. Naval Reserve during the Vietnam War to his commercial real estate career, Heede has left his mark professionally. He also has given back to his community, including as a member of the Grapevine Rotary Club and through his work as a trustee for the Tarrant County College District.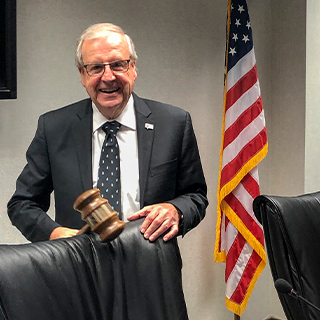 Heede has now taken on a new role: president of the TCC District's Board of Trustees.
"I've served about eight years on the Board and felt like I had the knowledge and experience to lead," explained Heede, who represents District 2, which includes Westlake, Southlake, Colleyville, Grapevine and Bedford, as well as parts of Euless, Hurst and Richland Hills. "I am honored and humbled to have been elected by my fellow Board members."
Heede was appointed to the Board in 2011 and won his first election in 2015, but his experience with TCC predates his time as a trustee. As a Tarrant County resident, Heede took classes in real estate, language, tennis and exercise at several campuses. He also came to know TCC leaders through his Rotary activities.
"I think all members come on to the Board thinking they have a good idea of what TCC is and does," Heede noted. "But after serving and becoming exposed to all the things TCC does for our students and our community, we come to realize what an incredible responsibility we have in helping to guide TCC now and into the future."
The Board's decision to hire Chancellor Eugene Giovannini stands out to Heede as a pivotal moment in ensuring the College's ongoing progress. He is also proud of the most recent budget adopted by trustees. It is fiscally conservative, with members adopting the effective tax rate, resulting in a half-cent tax rate decrease; the budget also provides employees a well-deserved raise and allows the College to hire additional faculty and staff, invest in new technology, improve learning environments and put aside funds to prepare for future bond interest payments.
Heede looks forward to more achievements.
"I anticipate even deeper partnerships with the business community and an expansion of our working relationships with the school districts and four-year schools. We want to ensure our students come to us prepared for higher education and have seamless transitions available to them for other scholastic and workplace endeavors," said Heede. "The Board not only supports these activities but has become more personally involved in establishing and fostering these relationships."
He embraces the work ahead.
"Rotary has two mottos: 'Service Above Self' and, my favorite, 'He Profits Most Who Serves Best,'" reflected Heede. "Although trustees serve without financial compensation, I—as do my fellow trustees—get a feeling of accomplishment that comes only from serving others in a meaningful way. We thoroughly enjoy providing the oversight and direction that leads to the success of TCC students, especially those who need our help most."
The TCC Board of Trustees generally meets the third Thursday of each month at 6 p.m. in the College's May Owen Center.