Work Hard. Play Harder!
Intramural Sports, Competitive Teams and Tournaments Available to All Students
The most important decision a student can make in their higher education journey is choosing which school they will attend. When weighing the pros and cons, there are numerous benefits to starting that journey at a two-year college. Tuition per credit hour is lower, schedules are more flexible and classes are offered year-round. But a common misconception is that students at two-year colleges will miss out on the 'real' college experience outside of the classroom. If they attend a community college, some assume, students will miss out on experiences like socializing, student organizations or even sports programs. However, students at Tarrant County College can experience all this, plus more. TCC offers a robust schedule of intramural sports, competitive teams and tournaments available to all students. And the benefits extend far beyond the classroom.
The Classroom Connection
Outside of class time, TCC students have numerous opportunities to participate in team intramural sports and open gym times. Available activities range from volleyball and soccer, to dodgeball and disc golf. "Basketball is our most popular intramural," says TCC Northwest Administrative Assistant of Health and Physical Education April Miske. "Many, many students show up to play."
But the classroom benefits of time spent on the field or court caught the attention of one professor.
"Research is rapidly growing that supports the benefits of physical activity on brain health and learning," says TCC Southeast Kinesiology Department Chair Melissa Evans. "Exercise supports the growth of new brain cells, sharpens focus and increases attention. It can enhance the brain's processing speed of new information." Other benefits include sharpened memory, eased task-switching, lifted moods, reduced anxiety and more. "Healthy students are better students. They miss less class, they're more attentive, and they're able to be more successful in the classroom and their professional lives."
At an orientation meeting for new students taking online courses through TCC Connect, Evans emphasized the importance of physical activity. She impressed upon them that physical activity is a crucial part of the learning process, especially when spending so much time with a computer or handheld device. "Our bodies were never designed to be stationary, except to sleep. Sometimes people forget how really important movement is."
Evans recently published her research findings indicating a direct correlation between exercise and more productivity in the classroom. "Strategies involving [physical activity] interventions show great promise for enhancing academic achievement, but more extensive research is needed to identify specific factors that will positively enhance learning among the college population," she wrote.
The benefits of physical activity and team sports aren't limited to improved functions of the brain. There are many other auxiliary benefits, too. According to The Centers for Disease Control and Prevention (CDC), physical activity can reduce the risk of depression, improve bone health, promote a favorable body image, improve attention span, improve mental health and prevent weight gain. There is also strong evidence that exercise can help people feel less anxious, enjoy improved sleep and and better control of emotions. "Being motivated to exercise and eat healthier has caused me to become happier, more confident and have more energy," boasts a student review of the KINE 1164 Introduction to Physical Fitness and Wellness course.
Intramurals
All current TCC students, faculty and staff can participate in on-campus intramural sports, no matter their skill level or background. The goal of intramurals is to provide friendly, structured recreation for the whole TCC community, along with some good-natured competition. It also provides a way for students to get to know each other and socialize outside of the classroom.
One popular activity is the twice-yearly Toro Boot Camp Challenge on TCC Southeast. Participants run, crawl, scramble, balance, tumble and zig-zag to complete fitness stations throughout an obstacle course. Challengers compete for the best overall running time in both a male and female division, with winners receiving a TCC duffel bag and bragging rights for the semester. "We strive to make the course challenging, but we want all fitness levels to have fun and be able to participate, so it's not excessively intense," explains Kinesiology instructor Shahzad Nazir.
Campus organizers intend to add new intramural sports and activities to the schedule as the demand increases. Students are encouraged to volunteer in leadership roles and to recruit fellow players. Many facilities also are being improved and updated. At TCC Northeast, a new mesh fence recently was installed around the sand volleyball court so players won't have to chase the ball too far if it goes out of bounds. One tennis court also was recently converted into four pickleball courts, much to the delight of many players.
TCC offers approximately 20 different intramural sports for students and staff. Coordinators schedule game times, hire officials and provide equipment. There are no fees to join, no practices to attend and all skill levels are welcome. Playing for fun is emphasized over winning.
The teamwork and personal accomplishment of these activities have positive effects on many students. "Many of our Kinesiology majors grow with self-confidence. They participate and get jobs in their field," said Miske. "One recent student was hired at a local gym already. He was so confident and helpful in leading sessions here, he was able to take that experience to his new job."
Just Play 'N' Fun
The Tennis On Campus club gives students the chance to take a break from school work, release some stress and have fun on the courts. "It's meant to be a fun, recreational experience for students to do things socially," says Tim Sebestra, club coordinator and coach.
The club consists primarily of former high school athletes and other advanced players. Club students from all campuses play twice a week at TCC Northeast but also travel to regional and state tournaments throughout the school year.
"We want students to be able to be involved in the college experience beyond just going to class, then going to work or home," says Sebestra.
First-year student Brent McCall agrees. "I played tennis in high school. My friend here at TCC was in the club and encouraged me to join. There's a lot of good people here."
But the Tennis On Campus club is more than just an opportunity to hit the courts. Club members also are deeply involved in community service. Twice a year, they host round-robin tournaments for students and community members.
"We've even had some players enroll here at TCC after playing in the tournament and learning about what we offer," according to instructor Kim Kerby-Dickman.
Half of all profits raised at the Tennis On Campus community tournaments are donated to charity. Currently, the club donates to Cancer Care Services, a local cancer charity that supports patients, caregivers and survivors.
Community service projects such as this recently won the club Texas Club of the Year from the U.S. Tennis Association (USTA). Along with that honor came an invitation to the USTA Tennis On Campus National Championships in Orlando, Fla. "We were the only two-year college invited to the tournament. It was really exciting," says Sebestra. "It was a once a lifetime experience for some of these students."
Because physical fitness is an integral part of everyone's health and well-being, TCC's commitment to serving students isn't limited to the classroom. The whole student is supported, welcomed and engaged inside and outside the classroom.
Intramural Sports Offered at TCC
Volleyball
Sand Volleyball Tournament
Basketball
Flag football
Soccer
Swimming
Tennis
Golf
Disc Golf
Obstacle Course
Dodgeball Tournament
Toro's Bootcamp Challenge
Lift-a-thon
Community walking/running event
Find more information about sign-ups, dates and locations.
Love the Players, Love the Game
On a beautiful sunny day in early April, family, friends and colleagues gathered at TCC Southeast for a moment of celebration and remembrance. The celebration? For the new competition-class disc golf course opening on campus. The remembrance? Of the man who initiated the project.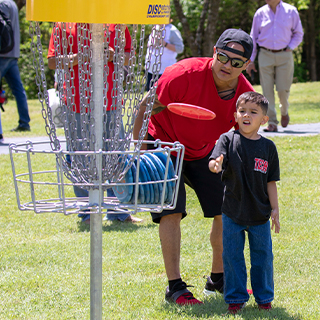 In late 2017, Danny Aguirre, TCC Southeast Kinesiology Department chair, and Javier Arrendondo, facilities manager, began to conceive a fully developed disc golf course at the recommendation of the Campus Beautification Committee. As they walked along the location of the course, they envisioned potential designs that would leverage the natural elements and foliage in the landscape.
With plans beginning to take shape, the project was put on hold when tragedy struck a few months later. Aguirre suddenly passed away at age 39. As a 10-year employee of the college, Aguirre had worked tirelessly for his students and was dedicated to helping others. "He was the type of employee that any president would want on their campus," said TCC Southeast President Bill Coppola.
After Aguirre's passing, it was decided that the project would continue in his memory. TCC alumni and local disc golf expert Colin Wickstrom soon heard about the project and volunteered his time to help the project come to fruition.
"I settled on a 12-hole design that utilized the creek, woods and the rolling hills more than the open areas. Disc golfers love trees. They provide obstacles, interest and most importantly, shade," said Wickstrom.
Wickstrom, Arrendondo, lead groundskeeper Mark Villanueva and former facilities manager Brian Goodwin then came together with others to build the Danny Aguirre Memorial Disc Golf Course.
Family, friends and colleagues gathered under the shade of the nearby trees to watch as Wickstrom, Aguirre's mother, Sally Aguirre, and others cut the ribbon to officially dedicate and open the course. Aguirre's brother, Luke, threw the ceremonial first putt.
The 12-hole course is described as moderately hilly in a wooded area at the edge of a creek. It is designed to be beginner-friendly, but is also technical enough to appeal to even the most advanced players. The short course is 2,533 feet, and the long course is 3,165 feet. Both courses are par 36. The public is welcome to use the course during daylight hours when the campus is open.
To organize an event or reserve the course, contact the TCC Southeast HPE Department Office at 817-515-3601.