Filling the Need
Health Sciences Plays a Critical Role in Providing Solutions That Work Now and into the Future
Joseph Cameron Jr., dean of Tarrant County College's Health Sciences, and his two assistant deans, Troy Moran, Sr. and Brenda Clark, share a common passion: "Fill the Need."
Whether it is students' needs to be prepared for workplace success, the medical community's need for a professional workforce or the community's need for high-quality health care, TCC leaders recognize that the Health Sciences Department plays a critical role in providing solutions that work now and into the future.
Since 2016, department leaders have been molding the 15-program curriculum to meet current and projected personnel needs over the next decade. In addition, the department has several more programs in the planning stage. Once the full curriculum is in place, TCC could graduate up to 200 allied health professionals annually.
Health Sciences programs include training in skills that complement and support the care offered by public and private medical institutions and practices. TCC trains students in technologies related to anesthesia, medical diagnostics, anesthesia surgery, nuclear medicine, radiology, magnetic resonance imaging and vascular interventional radiography. The classes also train students in complementary medical staff skills like medical assistant, health information, respiratory care and long-term care administration.
Many of our older students come here to qualify for a second career. They have worked in other professions that are being phased out or are military veterans seeking job skills that fit today's workplace. But they see the medical field as a secure one because they know that they'll always have a job in health care.

Brenda Clark
Assistant Dean of the Health Sciences
Curriculum flexibility is especially important to medical institutions that rely on TCC to supply students and graduates who fulfill their present and emerging needs, says Virginia Chandlee, manager of Clinical Experience, Academic Affairs at John Peter Smith Health Network and a member of TCC's Allied Health Advisory Board.
"TCC consistently calls us to get our response on what new programs we anticipate needing and where our present staffing shortages are. Their academic dean has looked at the needs and trends in the area and has tailored programs to meet those needs," she said. "We take students and put them into the clinical rotation so we get to see them in action while they are in an actual clinical setting and then when they graduate, we can take them over to Human Resources to get them onto our staff."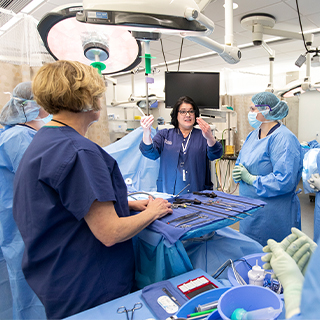 When they successfully complete courses—online, at regional locations like TCC Northeast, Northwest and Southeast or at the Center of Healthcare Professions at TCC Trinity River East—students earn an associate degree or certificate of completion that often qualifies them to immediately pursue a degree at a four-year institution or secure a job with a medical facility or practice.
The certification represents a solid investment in their future, says Cameron. "We are very proud of the fact that our programs are extremely affordable, successfully transition graduates into the workforce and offer such a high return on their investment. It isn't uncommon for starting salaries to be four, five, even up to eight times higher than the cost of TCC tuition and fees," he said.
Marcus Johnson, director of Cardio Pulmonary Services at Methodist Mansfield Medical Center in Mansfield, feels that TCC's programs provide a great return on investment for medical facilities. "When you work in healthcare, you spend a lot of money on resources, and your most important resource is the human resource. And the people I get from TCC always exceeds my expectations. More than half (of staff), almost 60 percent, are graduates of the program and they are so prepared when they come in that the learning curve is minimal," he said.
Cameron and his staff are building their curriculum to reflect input from hospitals and medical leaders throughout Fort Worth and professional organizations such as the Tarrant County Medical Society. "This is a logical step for us because our campus is the only one in the Medical District." Cameron said. "So we have easy access to many of the leading medical providers and facilities in Tarrant County. We want to take advantage of that location and those relationships in whatever ways best help our students."
In addition to specific skills that benefit students in the short term, the classes teach wider perspectives on the community's changing medical needs. In that way, says Cameron, students are better prepared to take advantage of new technologies and emerging diagnostic and treatment trends.
We are answering the needs of our community partners, while providing opportunities for all.

Troy Moran, Sr.
Assistant Dean of Health Sciences
Nicole Boncic, a first-year sonography student whose internship at Dallas Medical Center required three days on site at the Center and two days of classes at TCC Trinity River East, found that the transition to real-world medical service was very smooth because "I felt that I was definitely clinically ahead—definitely ahead—when I started because our instructors are really, really awesome. They know their subjects, so we are able to apply what we've learned at school right away in our work." This semester, she is serving an internship at Parkland Health and Hospital System in Dallas before she graduates in 2020 with an associate degree.
Cameron's thoughts on new technologies are echoed by David Woolsey, president of Integrated Ultrasound Consultants, a member of TCC's Advisory Board and Interview Board and a guest lecturer in Health Sciences classes. Woolsey's company has been using Health Sciences students as interns for several decades and over the years, has hired about 15 students as full-time sonographers and ultrasound technicians.
"I can't just hire new grads. They have to have some familiarity with the modality. It's a credit to TCC that they have good quality control and that they turn out high-class students. At the same time, it's important that you have a system in place where you can train people. A lot of the students are prepared really well as far as the physiology and anatomy of the (Muscular Skeletal Ultrasound) exam are concerned. It's just basically putting that knowledge to use in a real-world setting to give them the experience to round out their education," Woolsey explained.
Department leaders regularly monitor emerging trends in medical technologies, projected workforce needs and industry guidelines from the American Association of Community Colleges, the U.S. Department of Education, Texas Workforce Commission and Texas Higher Education Coordinating Board (THECB).
Advancing technologies and research are creating new challenges for educators. Cameron and TCC's leaders welcome the changes as they continue molding Allied Health Sciences programs to do what they've always done: Fill the Need.