Not Your Parents' High School
New Option Gives Fort Worth Students a Competitive Edge in the Workplace
Educational options in Fort Worth are now more electrifying and fluid, thanks to the infusion of local industries into the early college high school run collaboratively by Tarrant County College (TCC) and Fort Worth ISD at TCC South.
Students at the TCC South/Fort Worth ISD Collegiate High School now augment earning an associate degree with marketable skills in two top industries. The enhancement is possible because TCC and Fort Worth ISD partnered with Oncor and the City of Fort Worth Water Department to improve their students' economic potential.
Opened as TCC's sixth Early College High School four years ago on TCC South, this fall the school began transitioning to a Pathways in Technology Early College High School (PTECH). This model originated in New York to prepare students for life after high school.
"Partnering with Fort Worth ISD and TCC in the PTECH initiative provides an important opportunity to develop curriculum that will help shape the minds of future Oncor employees who may not have otherwise been exposed to careers in energy," said Tiffany Richmond, ONCOR Customer Operations executive associate. "Our participation helps to bridge the gap locally between business, education and government to develop a quality workforce with a globally competitive advantage."
Similar benefits are anticipated by the City of Fort Worth Water Department.
"By helping these students learn about other industries, it gives them options that they may not have ever received or learned about. It gives them a chance to see different aspects of these industries in person and to apply what they have learned in school at an early age," said Sheree Collins, administrative services manager for the Fort Worth Water Department. "I have learned going to college for four or more years is not the answer for everyone. However, experience and knowledge are irreplaceable in whatever career a person decides to choose."
Inviting Oncor and the Fort Worth Water Department to participate as initial PTECH partners was a natural outgrowth of their previous investment with early college high school students, said Lisa Castillo, founding principal of the ECHS, and now, Fort Worth ISD executive director of CHOICE and enrichment programs including PTECH.
"We have had an amazing relationship with Oncor, which has worked with our students over the last four years to bring enjoyable, hands on energy-related activities and fun events," Castillo said. "We particularly partnered with Oncor and Fort Worth Water because of their belief in growing our workforce and keeping them here to grow our community."
While all students in Fort Worth and surrounding districts are eligible to apply, selection is based upon the lottery with priority going to Fort Worth ISD students, said David Saenz, Fort Worth ISD senior innovation officer. Tuition is free for accepted students, with Fort Worth ISD paying for books.
"Fort Worth ISD hopes to do our part in supporting the economic success of our area by ensuring our students are prepared with the necessary skills to take on these valuable jobs," Saenz said. "This model will provide our students guaranteed interviews with our partners. This provides a pathway to a strong income while also meeting the needs of the workforce in Tarrant County."
Sophomore Giselle Villa, who wants to pursue a medical career, perhaps as a gynecologist, recognized the benefits of the program and made the tough choice to transfer.
"I'm not going to lie. It was a hard decision to make. I had already started high school and was comfortable with my classes and peers. I had planned to stay there and graduate," said Villa, the first in her family to attend college. "I decided to enroll into PTECH after doing research and speaking to students as well as teachers. They explained to me the three different pathways allowing me to graduate with my high school diploma, associate degree and certifications."
Recognizing the significant financial savings this path represents helped to clarify her decision to enroll. "I was astonished by how much money and time I would save (and) the advantages it would give to my future whether it be enrolling into a university or applying for a job. I know it won't be an easy road, but in the end all I want—as a student, daughter and friend—is to make everyone proud," Villa said.
Her father, Alan Villa, appreciates his daughter's desire to save money, freeing up more of their budget for her brother and sister. "Our goal as a family is that our three children go to university," he said.
Intrigued by the unique benefits afforded ECHS students, Stephen Coll targeted it as the place to teach when he relocated to Fort Worth. He is pleased to remain through the PTECH transition because "it serves to embody our district policy of college- and career-readiness," he said.
Coll said the biggest change he anticipates is the opportunity to teach students what he called "employability skills."
"I learned these as the 'soft skills': team work, collaboration, professionalism, etc. These were not taught during my formal education. I picked these up as I entered the workforce," he said. "Now, our students will learn those alongside their requisite classes for their chosen course of study."
Any time you can accomplish two objectives with one lesson or program, it creates a win-win. They will get the academic knowledge through their high school and college courses, but most importantly, they will get the work experience with our industry partners. They are getting two things for the price of one, an excellent 'twofer' in my opinion.

Stephen Coll
ECHS Instructor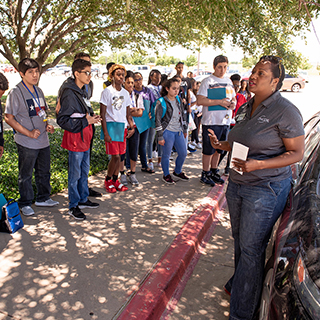 The Collegiate Programming initiatives in Fort Worth not only enhance the future of local students, but they impact the state's economy by making a direct contribution to the Texas Higher Education Coordinating Board (THECB) 60x30TX strategic plan. The goal is to ensure that 60 percent of residents, aged 25-to-34 years old, hold a certificate or degree by 2030. The current Tarrant County rate of 31 percent of its residents holding at least a bachelor's degree, based on Towncharts Data, is improving each year.
"This past year, our existing early colleges produced 258 students who graduated with their associate degrees before graduating with their high school diploma. These students also graduated with no debt," said Fort Worth ISD's Saenz. "We are now working to replicate this success and are in the process of planning the launch of five more early college models that will be based at our comprehensive high schools."
The planned expansion plus the three standalone collegiate high schools within the District will bring Fort Worth ISD's early college high school programs to 10.
"By 2021, we hope to have a collegiate model in every one of our comprehensive high schools so all students have an opportunity to select this early college pathway," Saenz said. "Together with TCC, we will work to build educational opportunity for our students so that they can prosper economically while contributing to the economy of Fort Worth and the surrounding areas."