Appreciating Campus Character
A Tour of Some of TCC's Unique Spaces
Tarrant County College campuses offer everything possible to serve its thriving student community, from classrooms and libraries to high-tech study spaces, hands-on skills labs and interactive instruction. But it's some of the more unique areas of the campuses that make TCC distinctive, comfortable and cutting-edge.
Boat Docks
For more than 20 years, the boat docks at TCC Northwest have provided an outdoor space for students taking water classes. "I have also seen people eating lunch, reading, doing yoga and other activities on the dock," said Sara Matlock, manager of the Kinesiology Learning Lab. Up to seven sailboats can launch from the docks at a time. For safety reasons, only students currently enrolled in select Kinesiology classes at TCC Northwest can launch boats from the docks. However, all students and the public are encouraged to enjoy the area as a whole. Those who don't want to get their feet wet may enjoy a stroll along the banks of the lake to feed ducks, watch herons or go fishing.
Location: TCC Northwest
Area: Directly west of building WACB
Access: Open to students currently enrolled in select classes. Docks are closed during storms and high water. A free, public access boat ramp operated by Tarrant Regional Water District is located on the southeast side of the lake for larger motorized boats. This ramp is accessible from an access road directly south of the TCC Northwest south parking lot.
Hammock Farm
Everyone needs a break now and then. TCC Northeast has made this easy with its Hammock Farm. BYOH ("bring your own hammock") or check one out from the TCC Northeast Kinesiology department for an afternoon of rest and relaxation.
Location: TCC Northeast
Area: Southwest side of the NHPE building, near the sand volleyball court
Access: Open to the public during daylight hours. TCC hammocks can be checked out by students with a valid TCC ID.
Idea Store
The Idea Store at TCC Trinity River is a student lounge built inside a former electronics superstore. "We have a screening room and small theater on the second floor that is used for campus movie nights and Film Club meetings," says Eddie Brassart, assistant director of Student Development. "It's designed to have a living room feel and to be a space that is comfortable, inclusive and friendly to all." Where did the name "Idea Store" come from? It originated from a late 1990s movement in London that inspired the transformation of local libraries into fully developed community spaces.
Location: TCC Trinity River
Area: At the corner of W. Belknap and Taylor
Access: Open to students with a valid TCC ID. Call 817-515-1206 for current hours of operation
Solar Chargers
Go off-grid for a moment to recharge, literally, with two solar-powered mobile device charging stations on TCC South. The innovative, 12.5-foot-tall kiosks have high-efficiency solar panels that provide free, clean power for charging phones, tablets or virtually any other handheld device. Power up and feel good about making responsible energy choices.
Location: TCC South
Area: In the courtyard outside of the Energy building and on the patio outside of the Student Center building
Access: Open to the public during daylight hours
Animal Attraction
More than just humans are welcome at TCC Southeast. Landscapes are designed to attract butterflies, hives are maintained for housing bees and fish thrive in the aquaponics garden. But it's the president's office that has gone to the birds. About eight years ago, Bill Coppola, president of TCC Southeast, asked that a single birdhouse be hung on a tree outside of his office. Over the years, more and more birdhouses and feeders were added and now a small community of birds feed there regularly. And with TCC Southeast's designation as a Tree Campus USA® campus by the Arbor Day Foundation, more wildlife will likely move in.
Location: TCC Southeast
Area: Near the President's office
Access: Open to the public for viewing during daylight hours.
Derailed Train
It's not every day you see a derailed train on campus. At TCC Northwest, students, first responders and railroad companies can train for accidents involving railcars with toxic or flammable materials. "The cars are used to train first responders and Hazardous Material Technicians," says Darrell Rutledge, coordinator at the Fire Service Training Center at TCC Northwest. "They are trained in hazardous material recognition and how to stop a hazardous material leak." A nearby underground controlled fire pit simulates an explosive accident for trainees to practice a full range of skills. When the railcars were in use, most were used to transport chlorine, liquefied petroleum gas (LPG) and materials that were under pressure, flammable and/or poisonous. They were donated to TCC by BNSF and Union Pacific railroad companies in 2012.
Location: TCC Northwest
Area: Within the Fire Services Training Center 23-acre complex
Access: Open to current FSTC students only or for coordinated first responder training. For more information, call 817-515-7440.
Giant Chess
Go big or go home. If giant Jenga isn't your style, how about a giant, life-size chess board at TCC Northeast? The 16' x 16' board features human-sized squares and oversized chess pieces. Built in 2000 to celebrate the 30th anniversary of TCC Northeast, the chess board was designed to be a focal point of the courtyard outside of the Student Center building. "I have always had a great interest in chess and wanted something that would engage the students and be a beautiful low profile sculpture on our campus," says associate professor of art and project sponsor Karmien Bowman. Several local individuals and companies donated funds and materials to create the board. The original oversized playing pieces—carved from high-density foam with chromeplated bases—were designed and created by students. Interested players can check out the pieces, located in nearby storage containers.
Location: TCC Northeast
Area: In the courtyard directly north of NSTU, the Student Center building
Access: Open to the public during daylight hours. Chess pieces are located in storage boxes around the chess board. Human pieces provided by you.
Exercise Pads
Students on the move can stretch their legs and get in a quick workout along the west fork of the Trinity River at the three exercise stations at TCC Trinity River. Whether it's strength training, stretching or cardio, the outdoor stations are designed for quick access and maximum usage for people on the go. Want to go for a bike ride or do some geocaching? Easily access the Trinity Trails system from the backside of the campus. The more than 70 miles of trails are maintained by the Tarrant Regional Water District and feature hiking, fishing, cycling, boating, horse trails and more.
Location: TCC Trinity River
Area: North side of the campus
Access: Open to students, staff and the public during daylight hours.
Bioretention System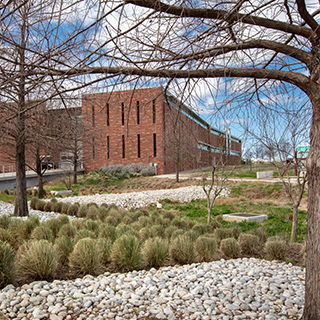 The bioretention system at TCC South is an environmental work of art. When it rains, nearby storm water is diverted away from campus roads, sidewalks and roofs and is pooled in the specially designed, natural ecosystem. The native trees, shrubs, grasses and plants then filter out pollutants as the water slowly absorbs back into the soil. "We really wanted to be good stewards of our environment for the students and community around our campus," said David Hoelke, TCC director of Systems Infrastructure, Utilities and Energy. "This system also allows us to control storm runoff and potentially minimize flooding damage."
Location: TCC South
Area: East side of the Energy Technology building
Access: Open to the public
Reserved Parking
Drive clean, park close. At TCC Southeast, students and staff who drive low emission or hybrid vehicles can enjoy reserved parking spaces. The special parking spaces are designed to further TCC's commitment to sustainability.
Location: TCC Southeast
Area: Specially marked spaces throughout the SE parking lots
Access: Available to vehicles classified as Zero Emission Vehicles (ZEV) by the California Air Resources Board or have achieved a minimum green score of 40 on the American Council for an Energy Efficient Economy
Do you have a favorite place at TCC? Post a photo on Facebook or Instagram.
You may just inspire others to explore and find new areas to enjoy.