Celebrating 50 Years of Radiologic Technology
More Than 1,000 Students Later, TCC's Program Continues to Grow
Some stories continually repeat themselves for 50 years. But they never get old. As a program graduate, instructor and now, director of Tarrant County College's Radiologic Technology Program (Rad Tech), Brian Spence knows firsthand the stories of many of the 1,000+ students who have passed through the program on their way to their medical careers. So, he sees this year's celebration of the program's 50th anniversary as a way to spotlight its legacy as a stepping stone for students' professional and personal success, as well as TCC's emergence as a vital partner with Tarrant County's medical community.
We see radiologic technology as an important entry point to those pathways before the students move on to these wider opportunities.

Troy Moran, TCC Assistant Dean of Health Sciences
"The entire program has become an essential part of the overall success of the School of Health Sciences and a symbol of what can happen when the College and the professional community work together to fill the need for qualified professionals," says Troy Moran, assistant dean of Health Sciences, who oversees the Rad Tech program.
Building the Program from the Ground Up (Literally)
The program began in 1970 on Tarrant County Junior College's then newly constructed Northeast campus, which housed classrooms and x-ray facilities where students could earn an associate degree or stay long enough to master the x-ray process. Then, they would seek an entry-level position at a local hospital, remembers Wanda Bercerra, a member of the initial graduating class (1972).
"When we started with a class of 25 to 30 students, we were told by the hospital techs that there was no advantage to getting a degree, because no one else in the field had one. At that time, the hospitals hired and trained their techs directly. They used in-house student coordinators who trained the x-ray technicians on the hospital's equipment while they were actually working on live patients," Bercerra said. Their on-site work consisted of duties like positioning patients, taking and chemically processing x-rays (which were on glass plates in cardboard cassettes) in a darkroom and later filing and doing administrative work to support the overall x-ray program. The work was an ongoing job interview because hospitals were eager to hire the best students.
When she graduated, Bercerra remembers her starting hourly salary was $3.25, which was considered high-end because the minimum hourly wage was $1.75. She retired in 2020 after 50 years as a radiologic technician at a variety of Tarrant County medical facilities.
Growth and Progress in the 1980s and 1990s
Mark Holt has been associated with the program for 33 years, including 20 years as the program director and now as a professor emeritus. Teaching classes of 20 to 25 students, Holt saw TCC respond to the industry's needs for more qualified students by expanding the faculty to include College employees as clinical instructors in local medical facilities.
"Soon after the program started, they recognized that students couldn't just learn it staying in a classroom. They needed to spend more time in the major clinical centers. The real training occurred in the medical facilities," Holt explained.
As the demand for students grew, TCC addressed the need in an unconventional way: it placed College employees as clinical instructors in the hospitals. "This was nearly unheard of due to the increased cost involved. But it demonstrated TCC's financial commitment to providing quality education to our students and to meeting the growing needs of local medical facilities," Holt said. "We had to work hand-in-hand with the hospitals because we were there as their guest. You couldn't keep a full-time person at each hospital. So we would visit each hospital periodically and be there to help the students by assisting in teaching the proper techniques and technology."
Holt remembers the 1990s as a time when technology drove major change in the curriculum, onsite learning opportunities and the College's options for partnership. During the early part of the decade, the need for technologists rose as technology evolved from imaging on film to computed radiology (CR) on digital platforms.
According to Bercerra, by-hand tasks and the ability to calculate dosages and exposure times "required more brain power than it did after the technology changed. Now the machines do it for you. You just hit a button and the machine does the calculations and sets the equipment."
As a result of digital technology's growth, the number of independent practices that include radiologic services substantially increased. "We started to see independent practices that were large enough to keep the students busy. We saw orthopedic practices and outpatient clinics and centers, and we said, 'Well, they're busy enough to handle a student.' And the students would be busy enough to be x-raying people all day. So we reached out to them. A few of them reached out to us. Some of them said 'We'd love to have students. We're glad that you asked.'"
The 2000s: Progress at the Speed of Technology
The 2000s brought new waves of technology that completed the evolution from film imaging to digital radiology. New technology appeared on campus and in all medical facilities that streamlined the process and widened students' technical expertise. In response to these changes, the program revamped its facilities into three classrooms that contain specialized radiologic equipment including portable imaging machines and a C-arm x-ray machine used in specialized surgeries.
TCC also became an accredited college by the Joint Review Committee on the Education of Radiologic Technology (JRCERT). Currently, the College has the highest accreditation JRCERT can bestow. "This is important because it reinforces the importance and value of accreditation and marks TCC as a recognized leader in offering top-quality training in the field," Spence said.
One of the people who will benefit from that recognition is Ariel Hoang, a first-year student who plans to get her Associate of Applied Science degree in Radiologic Technology.
"At first, I wasn't sure if this career was right for me. I wanted to be able to help people but I wasn't sure how. Then my mom recommended that I consider radiology. My biggest concern was whether I would enjoy it and if I could do the work. Now I am starting to see what it is really like. I really enjoy the program and the work with the professors," Hoang said.
Hoang's thoughts are echoed by Kassie Bustamante, a second-year student who graduates in May 2020. Bustamonte is getting her clinical experience at two Fort Worth medical partners, Baylor Scott & White All Saints Medical Center and Touchstone Medical Imaging.
"I really didn't know what to expect," Bustamonte said. "But the faculty was really informative and gave me lots of information and advice. From the beginning, they were very encouraging about what we would be doing and how they thought I could handle it. They presented the information in a very comforting way that made me feel very good about it."
Both students plan to pursue their careers in Tarrant County.
The Rad Tech program's progress also included the creation of a formal Program Advisory Committee, which consists of TCC educators, Radiology Department leaders of local medical facilities and select community leaders. Committee members provide feedback on the program, overall student qualifications and projected industry needs. One of those committee members is Michele West, radiology manager at Huguley Hospital's Fort Worth South campus. The TCC graduate (2004 in Radiologic Technology) relies on her partnership with the College each semester to help her team with three students, who usually arrive with enough knowledge and training to begin actively supporting her program shortly after they arrive.
"Most of the students are in it to help people, so it is fairly easy to fit them in. Shortly after they start, we get them to help with our patient flow and to do what's needed," West said. "She also appreciates the fact that at the end of their rotation, many students are natural fits for her program. She estimates that 75 percent of her frontline staff are TCC program graduates.
An example of student-turned-employee is David Rios, a 2016 program graduate with an Associate in Applied Science, who now serves as West's supervisor of Interventional Radiology.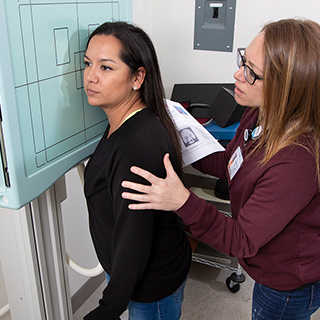 Though he already was in the radiology field, the father of two recognized that he needed to return to school to earn an associate degree in Radiologic Technology to advance his career. While working full time, Rios finished his prerequisite classes online. He then worked two part-time jobs during his first year in the program.
"It was hard. But you do what you have to do to take care of the family. I would work and then—while the kids were asleep—I would work on my homework until 1 a.m. most nights," Rios said, adding that he credits the program's structure and the staff's ongoing support for successfully completing his first year.
"I feel the way the program is set up, they set you up for success because all of the professors and all of the clinical instructors, with all of their years of experience, can pretty much tell you what to expect and coach you through it. So that way you don't come out of the program and get blindsided by all of these different scenarios," Rios said. "It was life-changing. They definitely set me up for the position that I'm in now and they gave me the confidence to do it."
Moving at (Comparative) Light Speed Since 2011
The Rad Tech program made two important moves in 2011 that accelerated its future: Spence joined the faculty and the program moved after 41 years from TCC Northeast to its larger home at TCC Trinity River Campus East. Both moves were part of a 10-year master plan by Assistant Dean Moran and Dean of Health Services Joseph Cameron to enhance the program. Since assuming the program director position in 2016, Spence has worked closely with Moran and Cameron to increase the number of medical imaging programs, including the introduction of guided academic pathways to post-primary certification in specialty programs like CT, MRI, Nuclear Medicine, Sonography and vascular specialties.
TCC also instituted an online continuing education program with Midwestern State University that allows second-year Rad Tech students to concurrently pursue a Bachelor of Science in Radiologic Science (BSRS) degree from the university based in Wichita Falls while they complete their TCC associate degree.
"And we're not done yet," said Moran. "There are still many venues that are untapped. But we believe they are going to be crucial in the clinical field in the future. We look at trends in the field and at all aspects of medical operations, then ask ourselves what can we do to prepare for those trends.
"And that isn't just on the clinical side. It also involves industrywide personnel needs. There are six times as many allied health professionals as nurses now. And we anticipate at some point seeing a silver tsunami where much of the existing workforce retires. How do we prepare for that?"
Those questions are the foundation of the program's larger goal: preparing students to take advantage of overall opportunities in the medical community, according to Moran. He added that the future vision is to involve students in related fields to fill personnel needs that are not directly related to clinical situations, like preparing business students to manage administrative and billing functions; information technology students becoming involved in specialties like imaging informatics and management students focusing on health care leadership and administration.
Spence recognizes there is still tremendous opportunity to grow the Rad Tech program to meet needs within Tarrant County's medical community. He also knows that when he narrows his vision to individual students, he will see the latest in a 50-year line of stories of students working toward a degree that means a better life for them, their families and the patients they serve.
For more information about TCC's Radiologic Technology program: visit Radiologic Technology on the College's website or call 817-515-2412.