Living Larger than Himself
TCC Alumnus Works to Make a Positive Difference in the World
For Pelkins Ajonah, Tarrant County College alumnus and MIT graduate, starting the fall semester as a graduate student at Harvard University was just the next step in his methodical journey toward making a difference.
Ajonah enters into the prestigious academic atmosphere to pursue a Master of Business Administration/Master of Science in Engineering Sciences in the newly instituted, hybrid environment as one of 30 recipients of The Paul & Daisy Soros Fellowship for New Americans, a $90,000 graduate school fellowship for outstanding immigrants and children of immigrants in the United States.
Ajonah's lifelong vision to live a life larger than himself is rooted deeply in his childhood rearing in Limbe, Cameroon, a coastal town on the western shores in the southwestern region of Africa. His mother, a businesswoman, was very active in the community and instilled in him the significance of hard work and the importance of giving back to the community. She repeatedly told him, "It's not about you. It's about the community around you."
Before his early death, his father, an elementary school principal, taught him the importance of achieving an education. A razor-sharp focus on mathematics is what he recalls about his father. "If I had 100 percent on every other thing and I wasn't the first in math, he (would) be like, 'Why are you not the first in math? What's going on?'"
"It was a routine every day with my math homework (that) he would do it with me and teach me stuff. It's funny now, when I think of it, because he used to look like a god because he was so good at math," said Ajonah. He reflected that after his father explained the solutions to the problems, he would ponder: "How do I really get there? I just knew because of the way my dad laid a lot of emphasis on it (that) this is something I (needed) to take seriously."
Because he heeded his father's guidance, Ajonah graduated with the top test score on the national advanced level test taken by students in Cameroon. He did so despite the hardship of completing most of his high school education without his parents' guidance; his mother emigrated to the United States after his father's death so she could better provide for their family.
Ajonah's receipt of the top honor already was virtually a guarantee that he would escape a traditional agrarian future. Previous winners routinely entered the fields of engineering or medicine, something he knew was not for him because he did not like blood. His choices were extended since, as a minor, he could take advantage of his mother being in the United States and become the only one of his siblings to join her here.
"I went to Tarrant County College 'cause my mom lives in Arlington," he said, explaining that he did not come to the United States to attend college. "It's near home, so I was like, okay, that's the next step."
At TCC, Ajonah took advantage of what the College had to offer. He built his confidence and honed his leadership skills by participating inside and outside of the classroom.
For me, my vision for the world is bigger than myself. My philosophy is really living for a purpose that's bigger than me.

Pelkins Ajonah
Tarrant County College Alumnus and MIT Graduate
Jill Trask, TCC Southeast economics professor, recalled that her class was the first one Ajonah took at TCC and reflected on his transformation.
"During that time, Pelkins sat in the back of the classroom. I could not get him to engage, but on tests (and) on assignments, he was doing really well. (Initially) he was so quiet," Trask said. "Things changed suddenly as the class progressed. I thought: 'Oh my gosh, what happened?'"
While he grew up speaking English, the language he found in America differed from his familiar British dialect.
"So, he listened to the news (and) he watched television shows, (then) halfway through the semester he felt comfortable, so he started speaking up in class," Trask said. "Since then, he has just been a wealth (of information)."
TCC Southeast Dean Jerry Coats, sponsor of the two-year honor society Phi Theta Kappa (PTK), was impressed with Ajonah at their first meeting.
"The first time I met Pelkins, he walked into my office (because) he wanted to join Phi Theta Kappa. He seemed to know everything about it already," Coats said. "He had done his research. He had looked online. He had talked with friends who were members."
"He knew he wanted to join, and he was considering running for officer that following year," Coats said. "So, he was that kind of guy. You knew right off that he had done his homework."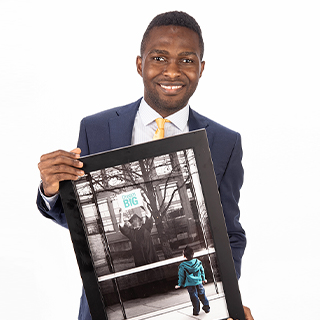 Ajonah also distinguished himself during his time at TCC because he was thorough and willing to participate.
"He always seemed to be scholarly in his endeavors (and) was one of our lead researchers for our Honors in Action project that year. He always seemed to be willing to do something more," Coats reminisced. "He would show up for late nights in the library to do rewrites for Honors in Action, our college project (and) he was always at events."
A 2015 TCC graduate with an Associate of Science degree, Ajonah earned the highest distinction and was named a Guistwhite Scholar by PTK. He continues to show his dedication to TCC by returning to speak to classes and at PTK functions.
TCC Southeast Vice President of Academic Affairs Zena Jackson, who first met Ajonah after he delivered an inspiring PTK induction speech as the club's president, recalls her visits with him on campus. "I never saw Pelkins in a situation where he just didn't seem happy. I think that's one of the most impressive things about him. He encouraged others around him," Jackson said. "I think that one of his greatest traits was that he was inspiring to his peers."
When she heard that Ajonah had been accepted to Harvard, Jackson said, "I was very, very pleased for him because I knew that he would be able to achieve his dream of being able to go back home and be a resource in some way with his engineering background."
Ajonah already has distinguished himself in engineering while interning as a self-driving car engineer at General Motors when he patented a novel technology for calibrating radars for autonomous vehicles. The technique he developed greatly increased the efficiency of the self-propelled cars, reducing the time it takes to execute the calculations necessary to propel them.
For his work at MIT, Ajanoh was awarded the Albert G. Hill Prize and the Suzanne Berger Award for Future Global leaders.
Although it was a major accomplishment, it was not enough for Ajonah, who questioned himself.
"What are you doing for other people who don't necessarily have it (as good as you do?) So that's why at MIT (I struggled). How can I ensure that I'm giving back?" (What am I doing that) I'm creating space for other people to be innovative?"
His passionate concern for his homeland resulted in a salient contribution when he collaborated with two friends—an MIT classmate and a childhood friend. Together, they launched CassVita, an agribusiness in Cameroon that converts cassava, a rapidly deteriorating tropical tuber, similar to the sweet potato, into shelf-stable flour. CassVita now empowers a farming community of more than 300 farmers in Cameroon. Its products are sold in more than 30 supermarkets locally and internationally.
Now, as Ajonah is beginning his studies at Harvard, he plans to take his life's goal to the next level and spend his days focusing on how he can leverage technological innovation to create sustainable economic opportunity globally.
"For me, my vision for the world is bigger than myself. My philosophy is really living for a purpose that's bigger than me," Ajonah said. "(It) wasn't really about I wanted to go to Harvard. It was about I want to solve this problem. This is the vision I have (so) where is the best place and (what) was the most optimal path to get there? That's why I took that path."
Learn more by watching Pelkins Ajonah's Story (Video link will open in a new window)