It's Automagical
TCC's invisible backbone maintains operations while building bridges to the future
Normally, Spring Break means fun in the sun, a quick trip to an exotic beach and a bit of a breather before the final sprint to summer.
But spring break 2020 was anything but normal. Dawning under a cloud of fear sparked by growing concerns about COVID-19, people across the country pondered the wisdom of going to the grocery store, much less an idyllic resort getaway.
Schools across the country pondered, too. For Tarrant County College, the decision came swiftly—the Chancellor's office declared that all classes would move online as of March 16, 2020.
Ensuring Operational and Academic Continuity
"This effectively became our moon shot," said Bob Pacheco, TCC's chief technology officer. "Immediately, we had several large priorities. One was to gather a large number of electronic devices and distribute to faculty, staff and students so they could continue their work. Another was to make sure the school's electronic backbone could handle the oncoming tsunami of demand for storage, bandwidth and utilization. Yet another priority was making sure our instructors could transition their course materials—designed for classrooms, by the way—to a robust online environment."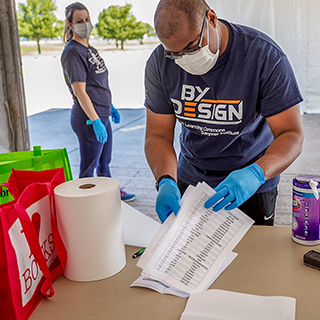 In other words, all gloved hands—and masked faces, too—were on deck for the foreseeable future.
Fortunately, several key factors played into their favor. The first was Pacheco's prior experience—in the Navy, as a technology business owner and as a senior consultant who had led high-profile, complex projects at two notable management consulting firms. His background attuned him to effectively (and rapidly) break down problems and execute intricate plans with highly capable teams.
Another key factor—Doug Williamson and the Enterprise Project Management Office (EPMO). "They provided the glue that sandwiched all the various pieces together," said Pacheco. "Without their coordination, it would've been near-impossible to make this transition."
According to Williamson, "Metaphorically, we were building a bridge while we were on it, so we needed an agile approach. From a command-and-control perspective, who needs what and by when, and who else needs to be involved? We asked those questions in brief daily meetings, along with what the team did yesterday, and what needs to be done today and tomorrow? It was pretty intense, but it worked extremely well, especially since we had a strong IT base to start with."
"The TCC Connect team, led by Carlos Morales, also was instrumental," adds Pacheco. "They helped train faculty members who weren't used to teaching virtually. Masterful work."
So, all the pieces were in place, more or less. All they needed was time.
As it turned out, time was an asset they could manipulate—to a degree.
A Look Back
Actions were already underway to migrate classroom instruction to a digital environment. In fact, just a few days earlier, the school approved the Districtwide adoption of Microsoft Teams as their productivity platform of choice, a move that Pacheco said made their tasks eminently more manageable.
"Microsoft was an outstanding partner," he said. "They were out here daily, helping make sure we had the bandwidth and cloud storage and everything else required to pull it off."
The situation was certainly helped by starting from a position of strength. TCC owns a world-class, 30,000-square-foot data center that hosts 100 physical servers and more than 400 virtual servers—with the capacity for much, much more.
"So, on our end, all we needed to do was drastically condense our existing methodical, phased five-year plan of scrupulous testing and careful implementation into just three months," he added with a chuckle.
And it worked.
Their secret: establishing and maintaining continuity in three phases—device acquisition and distribution, business continuation and academic transition.
All-in—Three Phases
The first phase meant authorizing all employees to take home their work computers and monitors. "We gathered laptops from around the District and distributed them to faculty and staff from the Trinity River parking garage," said Pacheco. "We leaned on our Microsoft Partners to acquire a thousand Surface Pros, and the company even went to the extreme of raiding their stores to get us devices."
Campus Support Services teams coordinated the distribution effort with IT, the Police department, Emergency Operations Command and Real Estate and Facilities. They also developed a streamlined and safe distribution protocol that kept people in their cars with zero contact. "And they did this despite their understandable concern about COVID," added Pacheco. "We couldn't have done this without their assistance. They're very much the unsung heroes of this entire effort."
In the second phase, the team addressed potential student "digital-divide" issues. "We decided up front that no TCC student should worry about lacking a computer, then or now," he said. TCC worked with T-Mobile to purchase 2,000 tablets and keyboards with unlimited LTE cellular data packages, while the IT staff coordinated with Taylor Rentals to set up drive-thru tents on every campus (except for Trinity River and its covered parking).
Facilities staff provided electricity and fans to blow away exhaust fumes as cars passed through. Library staffers handled distribution of devices to students, while Campus Support Services handled logistics and the Police department provided safety and security during pick-up times.
In the third and final phase, student device distribution transitioned to designated campus locations at or near libraries. IT also commissioned videos showing how to use tablets and the TCC Virtual Desktop Interface so students could easily understand how to accomplish their tasks.
COVID-19 changed our whole way of thinking about how we deliver content and serve ongoing business needs. Virtually overnight, we faced the challenge of getting devices into the hands of nearly 50,000 students and our staff and faculty too, and then getting them online quickly.

Richard Sullivan
TCC's Associate Vice Chancellor, IT Infrastructure
On the Front Lines
While Sullivan rode herd on device and equipment distribution and continuity, Vicki Hutto, executive director of IT systems, led the business continuity efforts, making sure that bills and staff were paid, and the transactional data was secure.
"Signals were already coming that the business offices would be moving online," she said. "We were already in that mode with plans in place to fill the needs. We figured a week, but we really only had 48 hours! We met every day, sometimes more often, and everybody knew where their roles intersected, so it was a remarkably smooth process."
"We knew we had the infrastructure in place to maintain the platform's integrity and security," added Caroline Hamilton, director of academic technology and the Center for Teaching and Learning. Her team's job: to ensure the integrity of the academic experience.
"We made sure that training for Blackboard, our online Learning Management System (LMS), was up and ready to go," she said. "Instructors needed to know how to transition curriculum and course materials from their classrooms to an online environment. And while we found a few proctoring system incompatibilities, those were ironed out quickly by onboarding a bit of new tech. Really, the larger issue was creating awareness of what we already had and how best to use it. And we managed to do that, too!"
According to Pacheco, "The team worked 14 hours a day, seven days a week, for the better part of six weeks." "But everyone stopped on a dime and switched gears smoothly. We'd find problems, solve them, then move on to the next situation. There wasn't time to worry, so we didn't."
Sullivan, Hamilton and Hutto agree.
"Everybody stepped up," said Sullivan. "This was a true team effort and it took the efforts of everyone from every department. Without that, we couldn't have pulled it off."
"I never lost sleep," Hamilton added. "This is a close team anyway, and through this experience, we stood even closer, shoulder to shoulder. The attitude was very much, 'I trust you, and I appreciate that you trust me.' I feel very blessed to be on this team."
Said Hutto, "I've heard that the experience IT delivered has been referred to in one word. Automagical!"
Meanwhile, Back at the Ranch
When the word went out in March that classes and business activities were moving online, all five campuses went into semi-hibernation mode.
"Classes and business operations can be moved online quite successfully, as we've seen," said Okang Hemmings, TCC's executive director of real estate and facilities. "But plumbers can't do their job via Microsoft Teams. So we stayed onsite to handle preventive maintenance items. Think of it like a good military defense—we're keeping our tools sharp and ready for the time when everybody comes back."
Hemmings noted that his group's responsibilities encompass the land, road networks, utilities both under and aboveground and, of course, the buildings.
"Take any one of our buildings and turn it upside down," he said. "Everything that doesn't fall out, other than IT equipment, is our responsibility. And all of it, including the structure itself, responds to external environmental stimuli. That's why we couldn't shut down electricity or water or equipment like HVACs because you'll have mold buildup and electronics could go bad, among a host of other issues. Generators and boilers are designed to be used to help their longevity; they can't just sit. If you don't use it, you lose it."
Hemmings also said there's no manual for shutting down a campus while keeping it viable. "It's uncharted territory and still a learning process for us in terms of improving our responsiveness."
He said his teams are using the lull in occupancy to complete several major projects, including a remodel of the Science Learning Center as well as road and sidewalk modifications at TCC Northeast; redevelopment at TCC Northwest; demolition of the TCC South SRTA building and construction of the welding lab; initial redevelopment at TCC Northwest; third-floor renovation at TCC Trinity River; consolidation of Campus Support Services into one main location at each campus; and, extensive HVAC system upgrades throughout the District to protect against COVID with higher-filtration devices, UV light and bipolar ionization, to name just a few.
Looking Ahead
Along with the facility updates, remodels and renovations going on across all the campuses, the IT team continues to work on security updates and protection (a seemingly never-ending process these days).
And in big news, the Canvas Implementation Project Team is migrating the Learning Management System (LMS) from the current Blackboard platform to Canvas, which includes a variety of customizable course creation and management tools, course and user analytics and statistics and internal communication tools.
"Canvas was selected for two big reasons," said Project Lead Hamilton. "One was that it most closely aligned with the functional requirements identified by our staff and faculty. This wasn't an IT initiative; it was an everybody initiative. And two, Canvas is a clean, user-friendly, content-focused platform that's excellent for supporting an integrative learning environment."
She added that the more she's exposed to the Canvas platform, the more inspired she becomes. "This is a true game changer for the way we deliver instruction," she said, adding, "I'm really optimistic about our future."
Williamson and the EPMO team are optimistic about the future, too. "The College will use the valuable lessons learned about how to operate in a virtual capacity, which is critical to being truly engaged in the 21st century," he said. "With cloud-based, best-in-class software, the sky is literally the limit to what we can do going forward. Which is good because there's no turning back now!"