Hitting the Right Note
TCC employee and alumna makes a difference through her music
The year was 1975. North Side High School student Carlos Saenz wanted to help raise funds for the Spanish Club to go to Six Flags. So, he started a band called Latin Express. They sold out the school auditorium during second period for .50 a ticket and raised close to $200. Ultimately, the band raised enough to buy everyone a ticket to Six Flags, t-shirts and food, with enough left over to go toward the Spanish Club funds for the following year.
Little did Saenz know that more than 45 years later, Latin Express would still be performing in venues across the United States, including the Inaugural Gala for President George W. Bush in 2001.
Additionally, the band would win multiple awards and recognitions, such as being the first North Texas band to be inducted into the Tejano Roots Hall of Fame.
"I can't believe all the support we have had all these years," said Saenz. "Our fans and friends keep us going."
Saenz also credits the endurance of the band to his children, niece and nephews, who play in the band. In fact, everyone in the band is related to Saenz. "They all keep what our family has worked for going."
Family is important to Saenz, who had that point driven home to him in the '90s when he traveled with another band. "I noticed that the guys I would travel with were not very close to their kids," he said. "They would miss holidays and events because of the job of music. But, when my kids got in the band, it made it feel like I was always home. Having Mariza in the band all these years later feels like home."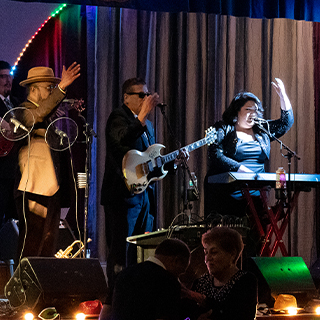 Mariza is Saenz's daughter, TCC Academic Support Specialist Mariza Olmos, who joined the band in 1995 at the age of 14 as keyboardist. She also contributes vocals. "I knew I wanted to play in the band when I was a little girl," she said. "When my dad would have the musicians over at the house rehearsing, I would always tell his keyboard players I would take their job one day. And, I did!"
According to Saenz, Mariza's interest in music began when she was about three years old. "I would be on our baby grand piano arranging music, and she would walk in there and listen to me play," he said. "I started giving her basic piano lessons, but I did not know where it would lead. She just liked it."
"Is there anyone who does not love music?" Olmos mused. "Music is an escape. Music is getting to relive a feeling over and over again, and music is a way to tell someone how you feel without saying the words. One time, I was playing a gig and this 92-year-old woman came up to me and said, 'You made me feel like a 16-year-old girl all over again. Thank you!' Music is transcendent, and it feels good to provide that."
Practice, Practice, Practice
Music careers often come with great sacrifice. Olmos' career in music is no exception. She says being in the band taught her the importance of being part of a team and its associated responsibilities. "I was a kid when I started playing music. When they said, 'Mariza, we want to make you the keyboard player and vocalist, but it takes dedication, sacrifice and time…are you ready for this?' I said, 'Yes.'"
Instead of going to school dances, parties and sporting events, Olmos practiced. "I was a musician. I was practicing every day and playing music all over the United States, and I don't regret it at all," she said.
Finding a New Way to Play
Before the COVID-19 pandemic, Latin Express would play a minimum of 140 to 175 gigs per year. "We are hired for all sorts of events, parties and concerts," said Olmos. "We play Chicano music, Salsa, Country, Rock, Blues, R&B, Jazz, etc. We do not limit our music to just one genre. We enjoy performing for all!"
Understandably, the pandemic had an adverse effect on bookings. According to Olmos, her musician friends struggled. "My family had to figure out what our next move would be." Her father and uncle started doing socially distanced gigs with a quartet, taking a generator and instruments to perform outside of people's homes so they could enjoy some live music.
"Our first performance as a whole was virtual and distanced for the Levitt Pavilion in May 2020," she said. "It was a happy-sad occasion. We had been quarantined from each other." They were not only bandmates, but also family. "I hadn't hugged or seen my dad or family in eight weeks. We still didn't embrace each other and stood six feet apart as we performed for 10,000 people virtually. I still choke up thinking of how happy I was to perform, and how sad I was that I couldn't hug my own dad."
Olmos says that since the vaccines have started flowing, the band has definitely picked up larger gigs, with some dates already booked a year out. "I don't mind. Not having gigs was a struggle, so I am looking forward to more performances."
Latin Express recently played virtually for an event for Trinity River Student Development Services. "It was super cool, because I got to take my lunch break and perform for TCC people," said Olmos. "A little mix of my weekday and weekend life."
Rolling Out the Welcome Mat
Olmos found out about TCC at one of her gigs when she met Michael Saenz (no relation), president of TCC Northwest at the time. "I did not know who he was, but he encouraged me to go to school," she said. "When I showed up at the campus, I gave him a call. He met me in the lobby, walked me around the campus and then guided me to an academic advisor. When the advisor told Olmos who Saenz was, she was taken aback. "I knew I wanted to go to school where I was welcomed."
Not only did Olmos attend TCC, she started working for the College in 2008 as administrative assistant in Continuing Education at TCC Northwest. Ultimately, she became an academic support specialist in 2015 and still serves in that role today.
Community Outreach
In addition to producing award-winning music, Latin Express also steps up when there is a need. "We have served the community as much as we can," said Saenz. "People reach out to us to help them raise money because cancer has caused high medical bills, or they can't pay their house payment because they have been sick, or students are trying to raise money so they also can meet a dream or goal. When they ask, we are ready."
Olmos says being in the band has taught her the importance of being involved in the community – a philosophy instilled in her by her family since she was a child. "We have helped raise money for food banks, natural disaster funds and scholarships," she said.
Olmos' mother, Rachel Lopez, who serves as an administrative assistant in Student Success Initiatives, admires her daughter's interest in music as well as serving her community. "Mariza has always put her all in everything she does," she said. "The love she shares with her family overflows to her friends and into the community through her gift of listening, donating time for those in need and especially singing to raise funds for worthy causes that help impact and uplift others. I am very proud of her."
Lourdes Davenport, coordinator at the Center for English Language Learning ESL and ESOL at TCC Northwest, shares Olmos' interest in community involvement. "Mariza and I have worked together in the community both directly and indirectly," she said. "I saw her at many community outreach events promoting TCC Northwest Continuing Education (CE) programs and sometimes singing with Latin Express. Mariza always acknowledges TCC in the audience! She makes people feel heard and seen."
Olmos worked with Leah Ojeda, coordinator of scheduling in TCC Trinity River Academic Support Services, in Continuing Education at TCC Northwest. While there, Olmos played with Latin Express for events and would bring up the many opportunities TCC had to offer its students and the community.
"Mariza has always been a huge advocate for TCC and all that we serve," said Ojeda. "She has encouraged many community members to join TCC—from elementary-aged children for our College for Kids program, up to our community seniors for the Senior Education program."
Grants Compliance Specialist Henry Crosby agrees. "I see Mariza constantly promoting TCC and our programs to people in the community and encouraging them to pursue higher education. Everyone in the community is a prospective student with the wide range of classes that we offer."
Richard Vela, director of college readiness and dual credit operations, says it is important for TCC and its employees to be involved with the community. "It's a great opportunity for TCC employees to know and understand those who we serve in the community," he said. "Mariza serves as great role model in this regard. She is constantly involved (with) and stays committed to improve opportunities to those in Tarrant County."
Crediting Olmos with serving on planning committees for Hispanic Heritage events, both on campus and in the community, Vesta Martinez, director of student development services at TCC Northwest, says as a member of Latin Express, Olmos "forged connections between campus and community resources and talent. She was instrumental in providing musical entertainment to TCC students and also coordinated efforts to bring the North Side High School Mariachi Band to campus to perform." The result? "The campus and community response to these events was extremely positive and allowed students to interact with each other to share their love of music and culture."
Susie Olmos-Soto, Olmos' director when she first joined the District, believes staying connected to the community is critical. "If you're not connected to the wants and needs (of community members), then you do not serve people well," she said. "Mariza is incredibly personable and energetic on and off the stage, in and outside of her role at TCC! Her ability to engage with a multi-generational population and diverse community of school districts and business stakeholders served (still does!) our department and College District well.
Chance Encounter
After 25 years of performing, Olmos has her share of interesting stories. She remembers one Thursday night playing for an event for The Association for Chicanos in Higher Education (TACHE). "My music life is my weekend life. At the time, not many of my TCC peeps had seen me perform. So, I am playing my gig, and in the audience I see Dr. Elva LeBlanc, who was the president of TCC Northwest at the time. I had spoken to her a few times, but here she was, watching me perform. My dad introduced the band at the end of the night and said, 'This is my daughter, Mariza. She is a TCC CE guru by day, and a musician by night.' Olmos said she got nervous.
After the show, LeBlanc came up to her and told her she enjoyed the show and said, "Goodnight. I will see you tomorrow morning at the office!" Olmos remembers nodding "yes."
Her boss was surprised to see her the next day because Olmos had asked to take the day off. Olmos replied, "I ran into Dr. LeBlanc, and she expects me here." Although LeBlanc never asked Olmos to give up her time off, Olmos was so afraid of disappointing her, she showed up anyway. "I still think about that almost 10 years later!"
Simply the Best
It is important to Olmos to give her best, whether she is at the office or on stage.
I am a Chicana or what you may call Mexican American. I am a musician in the Chicano/Tejano market, where women musicians are rare. My dad told me and my sister, 'You are going to have to work harder than anyone else. This is a man's world, and you are women. Being good is not enough, you have to be great.' He was right. Those words are why I produce the best work both on stage and at work for Tarrant County College.

Mariza Olmos
Editor's Note: Photos used in this article were taken by Tom Vilaysack and used with his permission.