Paving the Way to Hopes and Dreams
TCC Foundation's newest board member is a class act
Adeline Rogers, the newest member of the Board of Directors of the Tarrant County College Foundation, has turned a life lesson into a lifelong mission.
Spending summers in northern Wisconsin, Rogers learned from her grandmother the importance of education as a way to help people reach their potential and build their lives. It was a lesson, she says, that has shaped her life and guided her involvement with Tarrant County College and the Foundation.
"My grandmother admired people who were educated because she felt that she was kind of cheated in that area. She had to drop out of school in the sixth grade because she had to care for five siblings after her mother died. One of the things she would always say to us is 'Would you want someone else to do that to you?' That made a big impression on me then. It always has," Rogers said. "And I also strongly believe in education as a way out of poverty and a way to fulfill your dreams, to make a life for yourself and your family."
As an ongoing student, educator and supporter of TCC since she took her first class in mediation at TCC Southeast, Rogers has had a first-hand view of how the College serves students and, in turn, how students, alumni and the community can help TCC fulfill its mission.
After several years, she began pursuing a degree in Horticulture at TCC because, she says, "My grandmother was one of those people who had a natural green thumb. We used to tease her that she could grow rocks. So, I decided to go back to school for to study Horticulture to honor her." After studying at TCC Northwest, Rogers graduated with an Associate of Applied Science in Horticulture in 2007.
While studying in the Horticulture program, she saw how much impact the program had on her fellow students and how many of them used it to shape their lives and futures. Rogers was especially impressed by the passion and interest of many part-time students because "they were people who were dedicated and who were working. But they had a real love for horticulture. They saw the program as a steppingstone to a professional future in horticulture," she said.
Since 2017, her focus has been on increasing her involvement with the TCC Foundation and developing her interest and skills in art.
I'm a student again. I've come full circle. I guess it's in my blood to be in education. I am taking art classes and I have started a program to share student art with visitors, faculty and staff on campus.

Adeline Rogers, TCC Foundation Board Member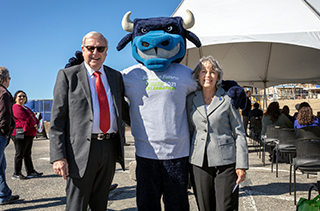 Rogers is taking art classes at TCC South while also shining a spotlight on the work of her fellow students. She works with the Fine Arts department and school administration to select, frame and display charcoals and oil paintings in the President's Conference Room and the administrative offices. Since instituting the program in 2020, she has put the work of eight students on display. The showings usually last a full semester.
True to form, she sees the art program as serving a higher purpose. "It gives me a lot of joy to see their eyes light up. They're honored, of course. But it also is a way for visitors to campus to see the quality of work that some of our art students are producing," Rogers said. "The campus president and dean have a lot of people who come to their offices. I hope that it can be a way to influence them to support students through scholarships or one-time gifts."
Rogers' work with the TCC Foundation began in 2016, when she volunteered to review and evaluate scholarship applications. In November 2021, she accepted an appointment to the Foundation's Board of Directors as a way to more directly impact the College and its students.
Rogers believes her past work as a volunteer benefits her in her role on the board. "I developed a better and broader understanding of the kinds of financial, family and personal challenges they were facing. And, in some cases, I got a real sense of their dreams and the kinds of lives they wanted for themselves and their families. It was very fulfilling, and personally very valuable because I think an awareness of other people's situations is important. It gives you a broader perspective of life in general, like walking in another's shoes."
Rogers' interests are reflected in the service areas she will pursue on the Foundation Board. She has volunteered for assignments to the Scholarship, Eliminating Barriers and Governance committees. She also will become a more prominent champion for TCC in the community.
"I would like to help to get the word out about the College and the Foundation as a way to attract more interest in and support for the students," Rogers said. "I want to attract more donors because that will allow us to support more students through additional scholarships and other forms of aid. In the larger picture, it means a better quality of life for all of Tarrant County because it only helps Fort Worth and the County to have more and better qualified workers to contribute to a more prosperous life for all concerned."
Rogers' "larger picture" also includes a special benefit for the College: a greater appreciation of and respect for the school itself. "I would like to see the alumni have more pride in TCC. It's not just a community college. It's an institution that offers a lot more for them. It offers dignity to students' accomplishments, and, ultimately, it offers a way for them to fulfill their hopes and dreams."
Visit the TCC Foundation website to get more information about the TCC Foundation or make a gift for student scholarships at TCC.