Extending Community Outreach and Enrichment
TCC's Community Education and Engagement Takes a Fresh Look at Courses Offered and Where
In the beginning, it was the CC—Community Campus—the name founding Chancellor Joe B. Rushing gave to the administrative structure for noncredit courses. As it expanded more into workforce and business training, it became CIE—Community and Industry Education. More recently, the workforce component was moved under the academic umbrella, and it became CEE—Community Education and Engagement.
The constant in this parade of acronyms was the "C," standing for "community," and the CEE offices on the campuses have embraced that role. "It's like we're going back to our roots," said Executive Director Carrie Tunson at TCC Southeast.
The change in alignment was announced last June to the campus vice presidents of CIE, now titled the executive directors of CEE, by Executive Vice Chancellor/Provost Elva LeBlanc. Explaining the move in a recent statement, LeBlanc wrote, "In terms of the big picture, we wanted to continue being relevant and to provide a more consistent student experience for our workforce training. The vocational programming was put under the academic division deans to closely align with credit programs and provide stackable credentials along career pathways for students ready for workforce specific training.
The Community Education and Engagement division was created to support the unique needs of each campus and its service area while also collaborating to develop and provide consistent, quality programming across the College.

Carrie Tunson
Executive Director, TCC Southeast
It was a parting with some sweet sorrows. Old friends like ESL (English as a Second Language) and Office Careers—and the faculty attached to them—moved under the campus vice presidents for Academic Affairs, leaving CEE with a much smaller staff and portfolio.
"There are two primary areas we are to focus on," said Robert Munoz, CEE executive director at TCC Trinity River, "the first being college and career readiness and the second being personal enrichment."
The five executive directors, however, have largely taken a lemons-to-lemonade approach. "One door closes," mused Munoz, "and another one opens."
Actually, that other door has been there all along, only much less evident. Avocational, personal enrichment courses for children, adults and seniors that were the bedrock of non-credit education for decades and were generally known as "the fun stuff" now appear primed for a renaissance.
The college and career readiness piece, Munoz said, includes well-established programs such as high school prep, GED and large swaths of the College for Kids program such as STEM (science, technology, engineering, mathematics) camps. "It gives us a great range," he said, "working with groups as we have throughout the District—Junior Achievement and others. "But this (personal enrichment) is the area now that we're going to start pushing and exploring more because we were so busy with the workforce and ESL. Now we're going to kind of experiment with other things."
In other words, that door is wide open to innovation. "If you're a dreamer, you can make it happen," Tunson said.
TCC Trinity River, for instance, has connected with the City of Fort Worth's Community Engagement Office for some "Lunch and Learn" sessions on city government. The three sessions last fall found an audience not only of community members, but also of Trinity River faculty, staff and students. "The feedback we got from those who attended was very good," said Ruth Assi, the city's community engagement liaison. "In fact, we're already talking about doing another series in the summer. The topics would be similar, but we'd be doing it with some of the youth groups in the summer camp."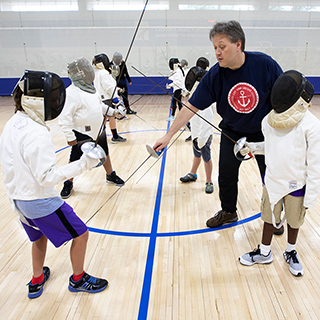 That activity would fit right in with what seems to be a makeover for College for Kids (CFK), the highly successful summer program that began on TCC South in the 1980s. "I don't want to say it's becoming more intentional," Munoz said, "but it won't be the traditional three-week program. Instead we'll be looking at some STEM-related classes or week-long activities that may have a stronger impact career-wise."
Terry Aaron, who moved over to TCC South from TCC Southeast last year, is providing outreach with the group that knows her community as well as any—pastors—and meeting with them to identify what CEE can do for their congregations. "They say they need a lot of financial literacy," she said. "They need help to get their community back to work—job training."
But Aaron is asking the group for more than advice. In a turnabout, she is passing the collection plate, asking the pastors to sponsor children in their congregations to attend College for Kids. So far, she's received about $3,000 in donations. And she's not stopping with pastors. She's contacted area mayors, including Forest Hill's Gerald Joubert, about sponsoring kids for the summer program. Plus, she's expanding CFK from one session to two and has retained the three-week format. "It's my big push," she said. "I love College for Kids."
TCC Southeast is broadening its scope in Senior Education, going into assisted living centers to deliver programming. "We're doing 'Urban Line Dance' and 'Planning Your Funeral,'" Tunson said. "They think this is the best thing since they invented cheese. So, this door really opened up for us."
TCC Southeast is also serving a fairly new youth market. "Our home school program has exploded," said Vickie Vacochia, coordinator of community education for TCC Southeast.
Parents are looking for alternative methods to teach their students, and as a result, we've almost doubled the program. These kids are being very well educated by their parents, but they're missing one key component of life—socialization.

Vicker Vacochia
Coordinator of Community Education, TCC Southeast
At TCC Northwest, the push is toward what CEE's Kirstin Cooper calls "a more robust College for Kids." As with TCC Trinity River, TCC Northwest has adopted a schedule of week-long camps—two levels of "Lego Robotics" and the ecoenvironmental "Teen vs. Wild," an outdoor immersion course. Partnerships are a big part of the summer youth enrichment program, with the Fort Worth ISD's Vital Link and the YMCA sending students.
But the campus is looking to move beyond the summer and possibly offer programs during times like Spring Break and Thanksgiving week. "There are other opportunities besides the summer when parents are looking for their kids to be involved and not just stay at home," said acting Community Education Coordinator Rachele Montero. "We're working with Vital Link and the YMCA, and I have a conversation coming up with Campfire First."
Kenya Ayers has been president of TCC Northeast only since July, but is well aware of its rich tradition of community education. "TCC has enjoyed a long history of engagement with its surrounding communities," she said. "Our intentionality in that regard is embodied in one of our three organizational goals. At TCC Northeast, there is excitement for the direction that the College has taken that affords an ability to carve out a dynamic set of offerings to truly meet the expressed needs of members of our community."
While it may seem a case of everyone for themselves, it's actually the reverse. "We're not in competition with each other," Munoz said. "We're looking at what we can share, but there are also those opportunities to do something unique to our neighborhoods."
"The silos have come down," Cooper said. "Our teams are so small that we have to work together. We're small, but mighty." Tunson, as the senior member of the CEE directors, takes the long-term view: "We will still be major forces in our community."
Learn more about program offerings through TCC's Community Education and Engagement.