25 Years Strong
Tarrant County College recently celebrated the 25th anniversary of the Registered Dental Assistant (RDA) program at the Northwest Campus.
Laurie Semple simultaneously celebrated her 25th anniversary as program coordinator, having been with the RDA program since its rebirth in 1990.
The program, which prepares students to work as registered dental assistants in just six months, closed as a credit program in the mid-1980s due to lack of enrollment. Not long after, the lack of qualified dental assistants in Tarrant County became evident and very few proprietary schools were available at the time to step in.
Locals turned to Tarrant County Junior College to fill the void. In 1987, the Fort Worth District Dental Society officially requested the TCJC program start back up due to the dry pool of applicants and difficulty recruiting.
Edward Hahn, local dentist and member of the Fort Worth District Dental Society, advocated the need for dental assistants to Ardis Bell, then board vice president for TCJC.
"We were in desperate need of qualified dental assistants," said Hahn. "I reached out to Bell in hopes that he could escalate the discussion. Thank goodness he did; we were relying on TCJC."
Bell and Chancellor Joe Rushing reviewed the request, sending Hahn a letter confirming conditions had changed and the need for dental assistant program was clear. Discussions began between TCJC and professional dental organizations in 1988.
The need for a comprehensive program became even more dire that year when legislation mandated dental assistants be registered, making qualified assistants even harder to find. Very few assistants met these requirements.
Julie White was one who could not. "I had been a dental assistant in the '80s before state registration was required. Back then, you were trained on the job," she explained. "When I decided to go back into the dental field, everything had changed."
She later enrolled in TCJC's RDA program.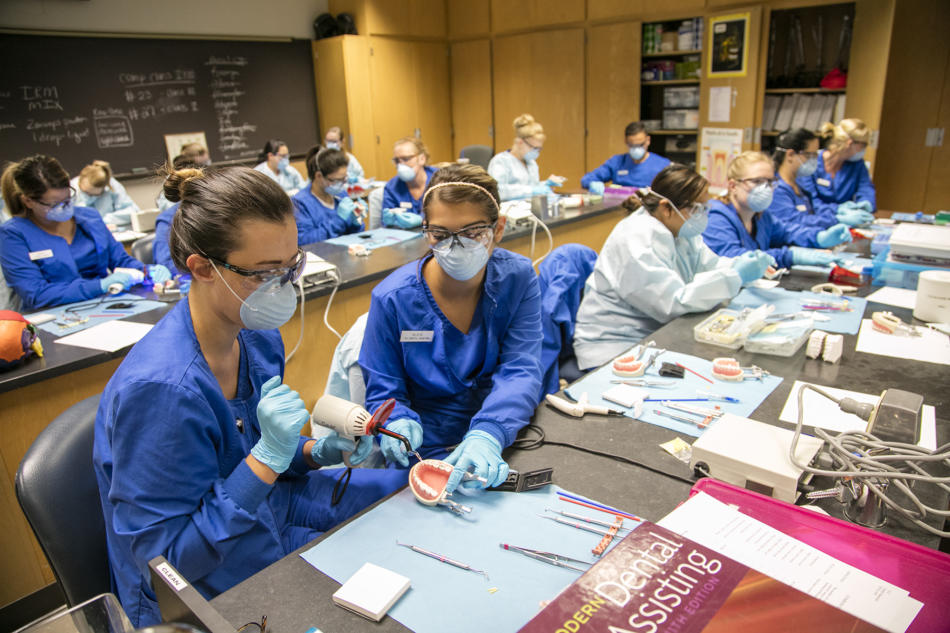 In November 1988, the Auxiliary Education Committee of the Fort Worth District Dental Society joined efforts with TCJC and formed the first committee, which vowed to increase both the quality and retention of applicants. Dental instructors were not available, so members of the Fort Worth District Dental Society volunteered to help make it work. Laurie Semple was recruited to lead the program.
"I was approached and hired immediately as the only program coordinator since 1990," Semple said. "I first became interested in dental work during a work-study program in high school. Dental assisting is my life."
Semple came from Michigan with experience in developing a dental assisting program. Her multiple certifications combined with an associate in applied science, a bachelor's in allied health and a master's in educational leadership, made her passion for dental assisting and education evident to TCJC.
Semple, along with periodontal assistant Vicki Turner, rewrote the entire RDA program. Turner and Sandy Jones, general chairside assistant, brought the clinical experience. Semple provided the educational component, writing course curriculum and objectives, and designing lab setups.
As a former dental office manager and member of the Dental Assistant Advisory Committee that developed state certifications, Semple brought certification knowledge with her, allowing TCJC to offer the Registered Dental Assistant Certification and Nitrous Oxide Monitoring Certification. The RDA program reopened under Continuing Education, now Community & Industry Education (CIE), in fall 1990 as a 16-week course that included both didactic and clinical instruction with lecture, lab and clinical sites.
"I don't see how she did it all," said White, now an adjunct professor herself. "She still puts in so much time and energy to make sure the students have the knowledge they need to succeed.
Laurie considers each student a reflection of herself and the program -- it's not just a job to her.

Adjunct Professor Julie White
TCJC graduates became eligible to take the TSBDE RDA and Nitrous Oxide Monitoring certifications upon completion of the RDA program. TCJC students graduate with 22 weeks of extensive training, state certifications, all immunizations and comprehensive experience, entering the workforce at a higher level and as attractive potential candidates.
"We were a leading dental assisting program, on the forefront of industry standards since the beginning," Semple said.
In 2009 the program expanded even more due to legislative updates. Semple did a technical program review that year, pulling info and data to bring in more upgrades and technology to meet industry standards.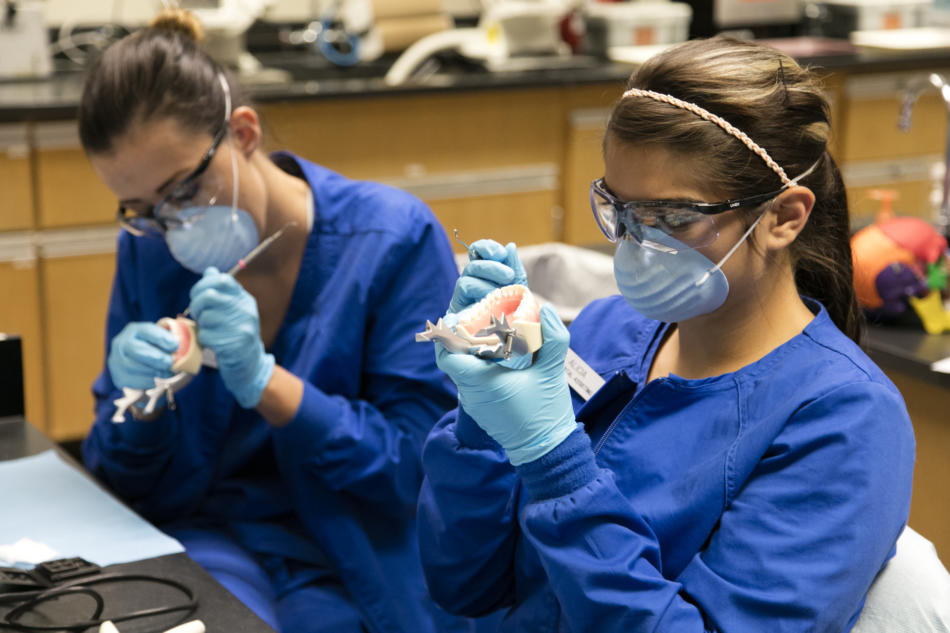 "Under Laurie's guidance, we continually update and expand our program to meet the ever-changing advancements in dentistry," said Seena Ferguson, TCC dental assisting instructor.
Today, the program offers two 20-member classes in the fall and spring semesters. The 22-week program includes a six-week clinical where students go out to clinical sites within Tarrant County.
"The expectation is to integrate students as a member of the clinical site team," Semple explained. "The pairing needs to be a win for the clinical site and a win for the student. We have a good retention rate."
Karen Medina, adjunct instructor of dental assisting, agrees, "I graduated from the program in spring 2013. I chose TCC's RDA program because it had a good placement rate for dental assistants and offered the most for my money."
In spring 2015, TCC had seven new clinical sites, six of which hired TCC graduates that year. Semple's goal is to acquire five new clinical sites per year.
"Dentists want our students," Semple said.
Farah Tashakori, one of the first graduates of TCJC's revised RDA program, was hired into her clinical site.
"My clinical was with Dr. Roger Bohannan, who hired me right after graduating in 1990," Tashakori said. "He and my manager were so patient while I worked to improve my English--they treated me like family. Dr. Bohannan lives by the same values we were taught at TCJC, treating his patients as he would his family."
Tashakori has continued to work for Bohannan Dentistry for 25 years and still feels that dental assisting is perfect career for her.
Preparing students for the workforce in six months has a positive impact on the local community and business sectors. The program creates economic growth through increased workforce in the allied health field and through partnerships with clinical sites, advisory boards and community organizations.
Knowing the impact her students and staff have on the workforce community, Semple encourages them to operate on a level of excellence and professionalism that prepares them for the field.
"Laurie treats students like adults and instills the professionalism that is a part of her work ethic in them," Medina said. "I think this is what makes a TCC dental assistant graduate stand out from the rest."
Service learning is important to the program as well. In addition to volunteering at area high schools and Districtwide health fairs, RDA students volunteer for rotations at Dental Health for Arlington, providing dental assistance to the underprivileged.
The program also collaborates internally through ongoing partnerships with Child Development, Dental Hygiene, EMS and Pathways on the Northeast Campus.
"Dental assisting is all about people--you have to be a people person," Semple said. "In addition to technical skills, we teach soft skills…like communication and teamwork."
We learned to look at the patient as a member of the family. The TCC instructors taught us to work with our hearts, not just for money.

TCC Alumna Farah Tashakori
Several RDA instructors were former RDA students themselves. "Having former students on our staff enhances the program--they've been in the students' shoes," Semple said.
Ferguson explained, "My favorite part of the job is watching students grow throughout the semester. In the beginning, students have a 'deer in the headlights' look, but by the end of the semester, they are confident in their abilities and ready to take on the dental world."
The RDA staff, currently a group of six, has a great deal of clinical experience and formal training.
"Laurie has brought together a group with diverse backgrounds. We all love dentistry, but each have strengths in specific areas of our field," Ferguson said. "We continually grow in knowledge about our particular classes, but diligently work to blend our strengths to provide an exception educational and hands-on training experience for our students."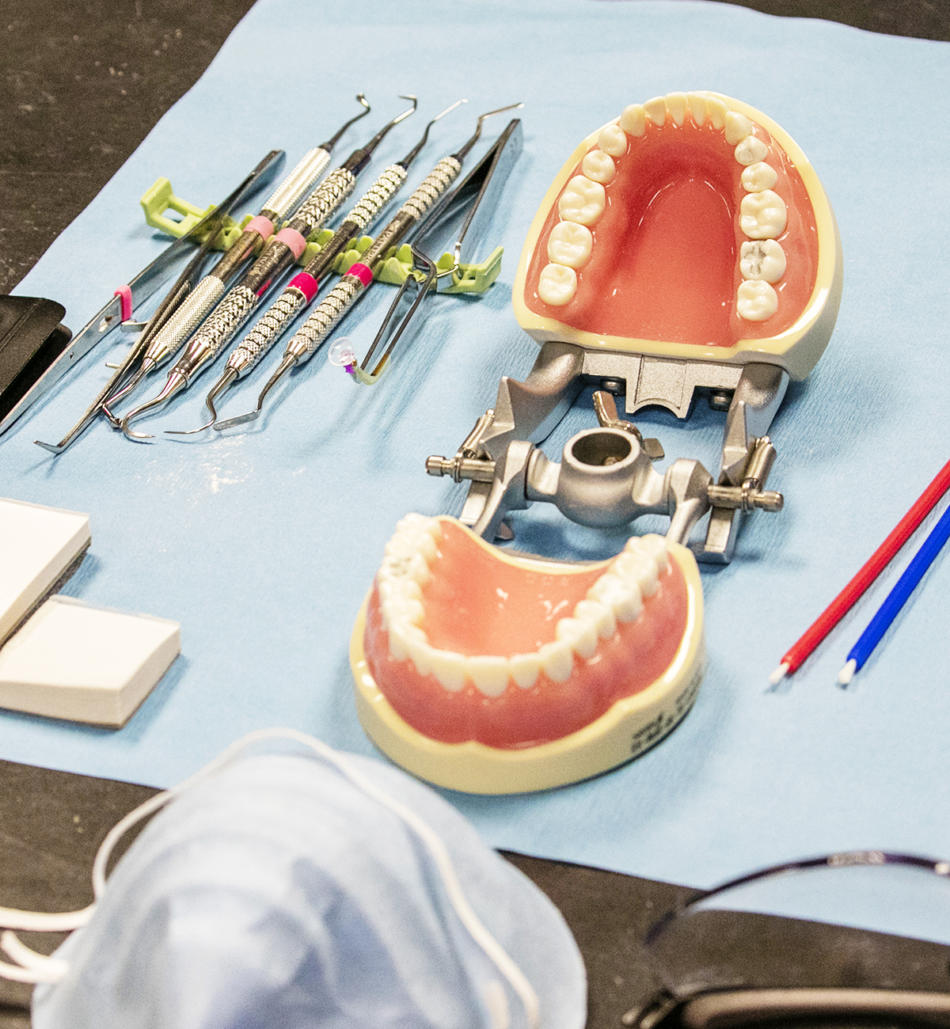 Semple and her staff entourage students to affiliate with local dentists by joining professional dental organizations. Semple is working to start a student chapter of the American Dental Assistants Association. She will be the advisor, and students will be encouraged to get involved.
Semple, in partnership with TCC's Dental Hygiene program, was awarded approval to offer Pit and Fissure Sealant and Coronal Polishing Certification courses, in addition to the program's two existing certifications, through the Texas State Board of Dental Examiners.
"This is huge!" Semple claimed. "North Texas is very limited in these courses."
The 25th anniversary of the RDA program is a monumental moment for Semple, whose driving force is a level of excellence that, according to Hahn, her staff and students, she has achieved.
"Laurie is a true champion of the dental assisting program," said Medina. "She made the program what it is today. She is well known and respected in the field and does not expect anything more of you than she would of herself."
Tashakori agreed, "Whenever I mention Laurie I still cannot explain how wonderful she was. Coming from Iran, I struggled with my English and understanding the program, but she was so patient and will always have a special place in my heart."
After 25 years, Semple has not stopped serving and learning. She completed the TCC Leadership Program and now sits on the eLearning advisory committee as the CIE representative.
"These 25 years have been so rewarding," Semple said. "I'm truly blessed to live out my passion every day."