The Rapidly Changing News Landscape
TCC Prepares a New Generation of Multi-Channel Fact Finders and Storytellers
Fake news. Social media. Technology. Digital influencers. The 24-hour news cycle. These trends—some new, some old—have left an indelible mark on the news media landscape. Gone are the days of waiting for the morning newspaper or evening newscast to learn about local, national and world events. Now, information is at everyone's fingertips, minute by minute and across different formats, devices and technologies. Thanks to technology, people expect to get their news in real time.
As a result, traditional media outlets like newspapers, TV and radio continue to expand their digital extensions to keep their audience engaged. Traditional reporters and news personalities are being replaced with "influencers" and regular people. Social media, which is the main source of news online, allows anyone with a mobile device to "break" a news story if they are in the right place at the right time. There are more than 2.4 billion internet users, with nearly 64.5 percent receiving breaking news from Facebook, Twitter, YouTube, Snapchat and Instagram versus traditional media.
This dynamic, through which anyone with time and a "gadget" can become his or her own media channel, has caught the attention of newsrooms and journalism schools across the country. A new generation of students is following the siren song that is the reporting and storytelling power of social media and other technological advances. To meet this growing demand, many colleges and universities have revised curricula to help teach students how to move fluidly from one medium to the next.
"Good 21st century journalists need to be platform-neutral, meaning they need to understand how to tell stories in any format: text, video, audio, photos and even graphics," said Chris Whitley, director of student publications at Tarrant County College and advisor for The Collegian, TCC's student-run newspaper. "They can't always do everything, but the ones who are the most versatile are also the most marketable."
Underscoring the College's commitment to being a premier institution that prepares students for jobs of the future, TCC offers journalism courses that are responsive to its students, community and the industry. Roughly 200 students register for journalism classes across the District each semester, and many have gone on to work for reputable news organizations throughout the country. And since 2015, The Collegian has won more than 200 awards from state, regional and national organizations.
"TCC presented me with the unique opportunity to figure out what I wanted to do in the media field," said Selby Lopez, digital sports producer for The Dallas Morning News and Dallas Wings beat writer. "While at TCC, I dabbled in the announcing field, scriptwriting and other things before eventually growing attached to print/digital media. TCC gave me all the tools I needed to experiment in various fields to figure the best fit and trained me in the basics of newspaper writing through The Collegian."
In his current role, Lopez posts content sent in by various writers, creates headlines for those stories, promotes them across The Dallas Morning News' social media platforms and refreshes content to enhance engagement.
Like Lopez, journalists have to deal with the rise of fake news—stories or hoaxes designed to deliberately deceive readers on social media—which is harming the credibility of journalism across the globe. News organizations, tech companies and scholars are trying to figure out how fake news travels and why some people believe it enough to seek it out. What can reputable journalists do to fight the spread of fake news?
I think the most important thing is to only put out information in stories or social media when you're sure it's true or you've heard it from a reliable source. I think one of the things our audience can't stand is when people go on social media trying to make more of a situation than it really is.

Selby Lopez
Digital Sports Producer for The Dallas Morning News and Dallas Wings beat writer
Whitley added, "As a journalist, I'm always interested in the source material. If a fact has been passed along that looks sketchy, I want to know where that fact originated, particularly if that's central to understanding something important. If I can't verify that fact either through a hyperlink to the original reporting or a Google search to trace it, then I can't take that fact seriously."
In today's news environment, more than ever before, journalists need to practice the art of fact checking, which has become more difficult to handle in the era of fake news. The pressure is high for journalists to get the facts right in modern news, which is why TCC instructors are committed to training students to think like independent fact checkers.
"Our students are clearly instructed on research as well as ethical and legal accountability in the Web Age," said Brandt Sleeper, chair of the Communication Arts Department at TCC Northeast.
It is a delicate balance of objectivity in getting information from multiple sources to get diverse viewpoints and confirm facts.

Brandt Sleeper
TCC Northeast Communication Arts Department Chair
Sleeper's broadcast journalism students also learn multiple ways to verify sources: direct phone research, in-person research and online research, which includes aggregates, blog specialists, user generated content and social media.
Students working for The Collegian are taught the mechanics of a story and how to edit content for accuracy. "Fact checking is the most important facet of journalism behind writing the articles," said Juan Ibarra, editor-in-chief for The Collegian. "If people were to write things without fact checking, who knows what false 'facts' would be spread. All too often, I have seen people share articles from The Onion, a parody news site, because they believe it's a true story. The spread of misinformation helps no one and only facilitates a culture of lies."
As organizations continue to tackle the problem of fake news, people are turning to reporters for credibility, according to a 2019 Institute for Public Relations Disinformation in Society Report in a survey of 2,200 Americans, 46 percent of the respondents said they have at least "some trust" in journalists to provide accurate news and information. Among professions, journalists and college/university professors came out on top. Local newspapers (63 percent) and local broadcast news (62 percent) fared well for perceptions of trustworthiness.
Journalism is about integrity, fake news is not. It is important to distinguish the two. Fake news is rarely a product of reliable journalism. A reputation for journalistic integrity will rebuild the trust of the general public.

Brandt Sleeper
TCC Northeast Communication Arts Department Chair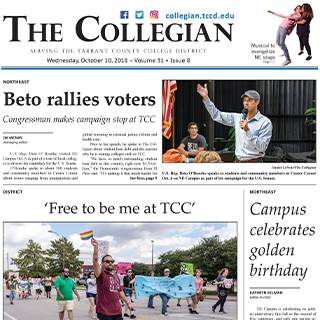 Believe it or not, recent developments haven't been all bad for the hard-news business. Media operations like NPR, FOX News, HuffPost, Politico and BuzzFeed are enjoying strong earnings. The entire U.S. news industry brought in $5.1 billion from digital advertising on 2018, according to the News Media Alliance. News organizations such as The New York Times and The Washington Post have seen a spike in subscriptions since the 2016 presidential election.
Interestingly, the current political climate and the rise of fake news are producing a record number of journalism students interested in becoming writers, editors or TV producers. TCC instructors stress that journalism students may have Republican, Democratic or independent political points of view; however, many will begin to "find themselves" while taking classes at TCC.
When TCC journalism students graduate with a degree or certificate, they join an engaged network of alumni working for some of the most legendary news organizations in the country. "One of our former students, John Harden, who I'm proud to say is one of three former Collegian staffers currently working at The Washington Post, did a story recently using data to figure out how people use the phrase "thoughts and prayers" after tragedies," Whitley explained. "It was remarkable how you can track the changing interpretation of that phrase simply through a data analysis. And that's John's job. He was hired specifically to analyze data. It allows him to see trends based on facts and numbers that sometimes go against the conventional wisdom. I think there'll be more reporting like this in the future."
TCC currently offers students an opportunity to earn an associate degree in Journalism & Mass Communication or Radio & Television Broadcasting/ Broadcasting Journalism, along with two certificate options. "Our students are active in the evolving trends in news delivery," said Sleeper. "In addition to traditional broadcast news formats, several of our students engage in video streaming of weekly podcast shows reflective of the growing interest in this area. We are also in collaboration with the Journalism department to explore opportunities for the creation of media content for online and on-demand news delivery, expanding their traditional print publications."
Students in the Radio, Television & Film program have an opportunity to develop production and performance skills using state-of-the-art equipment. Have a great voice? TCC offers an eight-week Voice Acting & Audio Marketing certification program that prepares students for both on-air and voice-over positions. Voice-over work includes audiobooks, television, radio and public address. Students also learn how to set up a home studio and launch a voice-over career.
Learn more about TCC's journalism program.
Read The Collegian online.
Learn more about TCC's radio, television and film program.