Global Reach
International students at TCC deepen diversity, culture and community.
"Her name is Salwa. In Arabic, it means peace, happiness."
The iPhone passes reverently from hand-to-hand. The group of women admire the baby's dark, curly hair and her expressive, brown eyes. With nodding heads and smiles, and in a patient exchange of Arabic, French, English and Chinese, the women agree: Salwa is a beautiful name for a smart, beautiful baby. The daughter follows in her mother's footsteps.
That mother, Sahar Lateef, immigrated to the United States in 2019, joining her now-husband through a K-1 fiancée visa. At first, the culture shock and language barrier left Lateef longing for the familiar sights and sounds of Iraq. "Everything was difficult for me. Our countries are very different. Lifestyle, traffic, family relationships, customs. And the biggest challenge for me was the language."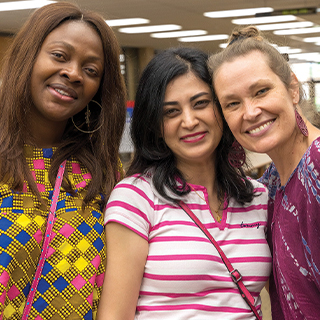 Soon after moving to Texas, Lateef enrolled in English classes at Tarrant County College. In English for Speakers of Other Languages (ESOL), students hone their skills in reading, writing and verbal communication, preparing for college-level coursework in their chosen fields of study.
Janelle Cardenas, coordinator of special projects at TCC Northeast, recognizes their hard work and determination. "English Language Learning [ELL] students come to TCC because they understand that learning English is key to their success. TCC Northeast ELL students are highly motivated and ready to learn."
For Lateef, hard work and determination led to success in ESOL classes, paving the way for academic achievement and scholarship opportunities. With the encouragement of her TCC instructors and writing tutor, Lateef entered the TCC Northwest writing contest Cooking, Culture and Community. Lateef's winning essay "Dolma Memories" shares an intimate portrait of family life as three generations of women prepare a cherished family recipe. The rich colors and flavors of Lateef's childhood kitchen evoke a melting pot of memories.
Food, the Universal Language
Selina Asare, a TCC honors student and mother of four, comes to life at the mention of her favorite conversation topic.
"Food! I miss my African food! I miss my millet porridge, my jollof rice, my banku and okro soup. I miss my plantains. In Ghana we have so many kinds of plantains! The food we eat in Ghana… oh, dried tilapia! I miss my bofrot. . ."
Bofrot, or puff puff, is a traditional, deep-fried donut popular in many West African countries. And for Asare, bofrot was an unexpected catalyst for creativity in writing assignments. Asare's passion for cooking influenced several projects, including a blog for her English class and a cooking demonstration in speech.
But Asare's proudest achievement at TCC is winning the 2021 Juneteenth Contest at TCC Northeast. In her video submission, Asare shares a powerful reading of her poem "Voices of Africa." Dressed in traditional Ashanti Kente cloth, Asare weaves the horrors and heartache of slavery with lyrics from her beloved national song, "Ghana My Happy Home." The poem reveals a profound sense of loss and betrayal, confronting the legacy of racism in the United States.
When asked about her experiences living in this country, Asare admits misgivings about immigrating to the United States 11 years ago. "At first, coming to America was like a dream come true, because back home people envisage America as heaven on earth. However, upon getting here, I realized there's race politics and paranoia. America is hard. There are so many challenges for immigrants, especially the language barrier. Everything is different."
On the surface, international students often identify the language barrier as their main struggle. However, when immigrants like Asare reminisce about their home countries, they reveal subtle (and not-so-subtle) layers of culture shock and isolation.
"Here, you can't really get the taste and smell of Ghana," reflects Asare. "When you go to Ghana, the air you breathe is different. The smell is different. I miss the noise—everyone talking, music. Here it's too private, too quiet. Sometimes you feel very lonely here."
Cross-Culture Connections
Many immigrant students experience a sense of alienation as they navigate the challenges of language and cultural barriers. Juliana Owuori, an ESOL instructor at TCC Northeast, understands the complex range of emotions experienced by students in her classroom. In fact, she relates to their struggles through firsthand experience.
"English is my second language, too. I recognize the challenges of immigration and have great respect for my students' courage and hard work. I love teaching English as a second language to adults because it can change their quality of life here in the U.S. I try to motivate, inspire and build their confidence."
As students develop valuable communication skills, they also discover a new home away from home—an international community of friends. One such community is Cultures of Other Languages, affectionately known as COOL Club at TCC Northeast.
"COOL Club is my favorite!" exclaims co-president Mohamed Yhya. "It's a great experience—a club that brings international students together to share their cultures. It's a place to enjoy English and casual conversation. I really love it so much!"
With his charismatic personality and friendly smile, Yhya is an enthusiastic ambassador for intercultural connections. In 2019, Mohamed immigrated to the United States from Sudan by way of China.
"It's a complicated story," he laughs. "I was studying in China, working on my master's degree in Chinese language when I won the visa lottery. I saw the words congratulations even before I opened the envelope, and I was so happy! So happy!"
Like many immigrant students at TCC, Mohamed is multilingual. He enjoys meeting people from around the world. "As international students, we share the same kind of problems, so being together helps us be successful. COOL Club brings us together to share our cultures. I really love it."
Lateef, the club's co-president, agrees. "I was very excited to have a role in this club. I really want to learn from the new students and cultures. Knowing the new friends … this makes me very happy." It was during a COOL Club meeting that Lateef shared the photo of her daughter with friends.
When asked why students chose the name COOL Club, member Yoonsun Hur laughs. "It's cool. In South Korea, we all learn this word. American slang is very popular."
A classical pianist and director in musical theater, Hur has lived in the United States since August 2021.
"I have been trying to learn English many ways," she explains. Her strategies include watching American TV shows and reading children's books such as Diary of a Wimpy Kid. "The cartoons have short sentences. I can understand easily, but the slang is very challenging."
As a student at TCC, Hur's greatest accomplishments include meeting new people and improving her communication skills. "I can get to know American friends. I get the confidence to talk with them in English. I am very proud."
Recognizing the need for social opportunities on campus, ESOL Instructor Owuori and Instructional Associate Wendi Crandell volunteered to serve as COOL Club advisors. As Owuori observed in her classroom, "ESL/ESOL students are often shy and do not usually get involved in campus activities besides coming to class. I hope this club will prosper and be a tool for community-building."
Owuori hopes were bolstered by the success of COOL Club's first appearance at the TCC Northeast International Festival this year. Herve Boki, a student in one of Owuori's classes, described the event as fostering a sense of belonging: "This is the first time I feel like I'm a part of TCC."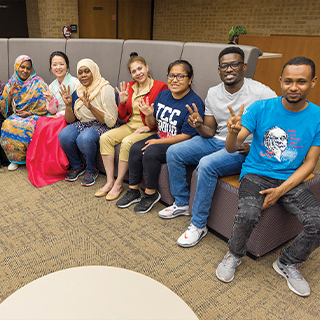 How to Support English Learners
There are a variety of ways TCC employees and students can support English learners.
Provide opportunities for ESL-ESOL students to socialize outside of class. If a campus doesn't have a club for international and immigrant students, consider starting one.
Introduce students to campus resources such as tutoring labs, libraries and recreation centers. Field trips and scavenger hunts help students become familiar with campus services beyond the classroom.
Create interdisciplinary language partnerships. Many international students enjoy practicing English with native speakers. Partnering ESL-ESOL students with students enrolled in world language classes improves learning outcomes for everyone.
Review the many courses our English Language Learning Program offers. Students may qualify for financial aid. Talk to your campus Center for English Language Learners Coordinator.
Learn more about all of TCC's community-building clubs.