Opportunities for academic and personal growth abound for students in the Cornerstone Honors Program, which began at TCC in 1989 with a grant from the National Endowment for the Humanities. As of fall 2012, the program is being offered on five campuses. What started as an interdisciplinary program is now offered as an Associate of Arts degree with seven honors courses.
Currently, more than 200 TCC students are enrolled in the Cornerstone Honors Program. To participate, students must qualify by meeting one of the following criteria:
Top 10 percent high school graduate
Cumulative high school GPA of 3.5 or higher on a four-point scale
ACT composite score of 25 or higher or SAT combined verbal and math score of 1100 or higher
Cumulative TCC GPA of 3.5 or higher, with a minimum of 12 credit hours, excluding remedial courses
Evidence of outstanding leadership ability and/or community service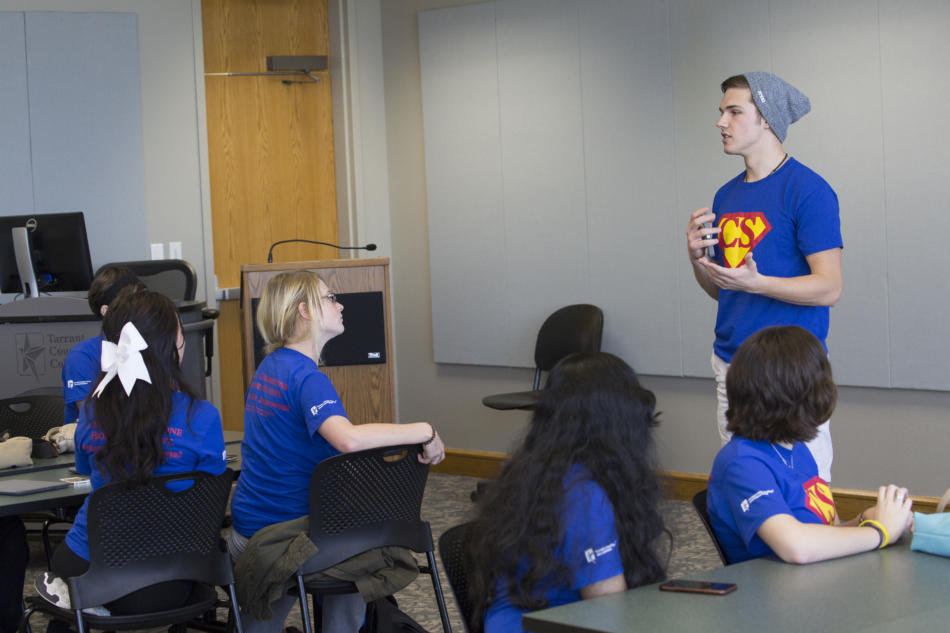 The benefits of participation include honors courses with advanced content, honors distinction on one's diploma and at graduation and Cornerstone scholarships, which provide $500 per year for up to 30 students per campus. But other benefits are available to participants as well.
"Transfer schools want TCC students," according to Lynn Preston, biology professor and co-director of the Cornerstone Program at the Northwest Campus. "Honors students qualify for more scholarships at four-year schools and save money by doing their first two years at TCC."
Thanks to articulation agreements, which facilitate transfers to four-year colleges/universities, the Cornerstone Honors Program maintains strong relationships with a number of local schools. Guy Litton, director of the Texas Woman's University honors program, sings TCC's praises. "Some of the very finest students we've brought into the TWU Honors Scholar Program have been from the Cornerstone Program at TCC," he said. "Our relationship with that program goes back 15 years and in that time, we have brought in more than 30 Cornerstone students."
Universities are not the only schools interested in the Cornerstone Program. Jim Chadwell, superintendent of the Eagle Mountain-Saginaw ISD, also sees the program's value. "Cornerstone students have a strong future ahead, social comradery, community service and strength and confidence," he said. The EMS ISD values the program so much they give three of their high school students who are accepted into the Cornerstone Program a $4,500 scholarship to cover tuition, textbooks and other costs at TCC – a significant benefit for students who might not be able to attend due to financial hardships.
So what sets the Cornerstone Honors Program apart? "When the program was developed, we modeled it after four-year-college honors degrees," said Preston. Other community colleges have modeled their programs after the one at TCC.
Honors students are able attend and speak at conferences such as the one hosted by the Great Plains Honors Council, regional chapter of the National Collegiate Honors Council.
Preston says another benefit for honors students is the opportunity to serve in leadership roles at campus with the Student Government Association, Phi Theta Kappa, New Student Orientation or as student ambassadors. "Once you prove your leadership skills at TCC, it becomes easier to continue to step into leadership roles at a four-year college," he said.
Students participating in the Cornerstone Program see many of these benefits as well. "It builds maturity," Northwest Campus Cornerstone Club President Eliza Calvo said.
Calvo's classmate, Kolyn Lowe, agrees, saying she experienced a huge jump in maturity from her first year in the program to her second. "Teachers have high expectations and you are challenged morally to understand yourself and others around you. It puts your mind in gear." Lowe, who heads to the University of Mississippi in January 2016, will attend with a $14,000 scholarship thanks, in part, to her work in the honors program. She also won a $10,000 scholarship from Phi Theta Kappa.
Moving through the program as a cohort is important to the honors students because of the comradery. "You're spurred on by your classmates," said Izhar Ochoa, who plans to transfer to Dallas Baptist University or Texas Christian University. "You keep focused mentally."
Ariana Rojas, Cornerstone president at the South Campus, appreciates the program for a number of reasons. "I wouldn't be as involved on campus if I wasn't in the program," she said. "I know I wouldn't be working as hard as I am to get into and get scholarships for a four-year university." Rojas also enjoys being part of a cohort. "It really helps when studying to already know everyone's strengths and weaknesses in class. This gives everyone an opportunity to be helpful and you don't get that in other classes."
Cornerstone Honors Program alumni also see the advantages of participating. Southeast Campus alumna, Arvinna Stallmann, recommends the program not only for the scholarships, but also strengthening critical thinking. With regard to her Cornerstone classes, Stallmann said, "I felt free to voice my opinions openly and to participate in class. Those experiences increased my self-confidence, which was the first step in developing better leadership skills." Stallmann, who is currently studying Nutrition at Texas Woman's University, won the Terry Scholarship, which pays all of her tuition with money for additional expenses. She credits Cornerstone with strengthening her résumé, which ultimately helped her win a larger scholarship when she transferred to TWU.
Northwest Campus alumna, Lauren Devoll, also benefited from her time in the Cornerstone Program. "The 2008-2009 recession derailed my college plans," she said.
When I wanted to continue a vigorous education, but wasn't sure how to justify the financial cost, the Cornerstone Program entered as a triumphant hero."

TCC Alumna Lauren Devoll
Devoll, who now works in Washington, D.C. for the National Republican Congressional Committee, attended The University of Texas at Arlington on a full scholarship, thanks to her involvement in Phi Theta Kappa and her leadership experience and studies with the Cornerstone Program. "The work ethic one learns in a collegiate honors program launches a lifestyle that sets one up for excellence, no matter what."