Improving Educational Outcomes in North Texas
Community Partnerships Enhance TCC's Educational Offerings
69 million people.
That's the estimated number of senior citizens, ages 65 and older, expected to live here in the U.S. by the year 2030. The coming Silver Tsunami means there will be major demands on all facets of the health care industry, including nurses. As baby boomers shift into retirement, many more nurses will be required to tend to their health needs. What is alarming is that Texas is expected to be short 16,000 registered nurses by 2030 and this could have a significant impact on public health outcomes.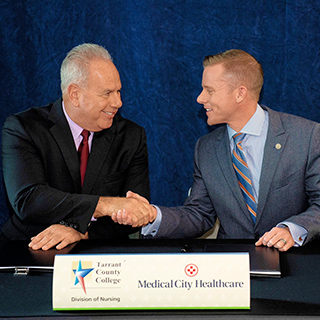 To address the pending nursing shortage, Tarrant County College (TCC) and Medical City Healthcare (MCH) are offering the Texas 2-Step Pathway program, which enables MCH employees to earn an Associate of Applied Science in Nursing through TCC Trinity River Campus East. This first cohort of eight students started taking classes in January. Medical City Healthcare instructors will teach the clinical courses at their facilities, and TCC instructors will teach a series of theory courses at the downtown Fort Worth campus.
This good news is that MCH will pay the employee's tuition, fees, books and uniforms in exchange for a two-year commitment to work full time as a Registered Nurse. This will allow MCH to add more skilled RNs to its own workforce throughout the region.
The collaboration with Medical City Healthcare is important to Tarrant County College's Nursing Program because it strengthens our clinical relationships, demonstrates our desire to meet workforce needs and increases our graduates' employment opportunities in the Medical City Healthcare system.

Tetsuya Umebayashi
Dean of Nursing at TCC Trinity River Campus East
For some MCH employees, this is a once-in-a-lifetime opportunity to fulfill their professional dreams.
"I am grateful for the opportunity granted to me to be able to attend the Nursing program in TCC," said Adilene Silva. "It's a dream to know that in the near future I will be able to gain the knowledge and skills to be able to help and care for another human being. I am living proof that everything can be done if you just believe. I believe that success IS within reach at TCC."
"Getting accepted into the Nursing program at TCC has been one of the biggest accomplishments of my life," said Rachel Kankey. "The skills that I am learning in this program are skills that I will carry with me throughout my entire nursing career. I am so thankful for the affordable educational opportunities that TCC provides."
This unique partnership is just one example of TCC's regional impact. Realizing there is a strong correlation between child care and local economic growth, there is a local movement to improve early education programs and expand to vulnerable populations.
That's because 90 percent of the brain's development occurs by the age of five. How children develop and experience the world from birth to age five sets the stage for their long-term success, which benefits us all.
Investing early in our children has the highest returns for our community and our future workforce.

Michelle Buckley, director of the Early Learning Alliance (ELA)
The ELA is a group of 50 agencies, nonprofit organizations, educational entities and individuals with a vested interest in early learning from birth through age eight. "Many Tarrant County parents need access to affordable, high-quality child care, not only for their child's long-term success but also for their future economic success. Building a connected system of supports for children and families is key for a thriving workforce."
Being exposed to quality child care and early learning experiences increases a child's chances of graduating high school, achieving better health and educational outcomes and earning a higher wage in later years. Unfortunately, too many young children reach kindergarten without the requisite skills to be successful.
"According to the Texas Education Agency (TEA), only 60 percent of Tarrant County kindergarteners are school ready, and only 44 percent are reading at grade level; we know our community can do better," said Lyn Lucas, senior vice president of professional growth for Camp Fire First Texas and vice chair of Early Learning Alliance. "With organizations like Tarrant County College joining ELA, we are even stronger in our effort."
TCC has been training talented educators for decades. Students interested in becoming child care providers or early childhood educators can enroll in the Child Development program, which opened in 1968 at TCC Northeast. What makes this program so popular is the fact that students get hands-on experience working in the Campus's accredited center and lab school. After earning an Associate of Applied Science (AAS) in Child Development, graduates can transfer to one of TCC's educational partners to pursue a bachelor's degree. Additionally, there are three certificates from which to choose: After School Provider, Preschool Child Care Provider and Child Care Administration.
"When families in Tarrant County select a child care center for their child, they can feel confident the centers are staffed with teachers who know how to care for their children," said Lisa Self, coordinator of Child Development at TCC Northeast. "It is very common to run into our graduates throughout Tarrant County working in the field."
Parents are looking for daycare workers to be friendly, patient, competent and dedicated to caring for young children. Effective teachers at the elementary and secondary levels should possess some of the same qualities.
As children continue to develop in various ways—physically, socially, in language and literacy, and cognitively—educators are expected to support their students in all of these areas. "I want to be the kind of teacher who encourages students to achieve their goals and pursue the career path they desire," said Melissa Castillo, education major at TCC Northeast.
Alumni can be found working at for-profit centers like KinderCare or Children's Courtyard, non-profit centers like Good Shepherd Christian Academy, federally funded centers like Head Start and corporate child care facilities such Bright Horizons. Many have opened their own child care centers, either in their home or in a dedicated building.
"Our degree and certificates train child care providers and those seeking employment in the early childhood field on the best practices in developmentally appropriate curriculum, child guidance, teaching, environments; advocating for children; working with diverse families; encouraging healthy growth for the whole child," said Self.
Due to the shortage of childcare workers in Tarrant County, the job outlook for trained professionals remains promising. Employment for preschool teachers, for example, is projected to grow seven percent from 2018 to 2028, according to the Bureau of Labor Statistics.
In recent years, TCC has aligned with several community and educational partners, exposing even more people to its affordable programming. For example, TCC Northeast collaborates with Camp Fire First Texas to host a class for its CDA (Child Development Associate) students, all of whom are potential students for the Child Development Program. In March, TCC began teaching live classes at the Center for Transforming Lives, a Fort Worth organization dedicated to providing anti-poverty programs for women and children in Tarrant County.
Working in the childcare industry isn't for everyone, which is why TCC offers a second pathway. The Teacher Education Program is designed for those interested in working in private or public school settings as Early Childhood-12th grade teachers. Launched at TCC Northeast in 2004, this degree program is the brainchild of Rosa Mendez, chair and professor of the Child Development & Education Program. The Education Program expanded to TCC South in 2009 to accommodate the growing interest in this career pathway. There are four Associate of Arts in Teaching degrees from which to choose:
Early Childhood through Grade 6
Grades 4-8 and Early Childhood through Grade 12 Special Education
Grades 4-8 and Early Childhood through Grade 12 Not Special Education
Cornerstone (Honors): Grades 8-12 and Early Childhood through Grade 12 Other than Special Education
"Teaching is one of the most rewarding professions because teachers are witnessing their students grow academically and are influencing their future to become successful," said Castillo. "I want to shape and broaden students' minds to think critically and creatively." After graduating this fall with an Associate of Arts in Teaching, this aspiring bilingual educator plans to transfer to Texas Wesleyan University to further her education.
Teachers play a significant role in fostering healthy self-esteem and resilience in all learners, which can improve their academic performance.
"School districts find our graduates attractive because students are well prepared to work in an EC-12th grade setting," said Mendez. "We set high standards and expectations for our students."
When alumna Ethel Gallardo Ruano gets her own classroom, she wants her students to feel truly supported. "I want to be a teacher who puts her students before the content," said Ruano, who is currently enrolled at Tarleton State University pursuing a B.S. in Interdisciplinary Studies EC-6 Core Subjects with Bilingual Supplemental. "I want to ensure that I get to know my students so I am able to meet their academic needs," she said. "I will do anything in my power to make sure they are successful inside and outside of the classroom." Ruano expects to graduate May 2021.
Most teachers want to help children, which is why they chose this career path. Once Melanie Kroelinger, a second-year 6th grade World Cultures teacher for Burleson ISD, started interacting with her students, she realized that what she did was so much more.
"What we actually do as educators is nothing less, than change the world," said Kroelinger. "Not the whole world but little worlds every day. Little moments of beauty and triumph and joy through intense vulnerability. That stability and love that they find in a teacher or a subject will change that child's perspective on who they are and what they become for the rest of their lives and the lives that they affect. Every day, every single day I feel honored and blessed to be a part of it."
Throughout the region, school districts are racing to hire more talented educators for their classrooms, with some offering cash bonuses to attract new teachers. Thanks to several partnerships TCC has with local school districts, students are being prepared to serve as change agents in the field.
"We have numerous Early Education students who observe in our classrooms," said Roxanna Latifi, coordinator of human capital management for Fort Worth ISD. "It's exciting to see these students come to us because they know us. Teachers who know the needs of their students, know their community's needs. Each day as they build on those needs, they are building our community's future. We all have to do it together. "
As classrooms become more culturally diverse, school districts are looking to hire culturally responsive teachers ready to make a difference in the lives of young students.
"I did not realize how every student is unique in their own way," added Castillo. "As educators, we must remember that all students have different experiences, cultural backgrounds and learning styles. The program allowed me to construct lesson plans that will meet the needs of students, creating a classroom management plan and writing philosophy statements and so much more."
Depending on the program selected, TCC students can either complete 16 hours of classroom observation in a prekindergarten–12th grade environment within a local school district, 16 hours in community service or service learning capacity at an area organization, 16 hours of observation in an early childhood setting or a combination of eight hours of community service working with children/families directly and eight hours of observation in an approved early childhood environment or EC to 6th grade classroom.
"The 16 hours of field experience have helped me gain knowledge about the classroom setting," said Castillo. "Working with educators allowed me to develop different skills that I plan on using in my future classroom."
After graduating from TCC's Education Program, students can transfer to a university to earn a bachelor's degree and their certifications. Graduates are being hired by school districts throughout the county, with the median starting salary for teachers in Dallas-Fort Worth schools topping $52,000, according to TEACH.org. Currently, TCC alumni are working for Birdsville ISD, Hurst-Euless- Bedford ISD, Fort Worth ISD, Eagle Mountain-Saginaw ISD and Northwest ISD. After teaching for several years, students have options to obtain a master's degree in administration, counseling, library science, curriculum and instruction or education.
"I would like to become a superintendent of a school district, but my main career goal is to become the secretary of education," said Ruano. "I had an amazing mentor, Shereah Taylor [at TCC South], who did not sugarcoat anything about this field. She pushed me out of my comfort zone and allowed me to step out of my shell. I am so thankful for her."
Students learn to create lessons plans, formulate philosophies and construct portfolios. Mendez is proud of the program, its growth and how it's impacted the region.
"I've had numerous students contact me over the years to thank me for the strong foundation they acquired at Tarrant County College in preparation for their teaching careers," Mendez said. Most of the students graduating from the Child Development & Education Program are working in the Dallas-Fort Worth area.
School districts throughout the region are working harder to make teaching careers more attractive by offering higher starting salaries, incentives and expanded professional development opportunities to recruit and retain talented educators.
"Our students in the AAT (Associate of Arts in Teaching) program want to work in the communities they were raised in. They feel the need to go back to the schools and neighborhoods they grew up in and work," said Taylor. There are connections made early on with the community and schools during preservice training, and our AAT students have a strong desire to exact change in their local communities. After leaving TCC, they stay local to complete their bachelor degree and then desire to take their learning into the schools in their communities."
Learn more about TCC's: