Nursing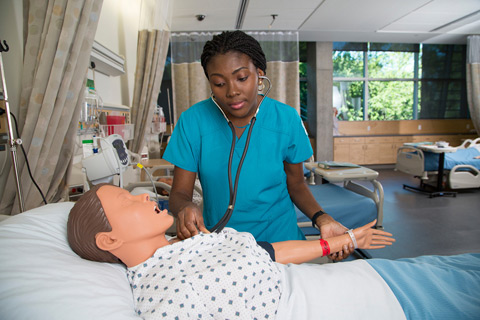 Quick Facts
Nurses analyze data and make critical decisions regarding patient care in collaboration with the health care team. Nurses support, educate, and advocate for patients and their families.
Explore on This Page
Job Titles & Career Info
Our Program
Why choose Nursing?
Have a real, rewarding opportunity to make a difference in someone's life
Work in a trusted, respected profession that offers a high degree of job satisfaction
Be integral to the health of our nation in this high-demand field that has steady employment growth
Choose from wide, varied employment opportunities ranging from acute care to preventative health within many specialties & subspecialties
Prepare for what you will do at work
Give medical care & treatment to ill, injured, disabled, or convalescent patients
Educate patients & their families about their conditions
Work under the supervision of a physician or other specialist & serve as the primary point of care for patients in hospital settings
Follow strict, standardized protocols for your safety & for the safety of your patients
Explore the professional organization
Marketable skills you will learn
Critical thinking
Reasoning
Communication
Personal & social responsibility
Teamwork
Computer literacy
Before you enroll, think about:
Texas Veterans Commission (TVC)-approved
You can use your Veterans Administration (VA) educational benefits to pay for this program.
Questions? See VetSuccess on Campus
Credentials in detail
After you have earned our Associate of Applied Science (A.A.S.) in Nursing, you will be eligible to take the state board examination for licensure (NCLEX-RN).
After passing the NCLEX examination, you will get your Registered Nursing (RN) license.
Selective Admission
Nursing is a selective admission program.
After being accepted to TCC, you must meet the selective admission requirements to be eligible to submit a separate application to our Nursing program.
Get the details on these pages:
Licensing Notice: Texas House Bill 1508
This program prepares you for an occupational license. However, you may not be eligible for licensing if you have a prior criminal history.
For more details, see Texas House Bill 1508 Licensing Requirements
Need a boost to get ready for college?
Talk to your advisor about Developmental Studies if your TSI scores say you need some help in math or reading and writing.
Degrees & Certificates
Degree
Fast-Track Option
Already a Licensed Vocational Nurse, Military Medic or Paramedic?
The purpose of this option is to shorten the program completion time from 24 to 15 months through the credit-by-exam / experience process.
If you can commit to a full-time schedule for 15 consecutive months, consider our Fast-Track Option.
Note: Part-time and evening option are not available.
Transfer
Continuing Education Programs
Accreditation
Our Associate Degree in Nursing Program is:
Approved by the Board of Nursing for the State of Texas (BON)
Texas Board of Nursing
333 Guadalupe #3-460
Austin, Texas 78701
512-305-7400
Accredited by the Accreditation Commission for Education in Nursing (ACEN)
TCC Associate Degree Nursing Program, accredited by ACEN, is located at:
TCC Trinity River Campus East
245 East Belknap Street
Fort Worth, Texas 76102
The most recent accreditation decision made by the ACEN Board of Commissioners for the Associate Degree Nursing Program is Continuing Accreditation.
View the public information disclosed by the ACEN regarding our program.
Accreditation Commission for Education in Nursing (ACEN)
3390 Peachtree Road NE, Suite 1400
Atlanta, Georgia 30326
404-975-5000
Or Graduates & State Licensure
Our graduates are eligible to take the state licensure exam (NCLEX) that, upon successful passage, grants the credential of Registered Nurse (NCLEX-RN).
Our Student Achievement Data
88% (2017): First-time pass rate on National Council Licensure Exam for Nurses (NCLEX)
79%: Student completion rate
90%: Graduate employment rate
How Much Time & Money to Finish?
2022–2023 Academic Year
| Degree or Certificate | Program Title | Hours | Total Tuition & Fees |
| --- | --- | --- | --- |
| AAS | Nursing | 60 | $3,840 |
| FOS | Nursing | 34 | $2,176 |
Notes:
Tuition is based on in-state, in-county rates.
Totals do not include textbooks and other materials.
Continuing Education Programs
Time commitments and fees vary depending on the course.
Earn More Choices & More Money
Transfer to a college or university or pursue concurrent enrollment!
Earning a bachelor's degree opens the door to promotion opportunities.
You can earn your A.A.S. at TCC and then transfer to a college or university to work on your Bachelor of Science in Nursing (B.S.N.).
Or you can choose to work on your B.S.N while pursing your A.A.S Nursing at TCC.
Learn more about transfer and concurrent enrollment opportunities with our partner colleges & universities.
Next steps
Start on Your Pathway!
Contact
Trinity River Campus
Health Care Professions
Advising Resource Hub
Choose your Career Advisor by the first letter of your last name:
A–K: Adrienne Ballard
L–S: Janette Keen
T–Z: Kimberlyn Moore-Debrossard
Call 817-515-1484
Email TR.HealthCareAdvising@tccd.edu
Advising by Appointment
Fall & Spring Hours
Monday–Friday: 8 a.m.–5 p.m.
Summer Hours
Monday–Thursday: 7:30 a.m.–6 p.m.
Updated February 21, 2023