Finding Their Way
Plus 50 Students Find Support
By Rita L.B. Parson
If there was one thing JacQuetta Clayton knew, it was that her experiences equipped her to handle the responsibilities of well-paying jobs that continued to elude her. But she also knew she would never be able to prove her abilities unless she made a change.
"I looked for other work and to my surprise, I was unable to justify a level of pay that I believed I was due based on my experience," Clayton said. "It was then I knew that I needed to obtain a bachelor's degree in order to be compensated for my worth."
Clayton (pictured right) earned an associate degree in her 20s, successfully helped her son maneuver through the professional sport maze and establish a thriving foundation. Yet, she seemed unable to get past her own seemingly insurmountable barrier.
"I became very afraid to enter college because I thought I was too old. I had not been to college for a very, very long time and I did not know if I had what it took to be successful in college learning."
Once enrolled, Clayton's doubts continued. "I was not sure I would be able to adjust my thinking and way of life in order to buckle down and commit to my studies and attend class every day," she recalled.
Her challenges amplified the summer after she returned to college. She sustained major injuries when a monitor fell on her at a public event. "I felt like if I didn't continue, I would let life get in my way and not finish my education," Clayton said. She was determined because as an older, African-American woman, she wanted to be an example for students of all ages that they too can overcome obstacles to achieve their goals.
"Being part of Club: 50+ allows me to see the difference made in individual students' lives and gives me the great benefit of knowing that I'm connected to a true vine of support that is needed in college."

JacQuetta Clayton
"Sometimes I'd come home and just be totally wiped out. I had to press on because I knew how important it was to achieve my educational goals and did not want time to lapse again."
Her perseverance is paying off. "Since getting involved with the Plus 50 Program, Club: 50+ and a few other TCC clubs, I have been able to learn more about the resources and tools offered by the College, helping me to become more comfortable in this educational environment."
Now that she is comfortable, Clayton is helping other older students feel the same way. Last fall, she was the founding president of the Southeast Campus' Club:50+, working to "help other mature students at TCC find unity and school spirit."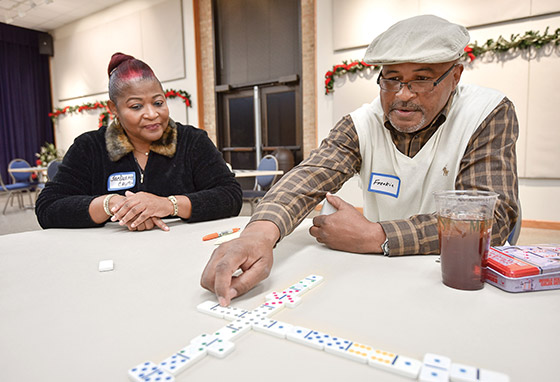 The organization is a primary vehicle that TCC's Districtwide Plus 50 Encore Completion program uses to engage students who are age 50 and older, said Debra Sykes West, Plus 50 program coordinator. She has been involved since TCC first partnered with the American Association of Community Colleges nearly two years ago, joining its effort to train 10,000 baby boomers for new jobs in health care, education and social services.
Early last year, the program got a boost when TCC became the only college or university in Texas to receive a national grant from the AARP Foundation's Back to Work 50+ Program, supported by the Walmart Foundation. Since January 2014, the program has logged more than 700 inquiries and there were 120 candidates in October who were actively engaged in the TCC Plus 50 job search, coaching and workforce training.
Plus 50 students have special support from staff and students on each campus. The Plus 50 Concierge is a designated staff person available to offer guidance and Plus 50 Student Navigators are available to provide peer support.
"I come from a world of giving. I saw the opportunity to help motivate students of my age to find their way and offer guidance for completion," Clayton said. "Being a part of Club: 50+ allows me to see the difference made in individual students' lives and gives me the great benefit of knowing that I'm connected to a true vine of support that is needed in college."