Italy-Inspired Cuisine
Recipes and Tips from Southeast Campus Culinary Arts
Italy-Inspired Veal Piccata
Prep Time: 15 minutes
Cook Time: 10 minutes
Total Time: 25 minutes
Makes 4 servings
(two cutlets per person)
Ingredients
8 small veal cutlets (2 oz. each), pounded flat
1 large sweet onion, peeled and chopped
2 cloves garlic, peeled and crushed
2 tbsp. olive oil
½ cup all-purpose flour
2 tbsp. butter
½ cup dry sherry
1 lemon
2 tbsp. capers
1 cup veal stock or chicken stock
2 tbsp. Italian parsley, finely chopped
Kosher salt to taste
Freshly ground white pepper, to taste
Method
Squeeze juice from lemon and set aside.
To flatten cutlets: Stretch a piece of plastic wrap across your work surface, place veal cutlets on it and lay another piece of plastic wrap on top. Using a meat mallet, rolling pin or similar object, flatten cutlets between layers of plastic wrap until they are about ¼ inch thick.
Combine the flour, salt and pepper on a plate or in a shallow baking dish.
Heat a heavy-bottomed sauté pan over medium-high heat for one minute, then add olive oil and heat for another 30 seconds or so. Add onion and garlic to the pan and sauté until onion is slightly translucent, about 3 minutes. Remove onion and garlic from pan and set aside.
Add butter to pan and heat until it becomes foamy.
Dredge both sides of veal cutlets in flour mixture, shake off excess flour and add them, one at a time, to hot pan. Work in batches if necessary, rather than overcrowding the pan. Cook 2 to 3 minutes per side or until the cutlets are nicely browned. Remove them from pan and set aside on a plate, covered with foil, while you make sauce.
Add stock, sherry, lemon juice and capers to pan and scrape off any flavorful bits from bottom of the pan. Then return the onion-garlic mixture to pan and heat it through, adding a bit more oil or butter if necessary.
Return veal to pan, bring liquid to a boil, then lower it to a simmer and cook for about 3 minutes or until mixture has reduced by about one-third. Add chopped parsley just at the end of cooking.
With a pair of tongs, remove veal cutlets and plate them, two cutlets per person. Adjust the seasoning on sauce with Kosher salt and lemon juice. Sauce generously and serve immediately.
---
Risotto Ai Funghi (Mushroom Risotto)
Cooking Method: Braise
Makes 10 side dishes (4 oz. per person)
Note: This dish usually appears as a first course on Italian menus; however can appear as a main dish if a protein is added.
Ingredients
4 tbsp. (½ stick) butter
1 medium onion, diced
1 ⅓ cups Arborio rice
½ cup white wine (Chardonnay or Pinot Noir)
4 cups (1 quart) chicken or mushroom stock, hot
½ tsp. saffron threads, soaked in 2 tbsp. stock (or ¼ tsp. dried saffron, not soaked)
7 oz. assorted wild mushrooms, sliced
⅓ cup Parmesan cheese, grated
Method
Melt 2 tablespoons of butter in large pan or skillet over medium heat, add onion, sauté until soft. Add rice, stir to coat grains well.
Stirring constantly over medium heat, gradually add wine and ¼ cup of boiling stock.
When almost absorbed, add another ¼ cup stock, still stirring. Continue process of stirring and adding stock as it is absorbed.
After about 15 minutes, add saffron to risotto.
Meanwhile, in separate pan, sauté mushrooms in remaining 2 tablespoons butter until mushrooms release liquid, then add to risotto and continue cooking risotto.
Continue stirring risotto and adding stock until all stock is absorbed. Cook until rice is al dente but sauce is creamy. Add extra stock if needed.
Correct seasonings to taste; stir Parmesan into risotto. Serve immediately, accompanied by extra Parmesan cheese if desired.
---
Spicy Cherry Tomatoes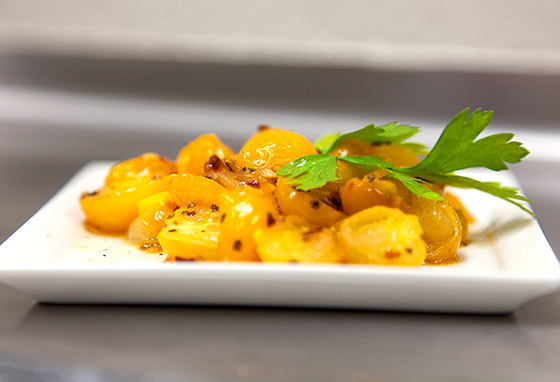 Makes 1 ½ cups
Ingredients
2 tbsp. EVOO
1 pint cherry tomatoes
¾ tsp. crushed red pepper
1 clove garlic, grated
1 tbsp. chopped fresh marjoram (or 1 tsp. dry marjoram)
Method
In large skillet, heat EVOO over high.
Add tomatoes and red pepper; cook until blistered, about 10 minutes.
Off heat, mix in garlic and marjoram
Season to taste; serve as side dish.
---
Sautéed Spinach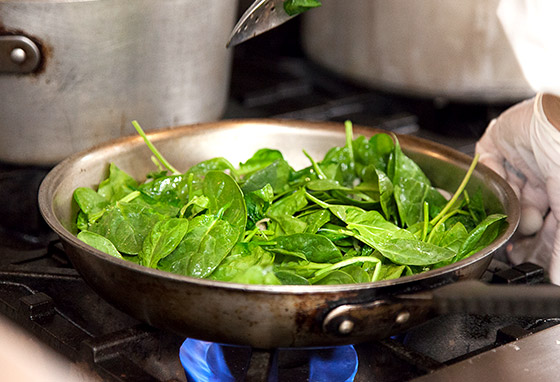 Cooking Method: Sauté
Makes 8 servings (4 oz. per person)
Note: Use this preparation for any type of greens.
Ingredients
3 tbsp. EVOO
4 cloves garlic, minced
2 10-oz. bags spinach, washed, stems removed and coarsely cut
½ tsp. salt
¼ tsp. pepper
Method
Heat EVOO in large sauté pan over medium-high heat until hot. Add garlic, sauté until golden but not burned, about 1 minute or less.
Add spinach, stirring constantly, sauté until wilted and tender, about 4 or 5 minutes. (Enough water should cling to leaves from washing, but, if necessary, add a teaspoon of water to prevent burning.)
Add salt and pepper, correct seasonings.
Serve immediately.
---
Chocolate Drizzled Strawberries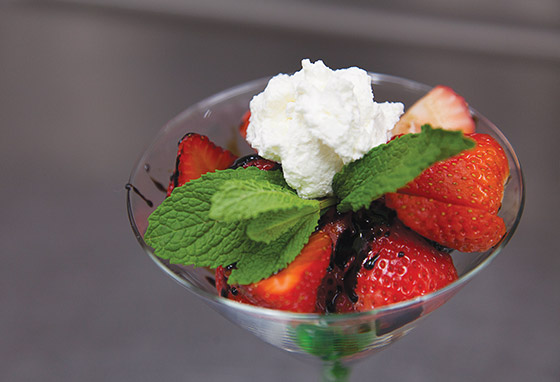 Makes 1 lb.
Note: Make sure all equipment is completely dry. Any moisture on utensils or containers may cause chocolate to seize or stiffen. If this happens, stir in ½ to 1 teaspoon shortening (not butter) for every ounce of chocolate.
Ingredients
3–6 oz. semisweet chocolate bars, squares or pieces, chopped
1 lb. strawberries, washed, stems removed, chopped or halved
Fresh mint and whipped cream to taste
Method
Select preferred method to melt chocolate:

Direct heat: This method is easy and convenient. Place chocolate in heavy saucepan over very low heat, stirring constantly until chocolate begins to melt. Immediately remove pan from heat and stir chocolate until smooth.
Double boiler: This method takes a little longer than direct heat but eliminates the possibility of scorching the chocolate. Place water in bottom of double boiler so top of water is ½ inch below upper pan. Place double boiler over low heat. Stir chocolate constantly until melted. Water in bottom of double boiler should not come to boiling while chocolate is melting.
Microwave oven: Place up to 6 ounces of chopped chocolate bars, chocolate squares, or chocolate pieces in microwave-safe bowl. Microwave, uncovered, on high for 1 ½ to 2 minutes or until chocolate is soft enough to stir smooth. Chocolate will hold its shape after it starts to melt, so stir once every minute during heating.

Place strawberry halves in martini glass or small bowl, use whisk or fork to drizzle with chocolate.
Add whipped cream and mint to taste.
Serve immediately.
---
Tips and Tricks from Southeast Campus