Great Work Pays Dividends
Three Students Win Prestigious Awards
By Laura Hanna
Three students have been recognized for their leadership and academic achievements, but that's not all. They all faced heavy competition and all have ties to Phi Theta Kappa (PTK). Lori King-Nelson serves as PTK president at TCC South, Nathaniel Peoples is co-president of the Beta Sigma Mu Chapter and Lynda Le was named a Bronze Scholar in a program administered by the PTK Honor Society.
South Student Awarded Prestigious Transfer Scholarship
Lori King-Nelson (pictured above) graduated from TCC South in May, knowing her educational career had only started. She graduated with highest honors and now plans to earn a bachelor's degree in sociology and religion, followed by a master's in religion and a doctorate in the sociology of religion.
Thanks to a scholarship award, she will not have to worry about the cost of higher education while finishing her bachelor's degree. The Jack Kent Cooke Foundation awarded King-Nelson a 2014 Undergraduate Transfer Scholarship, which pays up to $30,000 a year for as many as three years. What's almost as nice as winning the award is the way King-Nelson heard the news.
"Our campus president, Dr. Jordan, had tried to find me in class, but my instructor had canceled lab that day because she was ill," King-Nelson said. "Dr. Jordan called me and asked if I could come back up to school. When I arrived at his office, I was told to go to the library. As soon as I walked in, he introduced me to students and then told me I had won the award. I cried. It took a little while to process the information; I kept thinking it could be a mistake because the odds of receiving this scholarship were astronomical."
King-Nelson was selected from the largest group of applicants in the scholarship's 13-year history. A pool of 3,705 applicants from 737 community colleges was narrowed to 85 recipients nationally. She is one of only six students selected in Texas.
Her long-range plans will bring her home to where it all began. "I would like to teach at TCC in the future," King-Nelson said, "As well as create a non-profit organization to educate people on religious and cultural differences."
Distinguished Chapter Officer Award Goes to PTK Co-President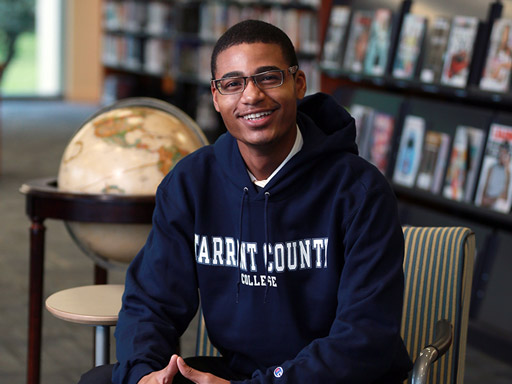 Nathaniel Peoples, co-president of the Beta Sigma Mu Chapter, was selected as one of Phi Theta Kappa's 2014 Distinguished Chapter Officers. Peoples, who attends classes on both the Trinity River and South campuses, was one of 30 recipients the judges selected from more than 450 nominees internationally.
When he was notified of the award, Peoples was happy – but quick to share the credit with others.
"I truly was excited to the maximum," Peoples said. "I immediately told my family about the award and stated, 'Even though I won this award, my officer team helped me achieve this. Without Everett Davis, Jack Roudolph and Candace Eldridge, this would not be a reality today.'"
Peoples, who is studying Business Administration with a focus on Entrepreneurship and Global Innovation, was on hand to accept his award during the national convention in Florida.
Southeast Student Wins Bronze in Academic Competition
Lynda Le, a Southeast campus student, was named a 2014 Coca-Cola Community College Academic Team Bronze Scholar. More than 1,700 students applied and only 50 were chosen.
Students were awarded based on their scores in the All-USA Community College Academic Team Competition.
Phi Theta Kappa Honor Society administers the scholarship program, which is sponsored by the Coca-Cola Scholars Foundation.