Look Who's Here!
Celebrity Appearances at TCC
Bill Cosby
Presented by TCC Foundation
Cosby's September 2013 performance at Bass Performance Hall to benefit the TCC Foundation was a sell out! "An Evening with Bill Cosby" raised more than $210,000 for the Foundation Scholarship Funds, which help students fill financial gaps that could derail their dreams of attending college. Fort Worth-based BNSF Railway Foundation served as presenting sponsor of the event. Sandra and Rice Tilley Jr., along with Linda and Dan Dipert, served as honorary chairs.
Patrick Duffy & The Cast of TNT's "Dallas" 
In October 2013, the cast of the TNT hit series "Dallas" were at Trinity River Campus to film scenes for an upcoming episode. Filming is prohibited in actual federal buildings, so the producers of the show transformed the Trinity River Rotunda into a "federal building." The episode aired on March 3, 2014, featuring not only the Trinity River Campus, but TCC staff as extras.
Wendy Davis & Maria Shriver
Wendy Davis, a TCC alumna and now, a member of the Texas Senate and Texas gubernatorial candidate, returned to Northeast Campus for an exclusive interview with NBC's Maria Shriver for "The Today Show." The interview aired on January 15, 2014, as part of a week-long series of stories highlighting the personal and financial challenges many American women face.
Tommie Smith
Olympic Gold Medalist
In celebration of African-American Heritage Month, Trinity River Campus hosted a film festival featuring 1968 U.S. Olympic Track and Field 200-meter gold medalist and sports icon, Tommie Smith. Following a screening of the documentary "Return to Mexico City," Smith held a conversational Q&A with viewers.
Betsy Price
Fort Worth Mayor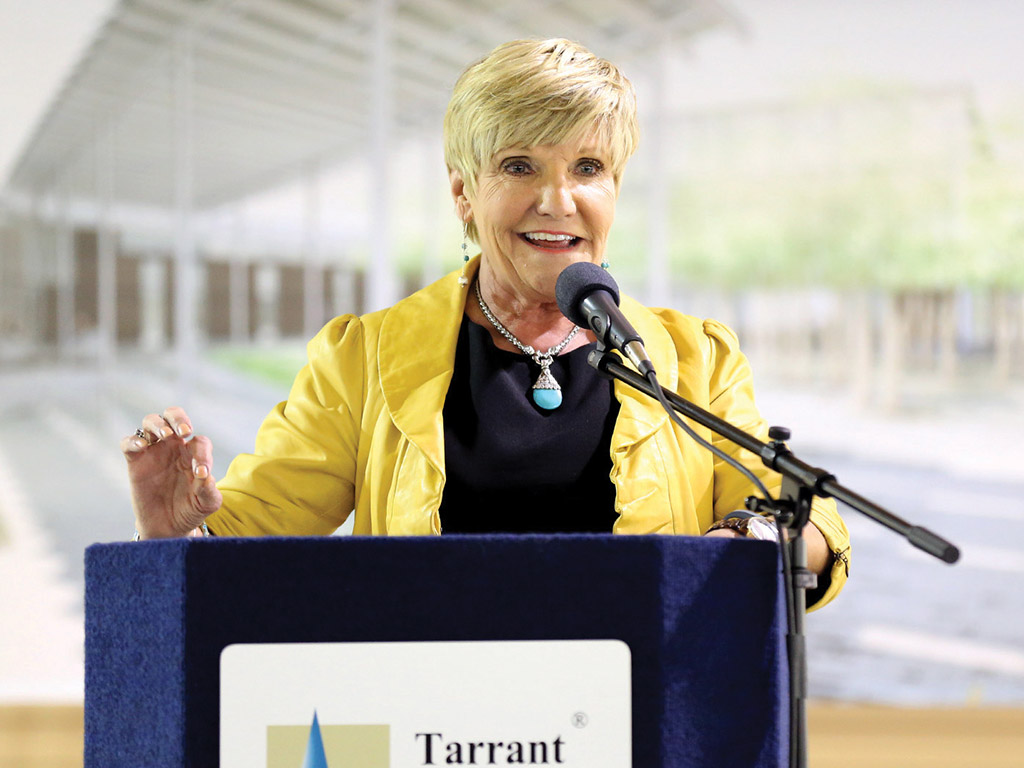 Fort Worth Mayor Betsy Price took part in the groundbreaking of Tarrant County College's new sustainable Energy Technology Center on March 3, 2014, at South Campus. Mayor Price praised TCC for the value it brings to the community and added that she and her three children have all taken courses at TCC. She also spoke at the Northwest Campus "Mile with the Mayor" on April 22, 2014. She discussed her personal commitment to a healthy lifestyle, her Fit Worth program, and then joined in a one-mile walk around the campus lake.