Toro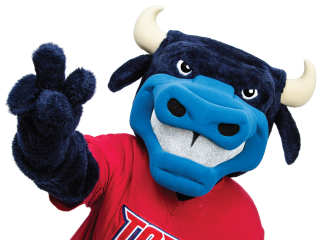 Toro's the name, and I'm now officially a Trailblazer! I'll admit that I'm not like the other bulls in the Fort Worth Stockyards—which is what led me to strike out on my own in search of adventure. Finally, now that I've found TCC, I feel like I fit in.
Tarrant County College welcomed me, Toro the Trailblazer, to the College family as the official College mascot in 2011. Chancellor Hadley invited me to the Employee Appreciation Breakfast and I had a blast! I have the photos to prove it.
I'm hoping to meet the people of Tarrant County, encourage them to go to college, and inspire them to come to TCC. Feel free to invite me to your event!
How do I request Toro at my event?
Requests may include appearances at TCC campuses, local schools, churches, community centers or other events.
Your request must:
Be submitted through the TCC Mascot Reservation Form.
Be made two weeks in advance.
Be within the Tarrant County service area.
Have a maximum of a two-hour time-frame.
Be requested as an enhancement/addition to an event, not as the event itself.
Have an individual on site assigned to serve as the helper for Toro, to meet Toro upon arrival and stay with him through the end of the event.
Provide a room on-site as a changing area.
Updated January 20, 2023