Welcome from the TCC South President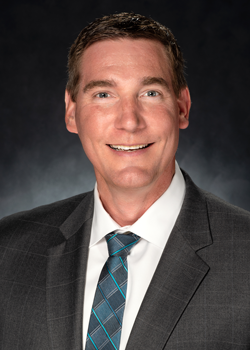 Welcome to TCC South Campus! Given the many choices available to you as a student in higher education, we are extremely excited that you have chosen TCC South Campus as your place for higher learning. I know that you will enjoy your learning experience while attending the South Campus.
As you embark on your educational journey at the South Campus, you will quickly discover that our faculty and staff work efficiently and effectively for the sole purpose of serving the students and helping to make a difference in your lives, and together we ensure that you are prepared for further education and productive careers.
Producing career-ready graduates is at the core of our mission. Through the process of learning, you will receive the requisite skills and knowledge to enter directly into the workforce or transfer to a university of your choice while working with our faculty that are highly skilled instructors and experts in their fields. Furthermore, our employers will have access to a knowledgeable and skilled workforce, and our communities will benefit from the personal investment you have made to enhance the quality of life in our region as you become leaders in your careers, leaders in your families, and leaders in your community.
Here you will find a place that opens its doors to all individuals who are eager to learn, in an environment where ideas are openly exchanged, and diverse perspectives are respected and appreciated. We know that employers want people who are highly skilled, able to critically think, problem-solve, communicate effectively, and able to work in teams. Engaging in discussions on social justice, diversity, equity, and inclusion is encouraged on the South Campus to help you develop a literate worldview as well as diverse perspectives. Developing these skills will not only help you achieve your academic and career goals but will offer you opportunities well into the future.
Finally, we work very hard to offer our students attractive, well-equipped 21st-century classrooms and labs to learn in and have award-winning programs not found anywhere else. Tarrant County College was recently ranked Number 1 in the nation among U.S. community colleges and trade schools, according to the 2021 Trade College Search. TCC earned 24 different awards in this year's ranking, at the South Campus these include:
#1 in Best Architectural Engineering Technology Associate's Degree Trade Schools in the Southwest Region
#1 in Best Construction Engineering Technology Undergraduate Certificate Trade Schools in Texas, including welding
#1 in Best Electronics Engineering Technology Undergraduate Certificate Trade Schools in the Southwest Region
#2 in Best Mechanic & Repair Technologies (or automotive and collision) Trade Schools in Texas
#2 in Education in the state of Texas according to the U.S. Department of Education College Score Board
Also, our award-winning Script publication provides a journal of literature and art, in addition to our outstanding dance, drama, art, and music programs. The South Campus offers exemplary programs in the physical and biological sciences, mathematics, psychology, philosophy, and English to name a few, with highly accomplished faculty.
Complementing our outstanding faculty and award-winning programs are our dedicated Student Development Services (SDS) staff who are ready to help and guide you through the educational process. Be sure to explore the many resources available through SDS and call or stop by one of the many offices, such as our Family Empowerment Center, to get the assistance you need to succeed.
In the end, we want our students to excel. It is your dream of a better future that motivates me and our entire staff to carry out our work as educators. For these reasons, we are glad that you have chosen TCC South Campus to achieve your educational and career goals.
My sincere best wishes for success as you pursue your educational and career goals at TCC South Campus.
Daniel W. Lufkin, Ed.D.
President, TCC South Campus
Updated January 20, 2023