Chancellor's Award for Exemplary Teaching
Presenting this year's winners of the Chancellor's Award for Exemplary Teaching.
From arts to STEM, the 2022–23 recipients of the Chancellor's Award for Exemplary Teaching represent a range of fields. These TCC faculty also share important characteristics: an outstanding approach to instruction, commitment to scholarly inquiry and dedication to service.
---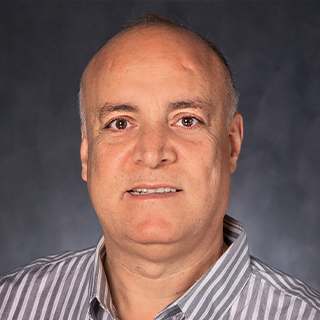 Mohamed (Mo) Chehbouni
Professor of Chemistry
TCC Southeast
Mohamed Chehbouni—known as Dr. Mo—does whatever it takes to ensure student success. Chehbouni provides classes with his own recordings of lectures, examples of how to work through chemistry concepts and practice tests with detailed answer keys.
Students also benefit from Chehbouni's establishment of TCC's American Chemical Society chapter, as well as the grant funding he secured to pay the officers' yearly membership fees. Chehbouni has also developed partnerships, allowing TCC students to conduct research at Texas Christian University and hear from expert guest speakers.
Chehbouni has mentored a doctoral student planning a community college teaching career; he also mentors adjunct faculty. Additionally, Chehbouni works with TCC's Supplemental Instruction leaders, students who assist peers in difficult courses.
He is a visiting research scholar at TCU and has given dozens of conference presentations. Chehbouni volunteers for college committees, takes part in local service projects and judges youth science fairs.
Janani Gopalakrishnan
Professor of Biology
TCC Trinity River
Many future biology professionals will credit Janani Gopalakrishnan, Ph.D., for setting them on the path to success. She is a graduate of TCC'  s Active Learning Academy (now the Engaged Learning Institute), which trains instructors to position students as partners in learning instead of passive consumers of information. Gopalakrishnan puts those principles into practice—for example, asking students to formulate ideas and discuss with peers. Gopalakrishnan has shared active-learning concepts through workshops for other professors.
Gopalakrishnan helps open the door to STEM for underrepresented youth through the Biomedical Opportunities Academy offered annually by TCC Trinity River and TCU-UNTHSC School of Medicine. She teaches " bootcamps"  to prepare students for challenging biology courses, holds genetics workshops and leads a student club with games related to life sciences. In addition, Gopalakrishnan arranges service-learning for students at the Botanical Research Institute of Texas. She participates in TCC' s Earth Day, serves on College committees and gives her time to the community—cleaning the waters of the Trinity River and volunteering at the Tarrant Area Food Bank.
Richard Miller
Assistant Professor of Art
TCC Connect
Richard Miller is known for his talent and his ability to engage students through virtual learning. Joining TCC in 1992, Miller served as an adjunct instructor for drawing, painting and more before teaching full time. He helped develop the virtual Art Appreciation course and assists colleagues in adapting to online learning; he also serves on campus committees and is TCC Connect's Faculty Association president-elect.
Miller teaches students to look at art in ways that reveal deeper understanding about their world. He also promotes links between virtual learning and real-life experiences, encouraging classes to visit galleries and museums. In 2020, students nominated Miller for Connect Faculty of the Year.
He is a member of CoACT, a nonprofit that aims to address challenges such as food insecurity and homelessness. Miller continues to create art, with paintings on display at the McKinney Avenue Contemporary, TCC Trinity River and in the chancellor's office.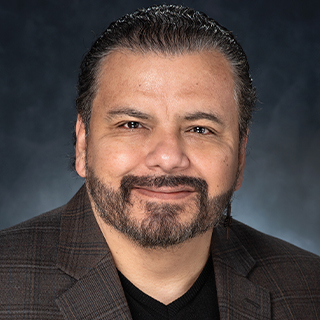 Gary Montaño
Assistant Professor of English
TCC South
Students of Gary Montaño gain a strong understanding of the fundamentals of composition and academic writing. They also gain an ardent supporter and model of kindness.
Montaño is known to attend students' concerts, graduations and other events. He also teaches extra courses and fills in for colleagues. For example, the instructor of a composition course focusing on gardening was out for an extended period. Montaño—despite a lack of gardening expertise—volunteered to teach during her absence and learned, alongside students, about the connection between writing, gardening and nutrition.
Recently, Montaño published two textbooks for college-level writers, and one with an overview of Humanities in epic literature. Montaño spearheaded the re-establishment of the TCC South interdisciplinary writing center, and he is leading a project for students to create uplifting graffiti on a campus wall. This is Montaño's 23rd year at TCC South.
Christina Ross
Associate Professor of Speech
TCC Northwest
Christina Ross equips students for success in the classroom and beyond. A graduate of TCC's Engaged Learning Institute program, Ross uses creative lessons to develop her students' ability to present ideas. For example, Ross partnered with TCC Career Services for mock interviews and problem-solving—honing students' speech skills while preparing them for job searches and professional projects. She is involved in learning communities that combine speech coursework with Spanish-language learning, and students benefit from Ross' organization of speech contests and showcases.
Ross is a Guided Pathways faculty lead, helping students make decisions that serve long-term goals; she also supports high school students transitioning to college as well as current TCC students pursuing university transfer. She is deeply committed to the College's 3 Goals and 8 Principles and serves on committees shaping TCC's future. She is working toward her doctorate in higher education at the University of North Texas.
William Waldroup
Associate Professor of Music
TCC Northeast
Described as a "cornerstone"  of TCC's music education, William Waldroup has greatly impacted his students. He started the composition program in 2017 and ensured it thrived during the pandemic by arranging virtual performances. Waldroup also developed the program"  summer composition workshop, which has drawn aspiring composers from across the nation.
Waldroup has given students the opportunity to collaborate with other departments at TCC and local universities as well as with renowned music ensembles. Those partnerships have culminated in many recitals of new music composed by TCC students.
He is secretary of the Music Department"s curriculum team and has served on College committees; as advisor for the student music club, Waldroup has worked to set up clothing drives, military care package collections and other volunteer projects.
Waldroup holds a Ph.D. in music theory and arranges music for TCC's indoor winds ensemble and marching bands across Texas and Oklahoma.