Welcome from the TCC Trinity River President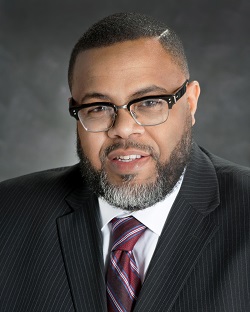 Welcome to TCC Trinity River! The students, faculty, staff, and I invite you to explore all that our beautiful, centrally-located campus has to offer. Situated in historic downtown Fort Worth, the campus is a bustling learner-centered environment—the perfect place for you to achieve your academic and career goals.
From the moment you set foot on TCC Trinity River Campus, you will notice something truly special about its environment. The College has not only invested in a positive learning space that accommodates a community of learners, but it maintains an equitable culture of care to support our students and each other. By doing so, we ensure a consistent and successful academic experience for all.
As you navigate our campus, which includes the Trinity River Campus East Center for Health Care Professions, you will discover that our students come from all corners of the world and all walks of life. Together, our diversity creates a rich campus community. Each one—like you—is driven by various personal aspirations. Those goals may include career exploration, personal enrichment, attaining an Associate degree to be workforce-ready, or as a first step before transferring to a four-year institution. Whatever your goals may be, you can be assured that faculty and staff are ready to help.
You are encouraged to research the array of programs offered at TCC Trinity River and our sister campuses across the Tarrant County College District. At Trinity River, we have designed signature educational and career paths for students in areas such as health care and sign language—and in a number of our general education programs—that will support careers and further study in science, technology, engineering, and math (STEM) disciplines. We are always looking for ways to provide educational opportunities for students in high-demand careers as well as those with emerging technologies. An example is one of our newest programs, Geographic Information Systems, which is used to present data graphically through maps, charts, and graphs and is used in almost every industry.
Tarrant County College also boasts of many strong community partnerships, and TCC Trinity River is home to many of them. The Texas Academy of Biomedical Sciences (TABS)—a partnership between Fort Worth ISD, University of North Texas, and Tarrant County College Trinity River Campus—is an Early College High School for students who are interested in healthcare sciences. Students can earn an associate degree or up to two years of transferable college credit.
Our College's impact is felt throughout the world based on the accomplishments of our alumni who lead in various sectors of business, industry, education, and government. Continuing that legacy of service means a deliberate investment of your time (and ours) in equipping each student with the tools needed to be global citizens, and civic-minded leaders on campus, and in their communities. This kind of civic engagement, however, begins here on campus, and you can find out more when you visit the Trinity River Idea Store. At the Idea Store, you can learn more about student clubs and organizations that will help you cultivate your leadership skills so that you too can be a world-change agent.
With so many offerings, I encourage you to take advantage of advisement, as well as career and academic support services, as you navigate your educational and career journey. Enjoy your college experience and know that the Trinity River Campus family genuinely cares about your success.
S. Sean Madison, Ed.D.
President
Updated January 20, 2023