Critical Incident Information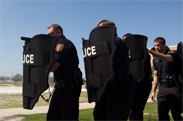 These educational videos are being provided to you, the members of our campus community family, as a means to empower you and make you mindful--not fearful--if ever encountering an active shooter situation whether on or off campus.
These videos will open in a new window.
Student Version
Faculty/Staff Version
These videos are copyrighted material and may not be copied, reproduced or distributed in any manner without the expressed written permission of the owner/originator. All copyright laws apply and will be strictly enforced.
Updated April 07, 2017