Southeast Campus Gallery
The Art Corridors Galleries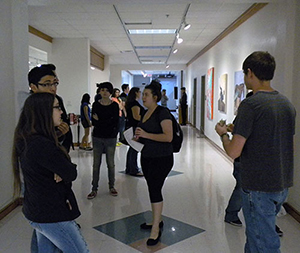 The Art Corridors Galleries at Southeast Campus are dedicated to presenting relevant and engaging exhibitions by established and emerging artists, curators, designers, and other creators.
The exhibition spaces also offer opportunities for faculty and students to explore, innovate, and exhibit their own artwork.
See exhibition details on this page:
Portraiture: Image and Identity
This is a group show featuring these artists:
Arthur Fields
Loli Kantor
Nathan Madrid
Yasuyo Maruyama
Lupita Murillo Tinnen
Devon Nowlin
Angilee Wilkerson
Exhibit Details
Dates: March 28–May 6
Place: Art Corridor II
Opening Reception:

Date: Thursday, March 31
Time: 2–4 p.m.
About the Exhibit
The Southeast Campus Art Corridor Gallery and co-curators Leah Gose and Penelope Bisbee are proud to present Portraiture: Image and Identity.
This is a group exhibition of photographers and painters who explore portraiture using either the lens or the brush. Each artist explores the concept of portraiture in ways that are rooted in the history of figuration, and then each artist moves beyond those traditional approaches to reflect on and embrace the importance of identity in contemporary society.
Student Exhibition and Arbor Day Graphics and Ceramics Competition
Exhibit Details
Dates: April 4–May 5
Place: Art Corridor I
Opening Reception:

Date: Thursday, April 7
Time: 2–4 p.m.
Black is Black: Invitational
This is a group show featuring these artists:
Jeremy Biggers
Sanah Brown-Bowers
Missy Burton
Inyang Essien
Spencer Evans
Aimee Everett
Jarrad Hamilton
Nitashia Johnson
Sam Lao
JD Moore
Dawn Okoro
Marcello Pope
Abi Salami
John Spriggins
Desiree Vaniecia
Constance Y. White
Our guest curator: John Spriggins, artist and South Dallas Cultural Center General Manager
Exhibit Details
Dates: January 24–March 4
Closing Reception:

Date: Wednesday, March 2
Time: 5–7 p.m.

Curator Talk:

Date: Wednesday, March 2
Time: 5:30–6 p.m.
Curator Statement by John Spriggins : About the Exhibition
"Black is Black": Invitational I took this quote from a line spoken by the hip hop artist Q-Tip from the Da La Soul song "Me, Myself, and I." The statement is simple but loaded with meaning. The idea is that regardless of what walk of life we lead or derive from as Black people, we are ALL Black.
Moreover, I have heard with great frequency recently that being Black is not a "monolith." I think this is at the heart of what Q-Tip was trying to say. Black Americans continue to be viewed as singular in mind, spirit, and culture. The fact is that there are cultural norms in the Black community just as in any other culture. However, the stigma of the "monolith" has prevailed both internally and externally.
What I am attempting to question and present is the fact that Black people in America's experiences and interests are as varied as any other culture and have been for more than a century of us becoming a part of the fabric of this nation.
Design and Painting Students Exhibition
Dates: February 14–March 11
Place: Art Corridor III
Past Exhibitions
See art from our faculty, staff, students as well as guest artists.
Contact
The Art Corridor Galleries
Penelope Bisbee, Instructional Assistant & Gallery Coordinator
817-515-3406
penelope.bisbee@tccd.edu
Updated March 24, 2022