Southeast Campus Gallery
The Art Corridors Galleries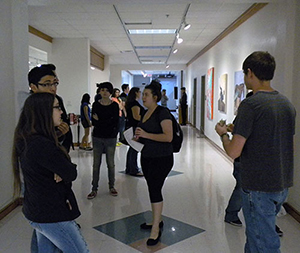 The Art Corridors Galleries at Southeast Campus are dedicated to presenting relevant and engaging exhibitions by established and emerging artists, curators, designers, and other creators.
The exhibition spaces also offer opportunities for faculty and students to explore, innovate, and exhibit their own artwork.
Special Notice
Because our campus will be closed for the Fall 2020 semester, all the Art Corridors Galleries exhibitions will be online.
Fall 2020 Online Exhibitions
How to visit the virtual exhibits
Scroll down the page
or
Select the Ceramics Exhibition or Student Exhibition link to jump to an artwork collection
Select a name under Exhibiting Artists (in the Ceramics Exhibit) to jump to an artist's works this page
Select each image to see the full artwork—for both exhibits

Full-size artwork images will open in a new window
Conversations in Clay 2020
Art Corridor II
Exhibiting Artists
Curator
Curator's Statement
I chose to showcase the ceramic work of Lynette Atchley and Chris Melia to show the wide range of modern ceramic art. Conversations in Clay includes both functional and sculptural ceramic work, both of which explore the diverse subject matter, interests, and techniques employed by the artists.
Lynette Atchley's work is inspired by "Our cultures' fascination of rare, uncultivated lifeforms and our interpretation of animal behavior through human psychology." Lynette creates exotic, imaginary animals that loosely resemble animals we are familiar with. These exquisite, hybrid animals are placed in residential settings that feel familiar and comfortable. The juxtaposition of these unnerving creatures and their friendly, casual settings is a unique experience.
Chris Melia's work is inspired by his experiences in the kitchen, with functionality in mind. His organic forms are accentuated with bold lines through texture and glaze. The combination of these unique elements results in well-designed, elegant, functional art. Chris' work is meant to be used daily; his goal is to make pieces that are "appealing to both touch and sight."
I imagine the work included in this virtual show speaking to one another and creating conversations. As you scroll through the images, imagine yourself in the presence of Lynette's exotic creature while using Chris' sophisticated vessels. I hope you enjoy the exhibition!
About Jessica Battes-Grabowski
Jessica Battes-Grabowski is an artist and educator that lives and works in Arlington, Texas. Jessica studied Fine Art at the University of North Texas in Denton where she received a B.F.A. with a concentration in ceramics. She received her M.F.A. from the University of Texas at San Antonio (UTSA).
Jessica's work has been featured in local and national venues. When she was a student at UTSA, she won the Emerging Artist Scholarship Award at the Texas Art and Craft Fair 2 years in a row. Her work was accepted into Craft Forms 2010, an international juried exhibition for contemporary craft. In 2012 she won a NICHE Award and her work was featured in the NICHE magazine.
Jessica currently teaches at TCC Southeast Campus.
Lynette Atchley
Artist's Statement
It is human nature to be curious creatures. Our awareness and receptiveness to our surroundings is what makes us intelligent beings. As humans are often explorers, interaction with an unidentified species or 'the unknown' becomes more than a quest for knowledge. The fascination with the unknown often becomes romanticized by those in direct contact with the specimen, often blurring one's rationality and judgment of the wild animal.
I am inspired by our cultures' fascination with rare, uncultivated lifeforms, and our interpretation of animal behavior through human psychology. The eccentric and even vain personalities that obtain undomesticated species lose touch with society's established normality in pet ownership, ultimately sacrificing standards of animal and public welfare. The falsity of creating relationships with distant creatures is a self-fulfilling process that exceeds ordinary 'pet parenting.' In these so-called relations, custody is integral to one's persona. Such cohabitations give a skewed sense of relativity that I strive to convey in my artwork.
I create works, both sculptural and functional, of species that possess traits familiar to existing animals, yet their physicality forms entirely foreign creatures. Through facets of clay sculptures, prints, photos, mixed media, and installations, my work is narrated in household, faux habitat, and make-shift, jerry-rigged settings which reflect the owner's understanding of caring for species little is known about.
Visit Lynette Atchley Artworks to see and learn more.
Chris Melia
Artist's Statement
All of my work is designed with function in mind; everything I make is intended to be used, not to be set on a shelf and merely viewed. I constantly tweak and alter my form designs from experiences in the kitchen. When cooking, I am always aware of what type of vessel would be best suited for holding this type of food or pouring that type of sauce. My hands are always aware of how certain forms feel—are there places on a cup where the fingers can rest or grip it better? Is this handle an appropriate distance from the wall of the mug?
My questions of functionality are not only about if the piece will technically do the job for which it was created, but they also extend to whether or not the piece will be comfortable to the end user. It is physically uncomfortable to drink from a mug that has a sharp edge on the handle, and it is mentally uncomfortable to pour from a teapot where the tea, after poured, continues to run down the spout and onto the table.
My work is about merging physical and mental comfort with functionality and aesthetic design. It is about making pieces that are appealing to both touch and to sight. Ever conscious of these goals, every aspect of my pottery design, creation, glazing, firing–is about cultivating an ultimate sense of comfort within each piece so that the end user can appreciate and connect with it.
Visit Melia Pottery to see and learn more.
Student Exhibition 2020
Art Corridor I
Election Theme
Our Southeast Campus students address the theme of the upcoming election in their artwork.
Contact
The Art Corridor Galleries
Penelope Bisbee, Instructional Assistant and Gallery Coordinator
817-515-3406
penelope.bisbee@tccd.edu
Updated November 04, 2020