Southeast Campus Gallery
The Art Corridors Galleries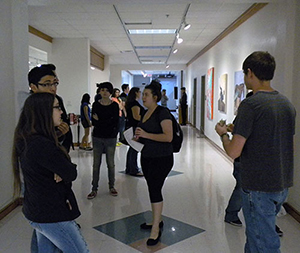 The Art Corridors Galleries at Southeast Campus are dedicated to presenting relevant and engaging exhibitions by established and emerging artists, curators, designers, and other creators.
The exhibition spaces also offer opportunities for faculty and students to explore, innovate, and exhibit their own artwork.
Special Notice
Because our campus is currently closed, all the Art Corridors Galleries exhibitions will be online.
Spring 2021 Online Exhibits
Student Exhibit
Our students created artwork across a range of media, including:
Pencil
Charcoal
Acrylic paint
Collage
Ink
Congratulations to the winners!
Three winners were chosen from an excellent display of student talent:
Best of Show: "Ghostly Heirlooms," artist: Hope Rohlin
1st Place: "The Triskelion," artist: Derian Leonardo
2nd Place: "Red Lunar Moon," artist: Tram Le
Visit the exhibit and enjoy our students' creativity!
Faculty Exhibit
Traveling Book: Pandemic Collaboration
Our books have been traveling all semester!
Visit the Exhibit
Catch up with all 3 versions of the Traveling Books.
Inspiration
In this era defined by COVID-19, we have experienced unprecedented physical separation due to social distancing, masks, and shields. As a result, truly personal physical objects fashioned by the hands of artists become much more meaningful and important.
Our artists are inspired to use the form and format of the book to join one another in the creation of humanly tangible works of art—to offer as counterbalances to this time of radical disconnection.
Ever Evolving Exhibit
Throughout the course of the project, we will document our processes. The images and explanatory statements will be posted together in the online exhibition space.
Contact
The Art Corridor Galleries
Penelope Bisbee, Instructional Assistant and Gallery Coordinator
817-515-3406
penelope.bisbee@tccd.edu
Updated April 27, 2021