Developing Experts in a Growing Industry
While many people associate health care with advanced degrees, there is growing demand in North Texas for health care professionals with an associate degree, college certification or other post-secondary training. According to a 2015 report by JPMorgan Chase, health care is the leading industry for associate degree and certificate careers in Dallas-Fort Worth. There were nearly 33,000 of these health care positions (almost 25 percent of all jobs at that level) posted online for the region in a one-year period, and workforce needs will only increase.
"This is not an industry subject to fluctuations," said Cynthia Miller, vice president, workforce development and education for the Fort Worth Chamber of Commerce.
The health care sector will continue to grow as science advances and people live longer lives. And there are a lot of great-paying jobs you can do with an associate degree or certificate.

Cynthia Miller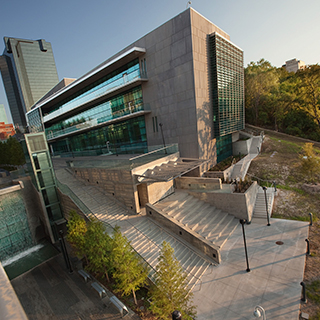 TCC serves as one of the primary trainers for Tarrant County's health care workforce. The College offers a variety of pathways into the field, primarily through Trinity River Campus' Division of Health Care Professions, which includes the Department of Associate Degree Nursing and the Department of Health Sciences, composed of allied health programs. These accredited courses of study combine classroom learning with hands-on clinical experiences and advanced technology. Many programs take place in the Center for Health Care Professions, a $185 million complex at Trinity River East Campus.
"We are very proud of the fact that our programs are extremely affordable, successfully transition graduates into the workforce and offer such a high return on their investment," said Joseph Cameron, divisional dean for Health Care Professions. "It isn't uncommon for starting salaries to be four, five, even up to eight times higher than the cost of TCC tuition and fees. Our programs make excellent business sense, especially when considering costs for similar programs in the surrounding area."
Students turn to TCC not only for its affordability factor but also its commitment to excellence. In 2016, TCC's nursing program earned full reaccreditation from the Accreditation Commission for Education in Nursing (ACEN). Accreditation is a voluntary process that reflects the program's commitment to best practices. TCC is the only ACEN-accredited associate degree program in Tarrant County and one of three in Dallas-Fort Worth. TCC nursing students gain bedside care experiences in skills labs and a simulation hospital outfitted with simulator mannequins; they also put their knowledge to work in clinical rotations in area health care facilities.
"We have a great reputation in the community for expert, hands-on graduates," said De Ann Mitchell, director of TCC's nursing program. "Our exceptionally qualified faculty set expectations that surpass basic nursing education standards."
The College has a first-time registered nursing licensure exam pass rate of approximately 83 percent and climbing. With about 275 nursing graduates per year, TCC is a main regional pipeline to this critical occupation. While many health care companies now require registered nurses to pursue a bachelor's degree, TCC allows students to affordably earn their licensure and work in the industry while achieving the additional credential. The College also partners with a number of Bachelor of Science in Nursing programs to facilitate student transfer.
"The value in the TCC nursing program is enormous when coupled with a university like Tarleton State," said Sandra McDermott, director of Tarleton State's Midlothian Campus and assistant professor of nursing, as well as a TCC associate degree nursing graduate. "We partner to offer students enhanced financial aid for both our programs, and Tarleton State's curriculum follows the TCC nursing curriculum extremely closely, so the transition is seamless."
The Department of Health Sciences also presents opportunities for students to prepare for transfer to a university or directly enter the workforce. With the addition of new allied health programs expected to begin in the next 12 to 24 months, TCC will graduate up to 200 allied health professionals annually—twice as many as just a couple of years ago. Graduates excel at their licensure exams; in 2016, the Physical Therapy Assistant and Respiratory Care programs reported a 100 percent first-attempt pass rate.
Expert faculty are key to allied health students' success and meeting the needs of the local industry. When possible, the division seeks to hire dual- or even triple-modality technologists, who hold multiple post-primary certificates in different specialties.
"This unique hiring philosophy allows us flexibility in future program offerings and resource allocation," explained Troy Moran, director of the Department of Health Sciences.
Like nursing, allied health programs immerse students in premier technologies and simulation models to ensure they have employer-desired skills. TCC offers students the opportunity to learn on anatomage tables—state-of-the-art devices that display scans from cadavers and actual patients. Users can "cut" the body with a virtual scalpel to view crosssections as well as see how different body systems connect. It's a technology used by top medical schools, and TCC has two such tables.
Students hone their skills in real-life situations as well. To ensure clinical rotations provide appropriate learning experiences, TCC works closely with area health care providers.
"TCC's openness to include us during clinical program needs assessments, planning sessions and evaluations have ensured a rich learning environment for students," said Joan Shinkus Clark, senior vice president and chief nurse executive for Texas Health Resources.
In addition to credit health care programs, TCC offers Community & Industry Education (CIE) training. These courses of study result in noncredit certificates of completion, which reflect success in industry-validated classes that develop skills required to enter the health care workforce. CIE also offers opportunities for current professionals to upgrade skills and recertify in their field. On the other end of the spectrum, the College works to develop paths into health studies from K-12 schools. TCC's work in this area includes the Texas Academy of Biomedical Sciences (TABS) early college high school program at Trinity River Campus and the pilot Strategic Pathways to Student Success program—a partnership among TCC, the Fort Worth Chamber, Fort Worth ISD, United Way and the University of Texas at Arlington to encourage middle schoolers to set their sights on health care careers.
With its array of programs and initiatives, TCC provides an entry point to virtually every associate degree- or certificate-level occupation in the area health care industry or a foundation for advanced education. The benefits are felt on personal and community levels.
Not only do we offer solid career paths for individuals, but by providing a strong workforce, we encourage local employers to reinvest in the county's infrastructure. That in turn creates growth throughout the area—and ultimately creates even more opportunities for our graduates.

Troy Moran
---
TCC Health Care Programs
Credit-based programs resulting in an Associate of Applied Science or Certificate (Certificate of Completion or Marketable Skills Award)
TREC = Trinity River East Campus
TR = Trinity River Campus
SE = Southeast Campus
SO = South Campus
NE = Northeast Campus
---
Current Programs
Links will open in a new window.
---
Future programs planned for TREC
Central Sterile Processing
Magnetic Resonance Imaging (MRI)
Anesthesia Technology
---
Recommended for new program proposals
Mammography
Interventional Radiography
Radiation Therapy
Public Health
Medical Laboratory Technology
---
Community & Industry Education
Noncredit programs resulting in continuing education units and Certificate of Completion
Links will open in a new window.