Traffic Maps
We are constantly growing. Traffic and parking challenges come along with this growth. We hope the following will help you manage the challenges.
Get a Parking Permit
Parking permits are required only if you take classes on Trinity River Campus or Trinity River Campus East. If you park on campus, you are expected to follow campus motor vehicle regulations. We enforce campus parking rules at all times, including evenings and weekends.
Find out how to pick up your parking permit and about campus motor vehicle regulations.
See Where to Park
Trinity River Campus
Our downtown Fort Worth campus includes two locations—Trinity River Campus and Trinity River Campus East—with parking next to their main buildings.
Trinity River Campus Parking Garage
For student use only:
Entrances: Cherry Street and Florence Street
Parking: Levels 2, 3, 4 and 5
For employee use only:
Entrance: Peach Street
Faculty/staff parking: Levels 6 and 7
Trinity River Campus Overflow Parking
(Click image for larger map)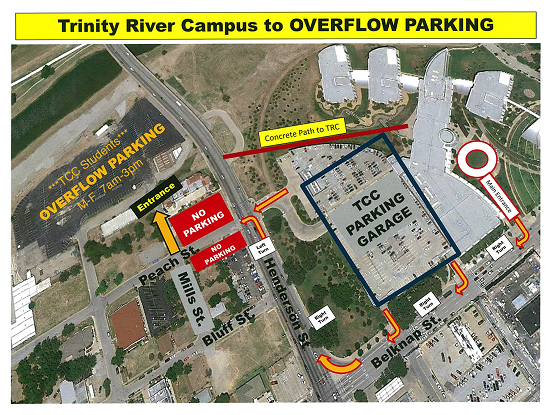 Trinity River East Campus Overflow Parking
(Click image for larger map)
Updated January 21, 2023