Law Enforcement Academy
About Our Classes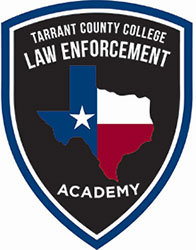 Our Law Enforcement Academy, located at the Public Safety Training Center at TCC Northwest in Fort Worth, prepares a cadet for a career in law enforcement.
Classes consist of a combination of classroom and skills training.
Schedule
We offer 6 basic academies a year:
Days: Monday through Friday
Time: 7:30 a.m.–4:30 p.m.
Length: 20-week period
Earn a Certificate of Completion
Once cadets complete our program, they will take the Texas Commission on Law Enforcement (TCOLE) Basic Peace Officer Licensing Exam at our testing center.
The TCOLE report on the Basic Peace Officer Licensing Examination pass rate for 76 state academies for Fiscal Years 2008 to 2018 states that 1,074 cadets from the TCC Law Enforcement Academy achieved a 100% pass rate!
Before applying directly to our program, we encourage you to apply for employment at police agencies in North Texas, who may send you through the police academy as an employee. During the employment process, you may complete coursework toward our Associate of Applied Science Degree in Criminal Justice.
Looking for In-Service Training?
Our Public Service Training Center supports the Tarrant County law enforcement community's training needs with:
Contact
Northwest Campus
Law Enforcement Academy — Public Safety Training Center
Sha King
Basic Peace Officer Coordinator
Call 817-515-7370
Email sha.king2@tccd.edu
Northwest Campus
Law Enforcement Academy — Public Safety Training Center
Rafael Perea
In-Service Program Coordinator
Call 817-515-7217
Email rafael.perea@tccd.edu
Updated March 28, 2022