Business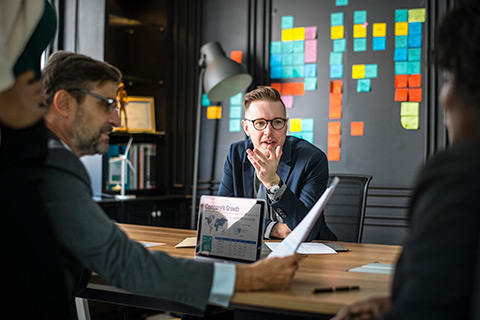 Quick Facts
Business is an art and a science that involves research, planning, creative and critical thinking.
Learn how the American business works and the economy operates, so you will be prepared for opportunities in a competitive market.
Explore on This Page
Job Titles & Career Info
Our Program
Why Choose Business?
Study in small classes that are designed as corporate cohorts to:

Build a strong foundation in business principles & practices
Improve your skills for a more competitive career
Complete basic transferable coursework toward an advanced degree

Take advantage of convenient scheduling options:

Daytime or evening
Weekday or weekend classes
Delivered on-campus, online, or a mix (blended)
Prepare for What You Will Do at Work
Manage administrative services in your organization using knowledge, data & technology
Research, plan, coordinate, review departmental or administrative correspondence & operations
Build relationships & network within your organization & in the business community at large
Develop & establish policy & practices across disciplines, such as:

Human resources
Management
Marketing
Accounting

Communicate effectively—in person & online—with superiors, colleagues, staff & customers in a variety of professional business contexts
Marketable Skills You Will Learn
Critical thinking
Reasoning
Communication
Personal & social responsibility
Teamwork
Computer literacy
Before You Enroll, Think About:
Which track fits your needs?
Certificates of Completion
You can complete one or both Business Certificate(s) of Completion and choose to enter the workforce.
Associate Degree
The Level I and Level II Business Certificates are stackable, meaning any course you take to complete 1 or both certificate(s) applies to the requirements of the associate degree.
You can continue your studies to earn an Associate of Applied Science Degree in Business Administration–Business.
Transfer
If you are planning to pursue a bachelor's degree at a 4-year college or university, you can:
Complete the Business Field of Study, which is a set of courses that fulfills lower division requirements for bachelor's degrees and is transferable to a Texas college or university
Earn an Associate of Arts in Business to prepare to transfer to a 4-year college or university
Need a boost to get ready for college?
Talk to your advisor about Developmental Studies if your TSI scores say you need some help in math or reading and writing.
Degrees & Certificates
Degrees
Certificates
Level 1
Level 2
Transfer
All Campuses
Continuing Education Office Careers Programs
Multiple Campuses
How Much Time & Money to Finish?
2023–2024 Academic Year
| Degree or Certificate | Program Title | Semester Credit Hours | Total Tuition & Fees |
| --- | --- | --- | --- |
| AA | Associate of Arts in Business | 60 | $4,140 |
| AAS | Business Administration: Business | 60 | $4,140 |
| CRT1 | Business I | 24 | $1,656 |
| CRT2 | Business II | 45 | $3,105 |
| FOS | Business Administration & Management Field of Study | 24 | $1,656 |
Notes:
Tuition is based on in-state, in-county rates.
Totals do not include textbooks and other materials.
Continuing Education Programs
Time commitments and fees vary depending on the course.
Earn More Choices & More Money
Transfer to a college or university to continue your studies. Earning a bachelor's degree opens the door to career and promotion opportunities.
For example, with an Associate of Arts in Business you will be ready to work toward:
Bachelor of Science in Business
Bachelor of Business Administration
Bachelor of Arts in specialized areas, such as

Business
Management
Marketing
Human Resources
Finance
Accounting
Next steps
Start on Your Pathway!
Contact
Updated November 20, 2023