Programming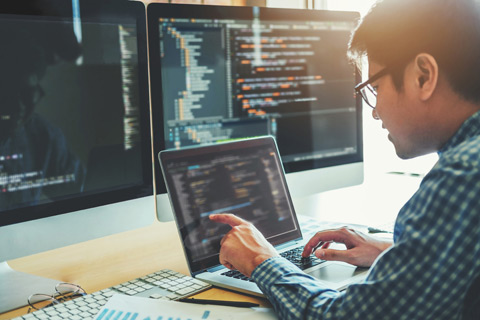 Quick Facts
Program: Information Technology
Pathway: STEM
Campus: All Campuses
Programmers write & test code that makes computers and software to function correctly.
Explore on This Page
Job Titles & Career Info
Our Program
Why choose Programming?
Combine creative & technical skills in your work
Enjoy variety because you will write programs for different purposes
Learn how to:

Update & expand existing programs
Test programs for errors
Fix faulty lines of computer code

Have the option to work in an office setting or at home
Prepare for what you will do at work
Use different coding languages, such as C++ or Java, to write programs that perform specific functions
Test programs & applications for errors, fix faulty lines of code & recheck them to make sure they produce the desired results
Update existing programs as needs & requirements change or expand
Translate software developers' designs into instructions computers can follow
Marketable skills you will learn
Critical thinking
Reasoning
Communication
Personal & social responsibility
Teamwork
Computer literacy
Before you enroll, think about:
You will need to spend extensive lab time gaining hands-on practice with programming in addition to your coursework.
On the job, programmers normally work alone. However, they interact with others when discussing assignments or when participating in large projects
Being a lifelong learner will help you advance in your career because you will always need to keep up-to-date on web programming languages and be able to apply new knowledge to your work.
3 skills or work style traits that will help you succeed in this field:

Attention to detail
Analytical thinking
Troubleshooting skills
Need a boost to get ready for college?
Talk to your advisor about Developmental Studies if your TSI scores say you need some help in math or reading and writing.
Degrees & Certificates
Degree
Certificates
Level 1
Level 2
How Much Time & Money to Finish?
2022–2023 Academic Year
| Degree or Certificate | Program Title | Hours | Total Tuition & Fees |
| --- | --- | --- | --- |
| AAS | Information Technology-Programming | 60 | $3,840 |
| CRT1 | Programming I | 25 | $1,600 |
| CRT2 | Programming II | 30 | $1,920 |
Notes:
Tuition is based on in-state, in-county rates.
Totals do not include textbooks and other materials.
Continuing Education Programs
Time commitments and fees vary depending on the course.
Earn More Choices & More Money
Transfer to a college or university to continue your studies. Earning a bachelor's degree opens the door to promotion opportunities.
Next steps
Start on Your Pathway!
Contact
Updated February 17, 2023